Top 3 Ways To Stay Calm During Exams
October 13, 2021
160 views
4 min read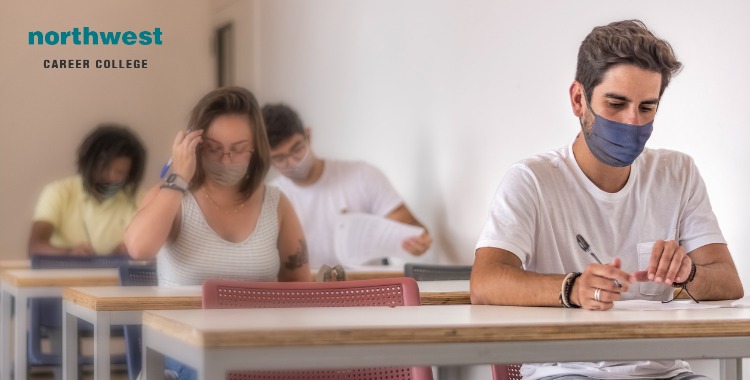 Hey NCC students, you can do it! We know that exams are coming up and we want to help you stay calm during them.
There are three things that you should be doing in order to keep your sanity while taking your exam:
3 Best Ways To Stay Calm During Exams
1) Stay hydrated
Drinking water before and during the exam will help with concentration. This is because your brain needs to be hydrated in order for it to function properly.
Good hydration and diet can be something that goes out of the window in the rush to study for our exams. So it is important to be diligent with our hydration.
A good diet might be a little harder to achieve and maintain, especially during exams when we might feel that the stress and pressure are taking away our appetite.
However, it is important to remember that a healthy diet can help with memory function and concentration levels while studying for NCC exams – which in turn will lead to better grades!
So do try and incorporate more fruit or vegetables into your weekly diets. A good way of doing this would be to add them as snacks on days where you know there won't be much time between study sessions. This way they'll keep longer without going bad if not used up quickly.
2) Take breaks
This is important because staying focused for too long can make it harder to think. This applies to both when you are studying and when taking the exam itself.
Do remember to take regular breaks and not just stay locked away studying. Your brain can only do so much without breaks and studies have shown that taking short breaks away from the books and getting some social interaction in can actually improve your ability to memorize data.
During the exam, try to take a short break after every section. It doesn't need to be long, just a couple of seconds to decompress, take a few slow breaths and try and clear your mind, ready to concentrate on the next question.
3) Exercise
Yes, exercising right before an exam might seem counter-productive but studies show that people who exercise regularly perform better on tests.
This is because exercising releases endorphins, which improve your mood and help you to focus better. It also improves blood flow to your brain which means you will be more alert and feel less stressed during the exam.
Taking some time for exercise, even if it's just a quick walk around the block before heading to an exam can help improve your ability to focus and recall information during exams.
Trying to get some regular exercise during study time can also help you take a break from studying and relax your mind.
If you're unable to get in some regular exercise, try doing a few push-ups before an exam or anything else that gets the blood flowing.
When it comes to exams, staying calm is key! But for many people, this can be easier said than done when it's time to sit down and really focus on taking an important test.
By following our three simple ways to stay calm during an exam, you'll be able to relax and focus on the task at hand without worrying too much and getting distracted.



Committed To Inspiring Excellence
Here at Northwest Career College, we are committed to providing our students with the best possible facilities to allow them to take advantage of the excellent courses we have on offer.
In addition to our Pearson VUE testing center, we also offer morning, afternoon, night, online, and blended classes to accommodate your Las Vegas work and family schedule.
And, we have an experienced Career Services team to help you find the best employment opportunity for your new career. Call us today at (702) 403-1592 to find out more about what we can offer you!