6 Career Tips For Getting Your First Pharmacy Technician Job Offer
June 15, 2023
467 views
6 min read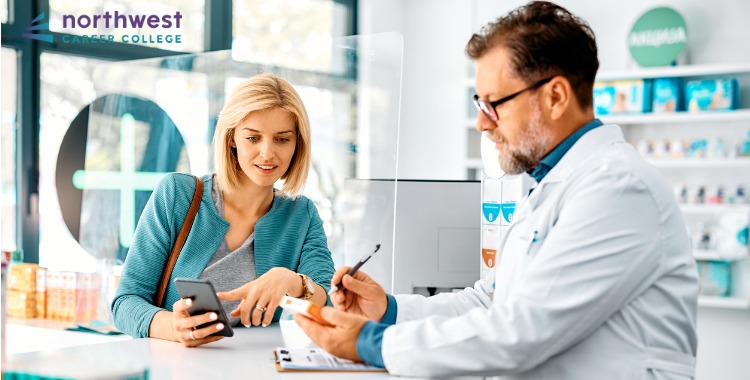 Are you a recent graduate looking to break into the pharmacy technician field? Having trouble taking that first step onto the career ladder? You're certainly not alone, but rest assured there are concrete steps you can take to land your dream job.
This blog post will cover six critical tips for getting your foot in the door with employers and turning an interview offer into a job offer. Whether you're interested in retail pharmacies, hospital settings, or research labs, these tips will give you an edge when competing for open positions.
Follow our advice and get ready to put your training and experience to use as at last as a bonafide pharmacy technician!

Research the pharmacy technician job description and duties
Pharmacy technicians play an important role in the healthcare industry, supporting pharmacists in carrying out their vital work. Their duties include filling prescriptions, measuring medication, and organizing inventory.
They may also answer customer questions, manage cash registers, and maintain patient records. Although pharmacy technicians typically work under the supervision of a licensed pharmacist, they still need a strong foundation of technical knowledge and the ability to work in a fast-paced environment.
As healthcare technology continues to evolve, the role of the pharmacy technician is also evolving, with an increasing emphasis on managing electronic health records and ensuring patient safety. If you are interested in pursuing a career in this field, it is crucial to understand the pharmacy technician job description and duties, as well as the kind of training and certification required to succeed.

Gather all necessary qualifications and certifications
To excel in any field, having the necessary qualifications and certifications is imperative. These credentials demonstrate your expertise and knowledge in your chosen area.
Whether you're in the medical field, technology, or any industry, employers seek out employees with the right qualifications and certifications for the job. If you're unsure of what credentials are required for your industry, it's essential to do your research to ensure you're in compliance with the standards necessary to succeed.
Investing in yourself by obtaining the appropriate qualifications and certifications is vital to your professional growth and career advancement.

Create a standout resume
In today's competitive job market, creating a standout resume is crucial to catching the eye of potential employers. Your resume should showcase your skills and accomplishments in a clear and concise manner.
Start by tailoring your resume to fit the job you are applying for, using keywords and phrases from the job description. Make sure to highlight any relevant experience, education, and certifications you have. Avoid using cliché phrases and instead focus on tangible achievements that demonstrate your abilities.
Formatting is also crucial – ensure your resume is easily read and visually appealing. Remember that your resume is your first impression, so take the time to make it stand out and make it count.

Make sure your cover letter is flawless
When it comes to job applications, your cover letter is your chance to make a great first impression. It's the first thing potential employers read, so it's important to make sure it's flawless. A cover letter that is poorly written or riddled with mistakes can reflect poorly on your attention to detail and work ethic.
To ensure your cover letter is up to par, start by carefully reading the job posting to tailor your letter specifically to the position. Use clear and concise language, and avoid using clichés or buzzwords. Be sure to proofread your letter multiple times for spelling and grammar errors, and consider having someone else review it as well.
By putting in the effort to craft a polished cover letter, you'll increase your chances of landing your dream job.

Prepare for the job interview by researching the company, familiarizing yourself with common questions, and having answers ready to go
Walking into a job interview can be nerve-wracking enough, but being unprepared can make the experience even more daunting. To boost your confidence and increase your chances of landing the job, it's essential to do your research ahead of time.
This includes familiarizing yourself with the company's mission, values, culture, and recent news or accomplishments. You should also be prepared to answer common interview questions, such as "Tell me about yourself" and "What's your biggest weakness?" Having pre-planned responses can help alleviate some of the stress that comes with answering on the spot.
By investing some time and effort into preparing for the interview, you can set yourself up for success and impress your potential employer.

Display a professional demeanor at all times during both phone and in-person interviews
First impressions are crucial in the world of job interviews, whether they are conducted over the phone or in person. One of the most critical factors that will influence this first impression is your level of professionalism.
From the moment you answer the phone or walk through the door, make a conscious effort to exude confidence, courtesy, and respect. Speak clearly and confidently, with a calm and measured tone of voice. Avoid slang, jargon, or other informal language that might suggest a lack of seriousness or professionalism.
Most importantly, always show respect for the interviewer, and demonstrate your interest in the position and company by asking thoughtful questions and actively listening to their responses.
Remember, how you present yourself during an interview is critical in determining your success, so always aim to display a professional demeanor.



Stand out in the job market
If you're interested in starting a career as a pharmacy technician and want to stand out in the job market, then a qualification in pharmacy technology could be the ideal choice.
Northwest Career College's Pharmacy Technician program offers a comprehensive and practical curriculum taught by experienced industry professionals to equip students with the skills and knowledge they need to be successful pharmacy technicians.
Throughout the course, you will develop an in-depth understanding of the pharmaceutical industry, learn about pharmacology, practice dispensing medications, and gain other key skills such as customer service and communication. If you're looking to launch a successful pharmacy career, look no further than Northwest Career College's Pharmacy Technician program!

Start your new career as a Pharmacy Technician now!
Northwest Career College is one of the premier pharmacy technician schools in Las Vegas. Our course provides our students with the skills and training they need to take advantage of the growing need for pharmacy technicians.
Our experienced instructors offer online and on-campus classes to accommodate your Las Vegas work and family schedule.
Once you've graduated, we will continue to support you, and the commitment of our Career Services Team has led to us having a 100% job placement rate for our pharmacy technician graduates. Call us today at (702) 403-1592 to speak to one of our enrollment specialists.