5 Unusual Careers You Can Access Through Vocational Training
March 31, 2023
589 views
5 min read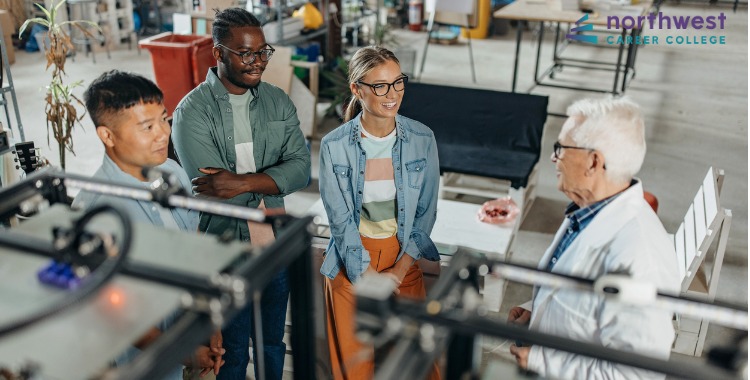 Vocational training is often connected with manual labor and traditional industries, but this is just one of the many doors opened by vocational training.
While these are valuable professions and vocations but a vocational education can also take you down some unusual and exciting career paths.
Here are five of the more unique options out there that you can get vocational training:

Paralegals are invaluable members of law firms and other legal environments, providing a valuable source of expertise that can take some of the burdens off of other professionals. Their legal knowledge gives them the ability to handle various tasks such as conducting research, drafting documents and contracts, preparing trial materials, and helping with administrative work.
A paralegal also needs to be able to effectively collaborate with attorneys and other team members in order to maximize efficiency.
Oftentimes they have direct contact with clients or witnesses by taking statements or affidavits, aiding in investigations, or organizing evidence. Paralegals are an important part of the modern legal system and should not be overlooked – their skills can significantly streamline operational processes.

A healthcare administrator is a highly important role and requires a wide variety of skills. They must possess strong leadership and managerial qualities, organization, communication, and problem-solving skills, as well as knowledge of both the healthcare system and business principles.
An ideal candidate for this career would have not only these technical skills but also empathy for patients, concern for customer service, understanding of information technology advances, and the ability to multitask.
A successful healthcare administrator needs to be able to create a positive environment where staff can reach their highest potential while providing the best patient care possible. This career is vital in ensuring that the healthcare industry runs efficiently and effectively so that everyone has access to quality care.

Working as a pharmacy technician can be an exciting and rewarding career. These professionals have the responsibility of maintaining patient records, organizing medication inventory, and ensuring that medications are distributed properly.
They may also answer customer questions and handle monetary transactions. To become a certified pharmacy technician, individuals must complete an accredited program and pass both a state board exam and a certification exam.
Working as a pharmacy technician provides meaningful work experience in healthcare settings, access to job security, career advancement opportunities, and even the potential for flexible hours.
For those interested in this field, becoming a certified pharmacy technician is an excellent choice with lots of potential rewards!

As a Medical Biller and Coder, you would be responsible for ensuring accurate and timely payments from insurance companies as well as from patients.
It would require perfecting the organization and coordination of medical data, along with understanding medical terminology, procedure codes, and multiple regulations.
In order to be successful in the role, you need to have attention to detail and the ability to troubleshoot billing discrepancies. You also should be able to work competently using patient information systems, billing software, and electronic health records.
Seeing that it plays such a crucial role in the healthcare industry, being aware of any changes or updates in contemporary practices regarding reimbursement policies as well as coding classifications is essential.

Criminal Justice Professionals are invaluable members of our society who work hard to keep us safe and uphold the laws of our country.
With many specializations within the criminal justice sector, these individuals have their own areas of expertise and experience to draw upon when tackling some of the crime's toughest challenges.
Working in highly demanding and sometimes dangerous environments, they use their knowledge of the law coupled with problem-solving skills and an unwavering sense of justice to perform a range of job duties that range from investigating crimes to leading prosecutions.
Their dedication and commitment ensure that criminals are held accountable for their actions and that citizens can trust their legal system.



Contact Northwest Career College about our vocational education and training
Here at Northwest Career College, we offer a range of vocational education and training courses to prepare you for your dream career in law enforcement.
Our experienced instructors and knowledgeable staff provide the tools to develop your skills in problem-solving, critical thinking, and communication. With our programs, you can learn from real-world case studies, gain practical experience in real-world settings, and work with experts in the field.
Whether you're just starting out, or you're looking to further your career, we can help. Our trade school programs are designed to give you the skills and knowledge necessary for a successful career
We also provide career counseling to help you find the right job and career path. Our experienced counselors will guide you through the process of finding the perfect position for your skillset.

Call us now at (702) 403-1592 to start your journey!