Are Medical Assistants The Same As Nurses?
April 3, 2023
558 views
6 min read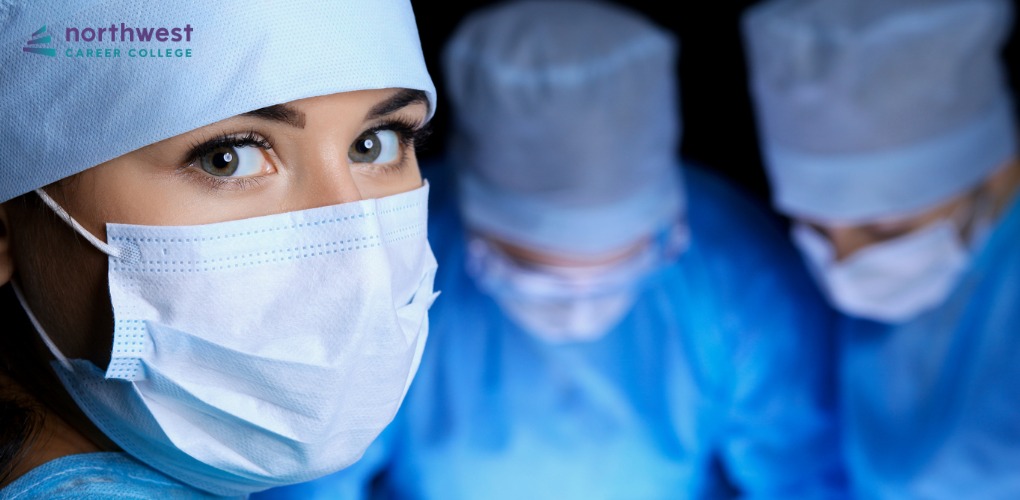 Are you considering a career in the medical field but wondering if you should become a nurse or a medical assistant? It's essential to understand how these two roles differ so that you can make an informed decision about which path is right for your skill set and goals.
In this blog post, we will answer the question "are medical assistants nurses?" and discuss the differences between being a medical assistant versus being a nurse, from training requirements to job responsibilities.
Accurate information is critical to understanding the differences between medical assistants and nurses and which one you should choose as your new career, so read on to learn more.

Overview of Medical Assistants and Nurses
Medical assistants and nurses play essential roles in the healthcare industry:
Medical assistants work alongside physicians in outpatient settings, assisting with administrative tasks and patient care. They measure vital signs, record medical histories, schedule appointments, and perform basic clinical procedures.
Nurses work in various healthcare settings, including hospitals, clinics, and long-term care facilities. They provide direct patient care, administer medication, monitor vital signs, and educate patients about their health.
Both medical assistants and nurses are crucial members of the care team, helping to ensure that patients receive the best possible care.
If you are interested in pursuing a career in healthcare, becoming a medical assistant or a nurse can be a rewarding and fulfilling choice.

Key Differences between Medical Assistants and Nurses
Now that you've gotten a better idea of the essential duties of medical assistants and nurses, let's look at the key differences between these two healthcare professions.
The most significant difference between medical assistants and nurses is their training and qualifications.
Medical assistants typically receive on-the-job training or attend a vocational school or community college to become certified medical assistants. They do not usually need to obtain a degree.
On the other hand, nurses must complete an accredited nursing program and obtain a degree to become registered nurses (RNs).
Regarding job duties, nurses have more complex responsibilities than medical assistants, such as diagnosing illnesses, performing physical exams and ordering lab tests.
By comparison, medical assistants are typically responsible for administrative duties such as scheduling appointments, recording patient information and insurance details, and managing medical records.

Educational Requirements for Both Roles
When pursuing a career in either nursing or medical assisting, it's essential to consider the educational requirements for both roles.
For a nursing career, the educational requirements depend on the role you seek. For an entry-level position as a Registered Nurse (RN), a two-year Associate Degree in Nursing (ADN) is required. This program provides students with the knowledge and skills to practice as RNs.
For a medical assistant, a high school diploma is a minimum requirement. Some employers may prefer candidates with an associate's degree from an accredited program or a postsecondary medical assisting certificate program.
Here at Northwest Career College, we offer an accredited Medical Assisting program. This program covers the fundamentals of medical assisting and prepares students for a successful career.
Our Medical Assisting program is ideal for those looking to start a career in the medical industry as quickly as possible.
This program combines classroom instruction and clinical training to familiarize students with medical terminology, basic anatomy and physiology, medical coding and billing procedures, administrative tasks for maintaining patient records, preparing for lab tests, taking vital signs, and more.
Upon completing this program, graduates will be prepared to take and pass the Certified Medical Assistant Exam. Once certified, graduates can work in various medical settings, such as hospitals, clinics, doctor's offices, long-term care facilities, and more.
With the proper training and credentials, medical assistants can earn competitive salaries while supporting healthcare providers.

Working Conditions and Responsibilities of Each Role
The working conditions for nurses and medical assistants can vary greatly. Nurses may work in any healthcare setting, from the hospital to the home care environment, and their hours can range from full-time to part-time.
Medical assistants usually work in doctor's offices and clinics, often with regular hours and duties such as taking vital signs, performing laboratory tests, and updating patient records.
While the responsibilities of nurses and medical assistants can differ, they both play essential roles in providing quality healthcare to patients. Nurses provide direct care and supervision, while medical assistants help with administrative tasks. Both positions require excellent communication skills, as well as a dedication to providing the best care possible.

Benefits of Becoming a Medical Assistant or Nurse
Aspiring medical professionals looking to start their careers can benefit significantly from training to become medical assistants or nurses. These healthcare professionals play a vital role in patient care and treatment and are essential medical team members.
As a medical assistant or nurse, you can work directly with patients, providing them with comfort and care during their most vulnerable moments. You will also have the chance to work alongside experienced doctors and nurses who will mentor and guide you throughout your journey.
Additionally, the demand for medical assistants and nurses is constantly growing, ensuring job security and stability for those pursuing this career path. Becoming a medical assistant or nurse is a rewarding and fulfilling career choice that offers numerous benefits and opportunities for growth.
If you're interested in taking your career in healthcare to the next level and becoming a healthcare professional yourself, contact Northwest Career College about our Medical Assisting program for further information today!

Start your new career today
Here at Northwest Career College, we have a student-focused attitude that prioritizes giving our graduates the training and skills they'll need to excel as medical assistants.
Our established and seasoned instructors work with you, teaching you every aspect of Medical Assisting. We help you build your skills, abilities, and confidence, and we are proud of our 88% national exam pass rate.
If you'd like to learn more about what our medical assistant course can offer you, call one of our enrollment specialists at (702) 403-1592 today. We provide flexible learning, with online and on-campus morning, afternoon, and night classes to accommodate your Las Vegas work and family schedule.
Once you've graduated, our dedicated and experienced Career Services team will work with you to help you find the best employment opportunities in Las Vegas. Call us now on (702) 403-1592 to start your journey!