Top 5 Reasons You Should Consider Becoming A Pharmacy Technician
May 20, 2021
512 views
3 min read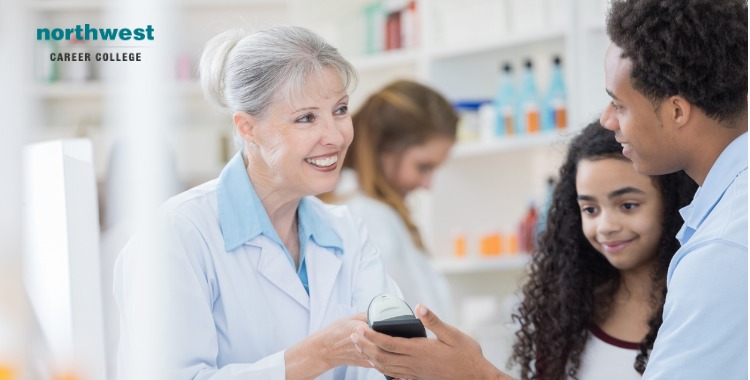 The healthcare industry is currently one of the fastest-growing work fields in the US and the pharmacy sector alone has grown 75% in the last decade. Owing to a growing and aging population, the demand for healthcare professionals is consistently rising.
So, if you're looking for a career in the healthcare industry, Pharmacy Technician might be a great fit for you. Read on to find out why.
Know more: The truth about Pharmacy Tech
Reasons You Should Consider Becoming A Pharmacy Technician
You Can Become Certified in Less Than a Year
Unlike other careers in the healthcare sector, one of the primary benefits of working in the pharmaceutical industry is that you can become a licensed Pharmacy Technician in under a year.
Here at Northwest, you can graduate from our Pharmacy Technician School as a fully qualified pharmacy technician in as little as nine months! We also offer preparatory classes to help you pass your ExCPT Certification.
Becoming a nationally certified pharmacy technician CPhT enhances your ability to find employment and demonstrates your competency in the profession.
Your Work Helps People
Whether you're dispensing medications, serving at the cash register, or providing advice to a customer, the job of a pharmacy technician is to assist people.
One of the biggest advantages to a career as a pharmacy technician the level of job satisfaction. You'll work with a huge range of different people and make use of your particular and valuable abilities to help them get the assistance they need.
Educational Flexibility
Our pharmacy technician courses offer educational opportunities that are accessible to you in ways that effortlessly match your lifestyle.
Northwest offers a blended program including online and on-campus classes with weekly workshops and whiteboard classes on campus to accommodate your work and family schedule.
Our student-focused schedule allows you to attend Pharmacy Tech training, care for your family, and have a balanced life in Las Vegas while advancing towards your new career.



Great Salary and Job Security
On average, a Pharmacy Tech graduate earns $38,150 a year according to the United States Department of Labor, Bureau of Labor Statistics. Employment for PharmacyTechs is expected to grow 4 percent from 2019 to 2029, faster than average for all occupations.
Great Career Advancement Prospects
One of the many advantages of becoming a pharmacy technician is that there is plenty of room for professional development in the pharmaceutical industry.
Your qualifications as a pharmacy technician could be the first step on the road to becoming a community store manager or pharmacy technician supervisor.
Start Your New Career As A Pharmacy Technician Now!
Northwest Career College is one of the premier pharmacy technician schools in Las Vegas. Our course provides our students with the skills and training they need to take advantage of the growing need for pharmacy technicians.
Our experienced instructors offer online and on-campus classes to accommodate your Las Vegas work and family schedule. Call us today at (702) 403-1592 to speak to one of our enrollment specialists.