5 reasons a Dental Assistant qualification is the perfect career change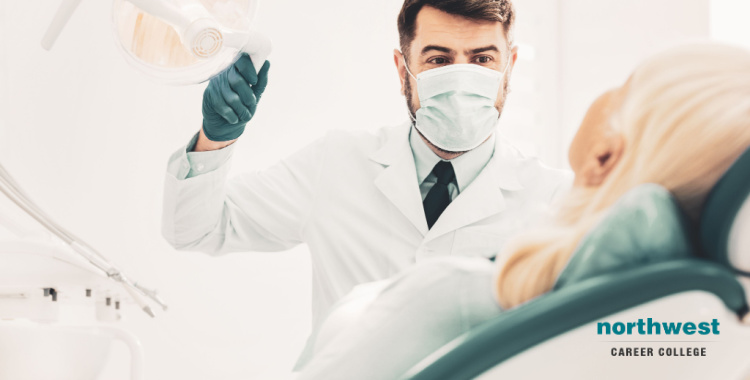 If you're looking for a new career that is interesting, challenging, and rewarding, a qualification as a dental assistant may be perfect for you! Dental assistants are in high demand and enjoy great job security.
They work in a stimulating environment with friendly and supportive colleagues. Here are five reasons why getting your dental assistant qualification at Northwest Career College is the best decision you'll ever make!
You'll be in high demand
Dental assistants are in great demand due to the increasing number of people needing dental care and the aging population. As a dental assistant, you will be an important member of the dental team, providing quality care to patients.
The number of dental assistants required is expected to grow by 19% over the next ten years, so now is the perfect time to get qualified!
You'll enjoy  great job security
Dental assistants have excellent job security as there is always a need for their skills and knowledge. Dental practices are constantly expanding and new practices are opening all the time, so there are plenty of opportunities for advancement.
According to the Bureau of Labor Statistics, the job outlook for dental assistants is excellent, with a predicted 19% growth in employment from 2019 to 2029. This is much faster than the average for all occupations!
You'll earn a good salary
Dental assistants are in high demand and as such, they can command a good salary. The median annual salary for dental assistants was $39,810 in 2019, according to the BLS. This is higher than the median annual salary for all occupations, which was $38,714 in 2019.
You can work part-time or full-time
Dental assistants can work part-time or full-time, so it's a great career option if you're looking for flexibility. Many dental assistants also enjoy working in a variety of settings, such as private practices, clinics, hospitals, and research facilities.
This flexibility also means that you can work around other commitments, such as childcare.
You don't need a degree
A dental assistant qualification is a great option if you're looking to start a new career without having to go back to school for a long time. NCC offers an accredited Dental Assisting Diploma program that can be completed in as little as 11 months.
Why choose NCC?
NCC is a well-respected and accredited institution that offers a comprehensive Dental Assisting Diploma program. The program includes both classroom and clinical instruction, so you'll be prepared to work in a dental office as soon as you graduate.
Plus, NCC's small class sizes mean you'll get individualized attention from your instructors. And, you'll have the opportunity to intern in a dental office during your final semester, so you can get real-world experience before you even graduate.
Dental assisting is a rewarding career. Dental assistants play an important role in helping people maintain their oral health. They often form long-term relationships with their patients and their families.
Plus, dental assistants often have the opportunity to work in a variety of settings, from private practices to hospitals. And, they usually enjoy good job security and good pay.

So if you're looking for a career change, consider becoming a dental assistant. NCC can help you get the training you need to succeed in this rewarding field. Contact us today to learn more about our Dental Assisting Diploma program!
Starting your new career with NCC
Here at NCC, our Dental Assisting program can be completed in as little as nine months. We offer both day and evening classes to fit your schedule, and our knowledgeable instructors are here to help you every step of the way.
If you are ready to get started on your new career, contact us today to learn more about our Dental Assisting program or to schedule a tour of our campus. We look forward to meeting you!
Join one of the best Dental Assistant training schools in Vegas
Here at Northwest Career College, we firmly believe that learning is a process that continues on the job. Our Dental Assistant Training Course gives you all the critical skills and experience you'll need to find the best dental assisting employment opportunity in Las Vegas. 
Our Dental Assistant School offers morning, afternoon, and night classes to accommodate your busy work and family schedule. 
Our established seasoned instructors have helped our students achieve a 91% national exam pass rate. Call us at (702) 403-1592 to speak to one of our admissions assistants about your new dental assisting career.
Written by:
Jessica Vazquez, RDA
Dental Assisting Program Chair