4 Best Yoga Poses You Can Do at Your Work Desk
September 21, 2019
478 views
4 min read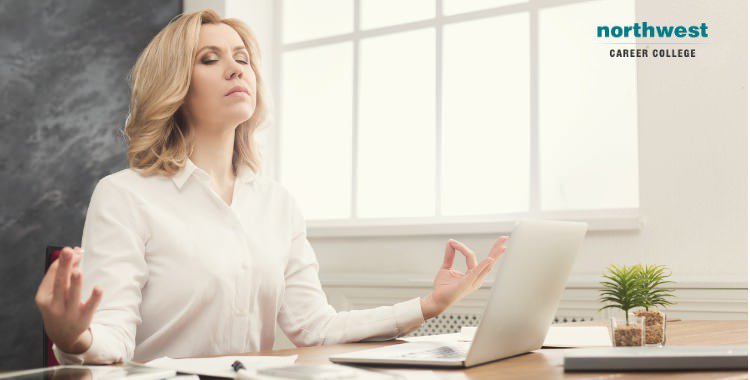 We all know that sitting slouched over at our desks is bad for our bodies, but, at the end of the day, your desk is where you work and most of us don't have the option of leaving that behind.
To help you keep supple and avoid some of the common back and neck complaints suffered by office workers, here are four simple and easy to do yoga poses you can do at your work desk.
Four Yoga Poses You Can Do at Your Work Desk
Seated Crescent Moon Pose
One of the most common issues with spending hours sat at a desk is that your side body tends to collapse. This contributes to neck and shoulder discomfort. The good news is that seated crescent moon pose combats that discomfort by uncollapsing your spine.
Lift your arms overhead and stretch your fingers wide
Lean to the right, taking 2 to 3 deep breaths
Repeat on the left side for another 2 to 3 deep breaths
Chair Pigeon Pose
Many people sit in their office chair with their legs crossed, the chair pigeon pose helps to fight the imbalances in the hips and lower spine that sitting cross-legged for long periods of time creates.
While seated in your chair, both feet flat on the floor, cross your right leg over the left at a 90-degree angle, keeping the foot flexed as to not place pressure on the knee
Maintain equal weight distributed between the sitting bones while staying in an upright seated position
You should feel a gentle to moderate stretch on the outermost part of the right thigh
Hold 5 to 10 breaths before switching sides
Desk Upward Dog Pose
One of the best ways to combat the rounded upper back posture seen in people who spend most of their time seated across from a computer screen, the desk upward dog pose opens the chest and shoulders.
Rest your hands about shoulder-width distance on the edge of a sturdy desk, and step your feet back so your torso is a diagonal line to the floor
With your arms straight, lower your hips toward the desk, refraining from sinking in the lower back by using the strength in your legs
Stretch your chest between your shoulders and gently tilt your chin upwards while sliding the shoulder blades down the back
Hold 5 to 10 breaths
Desk Plank Pose
One of the easiest desk yoga poses to perform, the desk plank pose allows you to lengthen you spine and stretch your underused hamstrings.
Place your hands shoulder-width distance or wider on a desk edge
Step your feet back until your feet are directly under your hips as you create a pleasant feeling traction for your spine
Hold 5 to 10 breaths and let this pose help you undo all the negative effects of sitting
Know More: Desk Yoga for Medical Administrative Assistants
Join One Of The Best Massage Therapy Schools In Las Vegas Today!
At Northwest Career College, we operate one of the best Massage Therapy Schools in Las Vegas and our Massage Therapy Course will teach you the skills you'll need to apply the benefits of sports massage. The benefits of massage therapy are widely recognized with employment for massage therapists expected to increase by 22% between 2014-2024, with an average massage therapist earning $39,360 a year. Additionally, many massage therapists maintain active, private practices, increasing both their flexibility and earnings.
Our massage student clinic is open seven days a week, for both your and your clients' convenience, and we offer day and night classes to accommodate your work and family schedules. Our instructors are experienced professionals who will prepare you to sit for either the NCBTMB (National Certification Board of Therapeutic Massage) or the MBLEX (Federation of State Massage Therapy Boards) exams and we are proud of our 100% board pass rate. Call us at (702) 403-1592 to speak to one of our enrollment specialists today!