4 ways to start a healthcare career in less than 9 months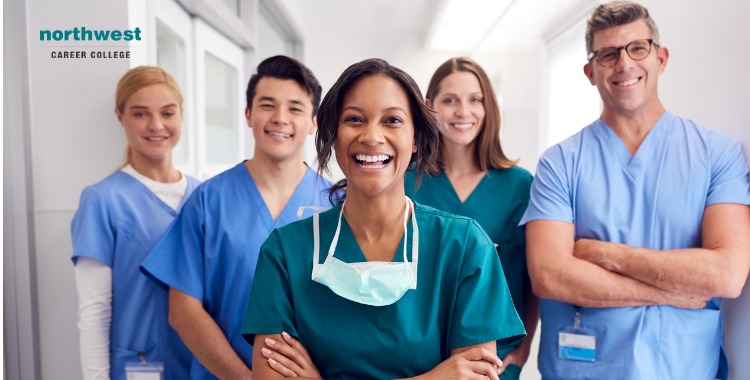 The U.S healthcare sector, driven by an aging population and a consistent advance in the number of diseases and conditions we can treat, is growing rapidly, opening up career choices as it does.
However, most people associate healthcare work with needing to spend years, and huge sums of money, to pass medical school. Thankfully, that just isn't the case and you can get a rewarding and influential healthcare career without a degree in medicine.
In this article, we'll be looking at four healthcare career paths you can get started on in just 9 months.
Phlebotomy Technician – 3 Months
Phlebotomy technicians are responsible for drawing the blood samples that are vital to modern medical diagnosis techniques and keep the patient happy and safe while performing an invasive blood draw.
As part of our Phlebotomy Technician Course, you'll be taught by experts in the field with decades of experience and cover core topics such as venipuncture procedure, hematology, safety in health care, medical law & ethics, medical terminology.
As certification is required to practice as a phlebotomist in Nevada, we also provide our students with a certificate that qualifies them to sit for the Registered Phlebotomy Technician (RPT) exam administered by the American Medical Technologists (AMT). We are proud of the fact that our students have an 89% national exam pass rate.
Once you've graduated, our committed Career Services team works with our contents in the Las Vegas healthcare system to find you a job placement that suits you.
Medical Assistant –  9 Months
Medical assistants are a vital part of any healthcare provider, assisting the doctors and nurses as they perform their duties. Because of the importance of their role, there is a huge need for medical assistants to fuel the growing U.S. healthcare sector. 
Our Medical Assistant Program works hand in hand with the local Las Vegas healthcare industry, allowing you to gain vital hands-on experience in the workplace that is hugely valuable to future employers. 
We also offer a flexible on-campus and on-line curriculum designed to allow you to fit study in around a busy lifestyle. Because we believe that equipment shouldn't stand between you and the career you want, we also offer all our students a laptop, free of charge, to help them access their online lessons.
Medical Billing and Coding – 9 Months
The need for qualified medical billers and coders has exploded in recent years, with the Bureau of Labor Statistics predicting that the number of jobs will grow by 8% over the next decades, far exceeding the national average for all other occupations.
As a medical biller and coder, you will be an integral part of the administrative side of the modern U.S. healthcare system, converting the diagnosis and treatment dished out by doctors into IDC codes, learned as apart of our Medical Billing and Coding Program, that can then be billed to medical insurance providers.

Medical billers and coders can work in a wide range of environments, from busy hospitals to local practices and many even work freelance from home. Because of their important role in how the healthcare system operates, the average salary for a medical biller and coder is $45,600 a year, according to the United States Department of Labor.
Medical Administrative Assistant – 9 Months
The administrative side of the healthcare system provides vital support for those working on the front lines of medicine, enabling doctors and nurses to do their jobs by making sure the background machinery of any healthcare provider works as smoothly and efficiently as possible.
As part of our Medical Administrative Assistant Program, you'll be educated by experienced professionals in subjects such as medical administration, medical records management, medical terminology, claims management, financial and practice management, and health information management.
Our extensive connections with local Las Vegas Healthcare providers means we can also offer all our Medical Administrative Assistant Program students a chance to complete an externship with a local healthcare provider, gaining valuable experience in the workplace that can help them stand out in the job market.
Start Your New Career Today
At Northwest Career College, we pride ourselves on providing one of the premier Phlebotomy Schools in Las Vegas. Our phlebotomy students have an 89% national exam pass rate, and you can graduate in as little as three months. 
Our established and seasoned instructors will take you through every aspect of Phlebotomy and Northwest offers day, afternoon, and night classes to accommodate your busy Las Vegas work and family schedule. Call us today at (702) 403-1592 to speak to one of our admissions specialists about your new Phlebotomy career.

Written by:
Jenette Ashcraft, N.C.M.A.
Allied Health Department Director