Working in the field as a Medical Assistant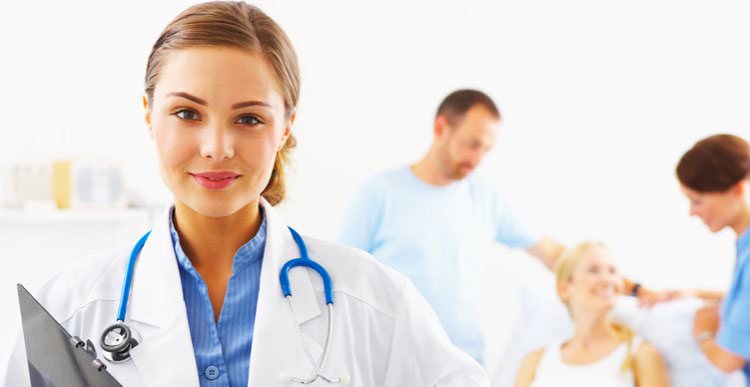 Many students ask me on a regular basis what it was like to be working in the field as a Medical Assistant. I remember wondering this same thing when I was in school. I knew that I would be performing the skills that I learned in school, but I wondered if I would be doing other skills.
For example, on the first day of my externship, I was tasked to remove staples from the head of the second patient I saw. He had had surgery the week before and was in the office for a follow-up.
Now, we had gone over this in class, but I was surprised that I was able to actually perform that task and on my first day! This was a really cool way for me to start my externship and gave me some confidence and definitely paved the way for what to expect.
After about three hours of shadowing the nurse, she turned me loose and told me to start processing patients on my own. I couldn't believe this, but it was definitely exciting and stressful at the same time. I remember the first patient I brought back to see the doctor and how nervous I was at the time. Looking back on that first day of externship now makes me laugh.
When I worked in family practice, my first day on the job I was handed a cheat sheet of prescriptions that are commonly used. I was told to start memorizing these and become more familiar with them to make work flow easier. It was expected that I learn what medications are used to treat certain conditions. Over the course of time, I started to learn what medications would be prescribed for all the certain conditions that we would treat. It was my job as the MA to make the doctor's job easier and to run smoother.
Over time, the doctor wanted me to start doing some charting for each patient we would see. So I began to enter the information for each patient we saw. The doctor wanted me to fill out as much info as possible, including how much and what medications were prescribed. The doctor would always review my work and sign off on the chart and the orders, but I couldn't believe I was doing that type of important work. Since I was supervised by the physician, it was completely acceptable, but how cool is that? I never thought I would be able to do those types of things.
Another example of one of my on the job surprises, this is when I worked alongside a Mohs surgeon. I had been working with the doctor for about a year and all during that time, he was teaching me new things and procedures. One thing he focused on was teaching me about sutures and the different types of sutures he used.
Over time, he began to trust me more and gained confidence in my ability to not only remove sutures but also to sew quality sutures. He would let me do 90% of the sutures for a wound and then he would finish the last 10%. I couldn't believe that he trusted ne to do these procedures…but he did. Although while in school, we learned all about removing sutures, I never thought I'd be sewing sutures on my own. Again, all of this was supervised by the physician so it was completely acceptable.
So now when students ask me what it will be like to work in the field, I respond with, "You never know what you may end up doing. It will all depend on where you work and who you work with." Generally, students learn a lot within the first couple of weeks of employment and many times these are skills that they never thought they could or would do. Overall, externship and employment in the medical field is some of the most exciting times because of the unknown possibilities. What do you think you may do in your new career?