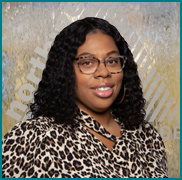 Kalila Campbell, B.A.
Healthcare Administration Instructor I
B.A., Milwaukee Area Technical College
Originally from the State of Washington, Kalila came to Las Vegas via Wisconsin to get away from the cold and the snow.
A graduate of Milwaukee Area Technical College and Concordia University, Kalila is now part of our committed Healthcare instructors team and can express her personal passion for teaching, motivating, and inspiring others to be the best version of themselves.
She is also doing her part to ensure that all people have access to quality healthcare by training the next generation of healthcare professionals.
For Kalila, the best thing about working for NCC is being able to teach and share her passion for healthcare with the students.
In her spare time, Kalila can be found reading, watching movies, and making T-shirts and home decor on her Cricut machine. At the weekend, she likes to visit yard sales and thrift stores, outdoor markets and explore new places and rest.