Why you should qualify as a Business Administrative Assistant with NCC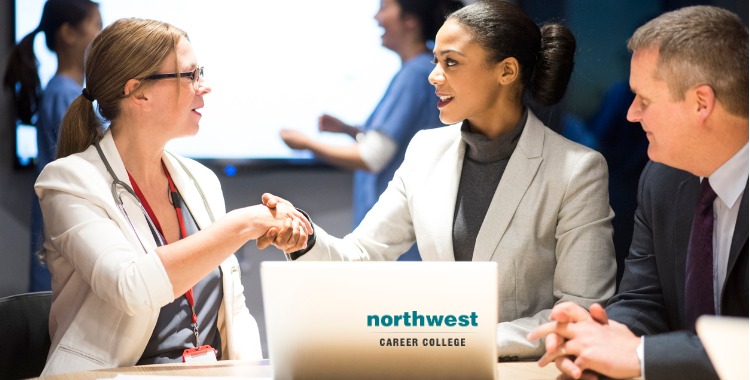 Are you ready to make your mark in the exciting world of business administration assisting? Here at Northwest our Business Administrative Assistant School is here to help you open the door to a wide range of career opportunities across a huge variety of sectors.
Joining one of our Business Administration classes will give you the knowledge, administration skills, confidence, and adaptability you need to build the competitive career you've been looking for.
So, if you're interested in qualifying for a position that will make you a vital part of businesses across a hinge range of industries, read on to find out more about who NCC can help you find your next career.
Rapid Graduation 
We understand that you want to get out in the job market and start advancing your career as soon as possible, which is why, with NCC, you can graduate as a fully qualified business administration assistant in as little as nine months!
Excellent Instructors
At Northwest Career College, your Business Administrative Assistant instructors are comprised of experienced business professionals with extensive backgrounds working in, starting up, and operating varied businesses and organizations. 
Their expertise will guide you as to the many ways a Business Administrative Assistant integrates into successful Las Vegas business practices.
Flexible Blended Programs
Northwest's Business Administrative Assistant Program in Las Vegas offers a blended combination of on-campus and online business administrative assistant classes, so you can fit your education around your personal life.
All Business Administrative Assistant Program classes in Las Vegas, both online and offline, are taught on campus by a host of business professionals and guest speakers and we offer a free laptop to each student to ensure easy internet and online class access.
A Comprehensive Curriculum
Northwest's comprehensive Business Administrative Assistant Program offers you all the skills and education you need to get a great start in the fast-paced world of business, including lessons on:
Introduction To Business

Professional Letter Writing

Scheduling and Time Management

Fundamentals of Accounting

Introduction To Marketing Concepts

Business Ethics

Office Fundamentals

Quality Control

Computers, Software, and Business Applications
Great Job Security and Earning Potential
According to the United States Department of Labor, Bureau of Labor Statistics, the job market for business administrative assistants is expected to increase 8% over the next four years. Not only does this offer excellent job security, but, with the average business administrative assistant graduate earning $39,850 a year it also offers great rewards.
Become a Vital Part of a Business Today
Northwest's Business Administrative Assistant Program Las Vegas offers on-campus and online Business Administrative Assistant classes to accommodate your work and family schedule.
We value real, hands-on experience, which is why you'll be visiting businesses and organizations of different sizes, industries, and structures and why our instructors are all experienced business professionals with extensive backgrounds working in, starting up, and operating various businesses and organizations. 
Featuring a host of business professionals and guest speakers, our classes will give you all the skills you need to play a vital part in any business, and still graduate in as little as 9 months.
Written by: 
Monica Jones, 
B.S. Business Administration Assistant Program Chair