Which NCC Program is Right for YOU? Legal Assistant V.S. Paralegal?
June 6, 2023
295 views
6 min read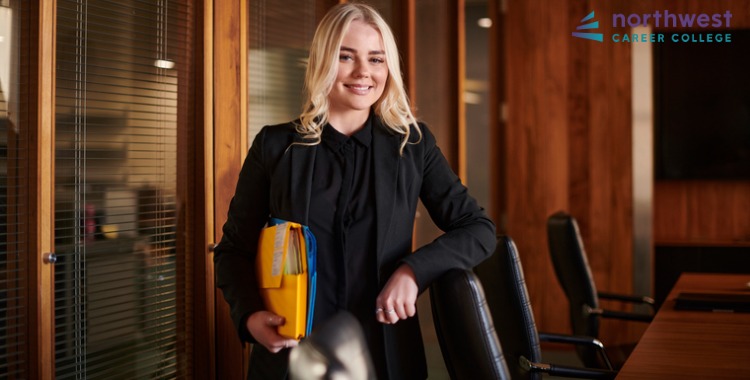 Are you looking to move your career forward but unsure which route to go? Making a wise decision depends on finding the right program for you – one that fits with your goals and interests.
If the law interests you, Northwest Career College could be the perfect place for you! Our Legal Assistant or Paralegal programs provide our students with a first-class education in legal research, writing documentation, ethics in law practice, and more.
This blog post will look deeper into what makes the NCC Legal Assistant v.s. Paralegal Programs are different, so choosing the right path is made easy. Read on to learn more about both programs and how they can help propel your career!

Overview of the Northwest Career College Programs – Legal Assistant vs. Paralegal
Northwest Career College offers a range of programs that can help students pursue their career goals. Two of the most popular programs are Legal Assistant and Paralegal.
While the two might seem similar, they do have some differences. Legal assistants are usually responsible for administrative tasks such as drafting documents and organizing files. They assist attorneys and other legal professionals and can work in various settings, such as government agencies, law firms, and corporations.
On the other hand, paralegals have more specialized training and can perform some legal tasks, such as conducting legal research and drafting legal documents. They work under the supervision of attorneys and can also specialize in different areas of law.
Choosing between the two programs depends on the level of responsibility and the specific tasks you would like to perform in your career. Whichever program you choose, Northwest Career College will provide you with the necessary skills and knowledge to succeed in the legal field.

Differences between a Legal Assistant and a Paralegal
When it comes to the legal field, there are various roles you can take on as a professional. Two common positions you might come across are legal assistants and paralegals. While these titles may seem interchangeable, they actually have some notable differences.
Legal assistants are typically responsible for administrative tasks, such as scheduling appointments, organizing files, and answering phone calls. They might also help prepare legal documents and do research, but they do not give legal advice or represent clients.
On the other hand, paralegals are more involved in the nitty-gritty of legal proceedings. They do much of the same work as legal assistants but also conduct interviews with witnesses and clients, assist with trials, and draft legal briefs.
So, if you're interested in pursuing a career in the legal field, it's essential to know which role might suit you best – a legal assistant or a paralegal.

What type of knowledge or skills are necessary for each program
Choosing between NCC's Legal Assistant and Paralegal programs largely depends on the kind of knowledge and skills you want to acquire.
Legal assistants typically need strong communication, organizational, and analytical skills. They should be comfortable researching legal topics, drafting documents, and managing administrative tasks.
Paralegals, meanwhile, need a more in-depth understanding of the law and how to apply it. They should possess a solid legal research background and be able to interpret laws, regulations, and court decisions accurately and precisely.
At Northwest Career College, our programs are designed to provide students with the necessary education and skills to pursue their desired career paths. So whether you want to become a Legal Assistant or Paralegal, you can rest assured that our program will give you the foundation needed to succeed.

The job market for legal assistants and paralegals
In today's rapidly evolving job market, being a legal assistant or paralegal is a promising career path. The legal profession has always been a vital component of society, and the demand for these professionals continues to grow as individuals and organizations require legal assistance.
Legal assistants and paralegals work closely with their supervising attorneys to help prepare legal documents, conduct research, and provide administrative support. As the complexity of legal cases increases, so does the need for skilled professionals who can navigate the intricate legal system.
With competitive salaries, job security, and opportunities for growth, it's no wonder that the job market for legal assistants and paralegals is booming. Are you ready to jump into this exciting field?

Benefits of taking a course in either program
Both NCC's Legal Assistant and Paralegal programs have their own associated benefits. But no matter which path you take, here are a few advantages of taking a course in either program:
• Gain the necessary knowledge and skills to pursue your desired career
• Learn from experienced professionals with expertise in the field
• Develop an understanding of legal principles and procedures
• Acquire valuable communication and research skills
• Build a strong foundation for success in the legal profession
A course in either program is an excellent way to get your foot in the door and gain all the knowledge and experience you need to pursue a Legal Assistant or Paralegal career. So don't wait any longer – take the first step towards a successful future.

Starting your career in the legal field
When it comes to choosing between Northwest Career College's Legal Assistant and Paralegal programs, it is essential to consider the differences between the two and what skills or knowledge each requirement requires.
With proper preparation, you could find yourself promising job opportunities regardless of your chosen program. It's also beneficial to note that some employers may prefer one over the other, depending on their industry.
However, both provide qualifications that can benefit your career journey. So, take a moment to think about what would best serve your individual goals, and contact Northwest today about our Legal Assistant or Paralegal Program!



Choosing your new career path
Gaining a qualification from our Legal Assistant School puts you in an excellent position to access various employment opportunities as you look for one that suits your skills and interests.
At Northwest Career College, our Legal Assistant instructors include licensed, practicing attorneys and degree instructors able to teach, not only the law but also to guide our students in the many ways a criminal justice graduate integrates into a Las Vegas legal profession.
As part of our Legal Assistant Program, you'll visit courts, jails, meditation centers, and more to experience first-hand the law in action, which will make your criminal justice training applicable to the Las Vegas legal system.
Northwest offers a flexible blended program with all criminal justice classes taught on our Las Vegas campus by an attorney and general education courses offered online. Our experienced instructors are on campus to review and support your learning experience at all times.
Call us at (702) 403-1592 to speak to one of our enrollment team about joining our Legal Assistant Program today!