Which NCC Program is Right for YOU? Dental Assistant V.S. Dental Administration?
Dental Administrative Assistant
June 19, 2023
356 views
6 min read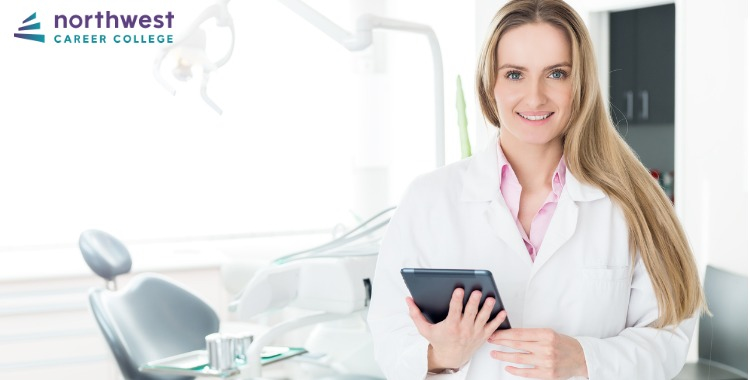 Are you considering enrolling in an NCC program to become a dental assistant or work in dental administration? If so, it is essential to understand the distinctions between these two vital healthcare professions.
In this blog post, we will explore both roles – what they entail on a day-to-day basis and their future potential.
Read More: Is Working As A Dental Assistant Worth It?
Overview of Dental Assistant Program – description, job duties, and skills needed
Becoming a dental assistant can be an incredibly rewarding career path. Dental assistant programs offer students hands-on training and knowledge in various areas, including dental procedures, patient care, and office management.
Job duties for dental assistants can vary but typically involve assisting the dentist during procedures, preparing instruments, taking X-rays, and educating patients on oral hygiene. In addition, dental assistants must have excellent communication and organizational skills, as they often interact with both patients and other healthcare professionals.
If you are detail-oriented, enjoy working with people, and have a desire to make a positive impact on others' lives, a career as a dental assistant may be the perfect fit for you.

Overview of Dental Administration Program – description, job duties, and skills required
As the healthcare industry continues to expand, the demand for dental professionals is also rising. Among the most in-demand roles is that of a dental administrator.
As the title suggests, dental administrators handle the administrative tasks of a dental office or clinic, ensuring that the practice runs smoothly and efficiently. These professionals are responsible for a wide range of tasks, from scheduling appointments and managing patient records to billing insurance providers and preparing financial reports.
To excel in this role, one must possess excellent organizational and communication skills, attention to detail, and a solid understanding of dental terminology and procedures. Pursuing a dental administration program can equip students with the knowledge and skills to succeed in this exciting and dynamic field.

How to Choose Between Dental Assistant & Administration Programs – Important Factors to Consider
First and foremost, evaluating your interests, strengths, and career goals is essential. If you enjoy working directly with patients, have a keen eye for detail, and prefer hands-on work, then a dental assistant program may be the best option for you.
On the other hand, if you have excellent organizational skills, are comfortable with administrative tasks, and possess strong communication skills, then a dental administration program may be more suitable.
Additionally, it is crucial to research the reputation and accreditation of the schools offering these programs, the cost of tuition, and the potential job opportunities after graduation.
Considering these factors will help you make an informed decision and set you on the path toward a fulfilling career in the dental field.

Benefits of Each Program – Pros & Cons
Both programs have unique benefits and drawbacks, so it's important to weigh your options carefully.
Becoming a dental assistant offers the opportunity to work hands-on with patients, assisting the dentist during procedures and providing care instructions.
On the other hand, pursuing dental administration allows for a more
behind-the-scenes approach, managing finances, schedules, and patient records.
While both jobs offer good job security and a decent salary, it ultimately comes down to personal preference and what type of work you enjoy doing.

Reasons to Pursue NCC Programs in the Field of Dentistry
Are you considering a career in the field of dentistry? Pursuing an NCC program could be the perfect step for you to take.
Not only will you gain valuable knowledge and experience in dental health and procedures, but you will also have the opportunity to develop your communication and leadership skills.
Additionally, NCC programs in dentistry provide a pathway to advanced degrees and specialized fields within the industry.
With the demand for dental professionals continuing to grow, now is the perfect time to invest in your education and future. Take the first step towards a fulfilling career in dentistry by pursuing an NCC program today.

Career Paths After Graduating from either Program – Job Opportunities and salary expectations
As a recent graduate of either a dental assistant or dental administration program, you may wonder what career paths are available.
The good news is that both professions offer a variety of job opportunities in the dental industry.
Dental assistants can work directly with patients, assisting dentists with procedures and performing administrative tasks.
Dental administrators, on the other hand, specialize in managing the business aspects of dental offices, including scheduling appointments, managing patient records, and handling billing and insurance.
In terms of salary expectations, both professions have the potential to earn competitive wages, with dental assistants earning an average of $40,000 per year and dental administrators earning an average of $51,000 annually.
Ultimately, the choice between these two career paths will depend on your interests and strengths, so it's essential to take the time to consider which path is the best fit for you.

Choosing the right program for your future career
If you've read this far, then you're ready to take your first step toward your new career.
Contact us at Northwest College, and our knowledgeable staff will be more than happy to answer any questions and help you decide which one is right for you — whether it is our Dental Assistant Program or our Dental Administration Program.


Start your dental administrative assisting career with us!
Employment for entry-level employment in the dental field is expected to increase by 23% over the next 10 years, faster than average for all occupations, according to the Bureau of Labor Statistics.
With this growing demand for DAAs, it is essential that graduates cultivate the skills and traits that will help them stand out in the employment market.
Our Dental Administrative Assisting Program at Northwest Career College prepares students to work in any dental office. Our expansive, nine-operatory lab provides students with real-life dental office experience.
You will be trained to handle clerical duties such as scheduling appointments, handling insurance claims, and monitoring inventory. You will work with documents, forms, and computer systems. No other Dental Administrative Assistant Program in Las Vegas offers this type of advanced training.
Our vocational training-focused approach will help you cultivate the skills you will need to stand out. Our experienced Career Services team will work with you to help you find the best dental administrative assistant employment opportunities in Las Vegas. Call one of our enrollment specialists at (702) 403-1592 to find out more.