What To Look For In A Healthcare Employer?
Medical Administrative Assistant
August 1, 2018
498 views
3 min read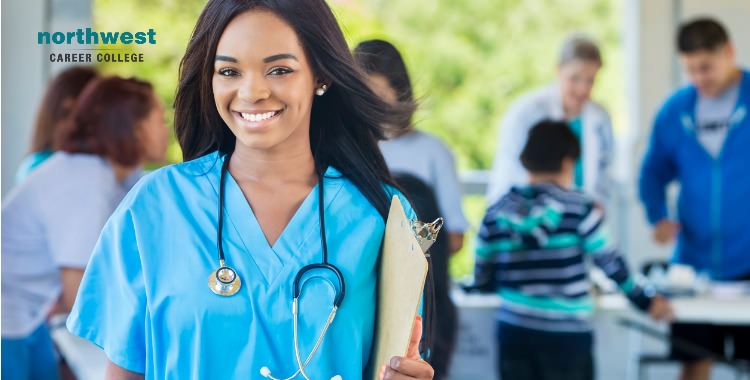 Part of finding the perfect healthcare job is ensuring you have the skills and qualifications that make you stand out from the crowd. Just as important as that is doing your research on potential employers and to make sure they match the values you look for in a healthcare provider. Courses like the one offered by the Medical Administrative Assistant School here at Northwest Career College will give you the skills you need, but you'll need to do a little research of your own to find you perfect employer.
What to Look For
The size of the organization – The size of your potential employer can make a significant difference to the type of duties, benefits and career advancement opportunities you can expect. Larger organizations tend to have a more comprehensive benefits package, a more well-defined structure and the opportunity for you to move to a different location and still work for the same company. Working for a smaller employer may involve more varied responsibilities, a looser authority structure and more chance for your work to be noticed. Working for a large or small organization has distinctly different benefits, so it's best to have an idea of which of these benefits you value most before applying for a position.
Mission Statement – It is important that the expressed values of an employer match up with you own, as repeatedly being asked to go against those values can significantly diminish your job satisfaction. Research your potential employer's mission statement and don't be afraid to ask questions during an interview to ascertain their company values.
Reviews – The ability to review current and past employers has become increasingly common, especially as most job hunting is now conducted online. Companies such as Glassdoor and Indeed now allow prospective applicants to see reviews from other employees. These reviews can be used to get a measure of how the company treats its staff.
Employer's Goals – Understanding an employer's goals is vital to understanding the part you, as an employee, would play in the achievement of those goals. By researching and understanding the trajectory of a company you hope to work for, you can also be more proactive, both in your application and in interviews, in expressing how you see yourself contributing to those goals, something most companies value in their prospective employees.
Finding The Perfect Position
Here at Northwest Career College, our student centered philosophy means that you come first. We offer a flexible schedule so you can care for your family and have a balanced life in Las Vegas while advancing towards your new career. Our committed Career Services Team works with you to help you find the perfect employer and we are very proud of our 92% job placement rate for our medical administrative assistant school graduates.
We pride ourselves in being the premier Medical Administrative Assistant school in Las Vegas and our established, seasoned instructors offer online and on-campus night classes to accommodate your busy work and family schedule. Call us at (702) 403-1592 to speak to one of our admissions assistants about your new medical administrative assistant career.