What Is The Difference Between A Dental Technician, Assistant, And Hygienist?
March 8, 2019
674 views
5 min read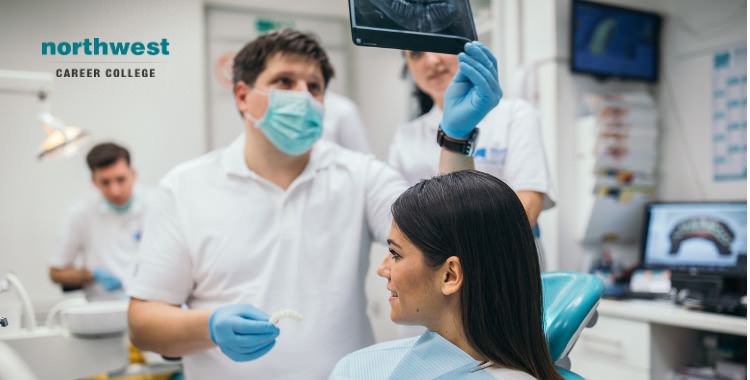 Are you interested in a career in dentistry? You don't have to be a dentist to reap the benefits of this exciting and rewarding field. There are many excellent job prospects at various levels of this industry.
Three of the most common roles in the dental field are Dental Techs, Dental Assistants, and Dental Hygienists. In this blog post, you'll earn the difference between each of these roles and find out which one is right for you!
Read More: Becoming a Dental Administrative Assistant in Las Vegas
What is a Dental Tech?
Dental Techs, also known as Dental Technicians, work in a laboratory environment and construct, fit, and repair dental appliances and devices. Working as a Dental Technician is a great job for those who like hands-on work and have a natural artistic instinct. Additionally, this person should be detail-oriented and creative. This role is best for someone who isn't interested in direct interaction with patients, as Dental Technicians are not allowed to examine, diagnose, advise, or treat patients.
What Are the Job Responsibilities of a Dental Tech?
The typical responsibilities of a Dental Technician include:
Filling orders for dental prosthetics or restorations, like dentures, bridges, veneers, inlays, and crowns.
Creating individual models of patients' mouths from both physical and digital molds.
Working with various materials, including plaster, wax, porcelain, and metal.
Matching the color and shape of the model to patients' teeth.
Dental Tech Education Requirements
A Dental Technician must have a high school diploma or GED. Job opportunities are better for those who complete a 2-year Dental Lab Technician program leading to an associate's degree or certificate. Dental Technicians can choose to specialize in one specific area like ceramics, dentures, or crowns and bridges. These specializations require an exam through the National Board for Certification in Dental Technology.
How Much Do Dental Techs Make?
According to the Bureau of Labor Statistics, Dental Techs typically make around $35,000 per year.
What is a Dental Assistant?
Dental Assistants are a crucial part of a dental office and work closely with both Dentists and Dental Hygienists. This position is primarily focused on preparatory responsibilities and assisting tasks. This position is perfect for someone who is hardworking, compassionate, highly organized, and who can listen and communicate effectively. Additionally, a Dental Assistant needs to have strong critical thinking skills and the ability to solve problems without getting flustered.
What Are the Job Responsibilities of a Dental Assistant?
Common responsibilities of a Dental Assistant include:
Readying patient treatment rooms for appointments
Greeting patients, communicating dental care information, and answering questions
Assisting during dental appointments, including positioning instruments and equipment
Using high-tech dental lab and diagnostic tools
Scheduling patient appointments and sending patient reminders
Occasionally assisting patients with insurance billing issues
Dental Assistant Education Requirements
Dental practices strongly favor Dental Assistants who have completed a reputable dental assisting program. However, previous healthcare training or education is not necessary in order to enroll in this type of program.
How Much Do Dental Assistants Make?
According to the Bureau of Labor Statistics, nationally Dental Assistants can expect to earn around $37,000 per year.
What is a Dental Hygienist?
Under a Dentist's supervision, a Dental Hygienist provides preventative oral care to patients. This person is highly knowledgeable about oral health and has the highest level of technical and healthcare skills out of all three positions discussed today.

A Dental Hygienist should stay up-to-date on up-and-coming dental technologies, have outstanding manual dexterity, and be passionate about helping patients achieve great oral health. This person must also be professional, detail-oriented, and friendly. Dental Hygienists usually work in one dental office or multiple offices of a single practice and don't always work a full-time schedule.
What Are the Job Responsibilities of a Dental Hygienist?
Typical responsibilities of a Dental Hygienist include:
Conduct preliminary dental examinations on new patients
Take and develop dental x-rays
Educate patient on procedures and treatments
Complete dental cleanings
Evaluate oral health of patients
Take notes on decay, conditions, and any treatment recommended by the dentist
Dental Hygienist Education Requirements
Dental Hygienists must graduate from an accredited dental hygiene school with either an associate's (2-year) degree. Some Dental Hygienists eventually earn a bachelor's or even a master's degree. Following graduation, an aspiring Dental Hygienist must pass a written and clinical exam to receive a state license.
How Much Do Dental Hygienists Make?
According to the Bureau of Labor Statistics, Dental Hygienists make around $73,000 per year
Start Your Dental Administrative Assisting Career With Us
Employment for entry-level employment in the dental field is expected to increase 23% over the next 10 years, faster than average for all occupations, according to the Bureau of Labor Statistics. With this growing demand for DAA's, it is essential that graduates cultivate the skills and traits that will help them stand out in the employment market.
Here at our trade school, our Dental Administrative Assisting Program prepares students to work in any dental office. Our expansive, nine operatory lab provides students with a real-life dental office experience. You will be trained to handle clerical duties such as scheduling appointments, handling insurance claims, and monitoring inventory. You will work with documents, forms, and computer systems. No other Dental Administrative Assistant Program in Las Vegas offers this type of advanced training.
Our student-focused approach will help you cultivate the skills you will need to stand out. Our experienced Career Services team will work with you to help you find the best dental administrative assistant employment opportunities in Las Vegas. Call one of our enrollment specialists at (702) 403-1592 to find out more.