How To Join The JAG Corps?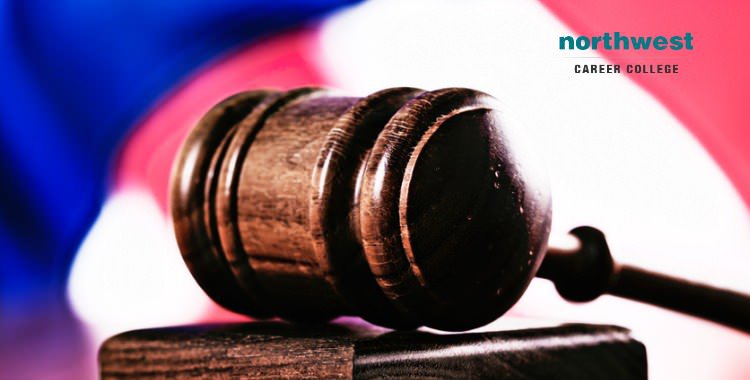 When people think of the US military, they don't often think of lawyers, until you mention the JAG Corps. Popularized by the ten season CBS legal drama television show, JAG Corps actually stands for the Judge Advocate General's Corps, and while they may be involved in fewer firefights and car chases than in the show that spawned NCIS, the still fulfill a vital role in providing legal advocacy in the armed forces.
What Does The JAG Corps Do?
Each branch of the U.S. Armed Forces, including the Army, Air Force, Navy, Marine Corps, and Coast Guard has a JAG program.
Judge Advocates (JAGS) serve primarily as legal advisors to the command to which they are assigned. In this function, they can also serve as the personal legal advisor to their commander. Their advice may cover a wide range of issues dealing with administrative law, government contracting, civilian and military personnel law, the law of war and international relations, and environmental law.
They also serve as prosecutors for the military when conducting courts-martial. In the United States military, they are charged with both the defense and prosecution of military law as provided in the Uniform Code of Military Justice. Highly experienced officers of the JAG Corps often serve as military judges in courts-martial and courts of inquiry.
After basic and specialized legal/leadership training, a Judge Advocate can be posted in various places across the country or, with most of the military branches, around the world.
The history of the U.S. JAG Corps dates back to the 18th century. Then General, George Washington, founded the JAG Corps on July 29, 1775, when he appointed lawyer William Tudor to act as the Judge Advocate U.S. Army, hence the Army's JAG Corp being given the nickname "the oldest law firm in the country".
How To Become A Judge Advocate?
The requirements for becoming a Judge Advocate vary depending on which military branch you are applying to, but as a rule, JAG candidates must have completed a law degree from an American Bar Association-approved school, have admission to the American Bar, be younger than 42 years of age, and be a United States citizen of "good moral character."
As the position is still a military one, JAG candidates must meet the physical, mental and character requirements of any prospective commissioned officer, which varies from branch to branch in the military.
The Navy JAG Corps offers summer internships and school year externships to law students wishing to gain valuable legal experience, the opportunity for academic credit, and greater insight into life as a Navy judge advocate.
As a Navy JAG Corps intern/extern, you'll be assigned to a legal command/staff and gain experience in traditional Navy JAG Corps practice areas such as military justice (criminal prosecution and defense), legal assistance (providing general legal advice to Sailors and their families), and command services (advising military commanders and their staffs).
Other Legal Careers With The Military
A Judge Advocate is one of the higher ranks in the legal wing of the Armed Forces, hence the need for a full law degree. If you are interested in joining the legal wing of the US Armed Forces but don't have the time or mean to pursue a full law degree, don't worry, there are plenty of other positions available.
The Armed Forces employ both military and civilian legal professionals, from attorneys to paralegals. In addition to judge advocates, the Armed Forces legal departments are made up of civilian attorneys, paralegals, legal technicians, and civilian support staff.
Many of these positions are accessible without any formal legal training or with a associates degree in fields such as Criminal Justice Studies or Paralegal studies, such as the ones offered here at Northwest.
The various JAG programs also offer funding to help cover training costs and potential financial programs for accessing law school. For more information, visit the website below:
Join Our Criminal Justice School Today!
Qualifying from our Criminal Justice School puts you in an excellent position to access a variety of employment opportunities as you look for one that suits your skills and interests. At Northwest Career College, our Criminal Justice instructors include licensed, practicing attorneys and degree instructors able to teach, not only the law but also to guide our students in the many ways a criminal justice graduate integrates into a Las Vegas legal profession.
As part of our Criminal Justice Program, you'll visit courts, jails, meditation centers and more to experience first-hand the law in action which will make your criminal justice training applicable to the Las Vegas legal system. Northwest offers a flexible blended program with all criminal justice classes Las Vegas law classes taught on campus by an attorney and general education courses offered online. Our experienced instructors are on-campus to review and support your learning experience at all times.
Call us at (702) 403-1592 to speak to one of our enrollment team about joining our Criminal Justice Program today!
Written by:
Lisa Myers, J.D., L.L.M.
Legal Studies Department Director
J.D. L.L.M. Campbell University
B.A. Corllins University