What is the Career Outlook for Medical Administrative Assistant Jobs
Medical Administrative Assistant
May 10, 2023
510 views
6 min read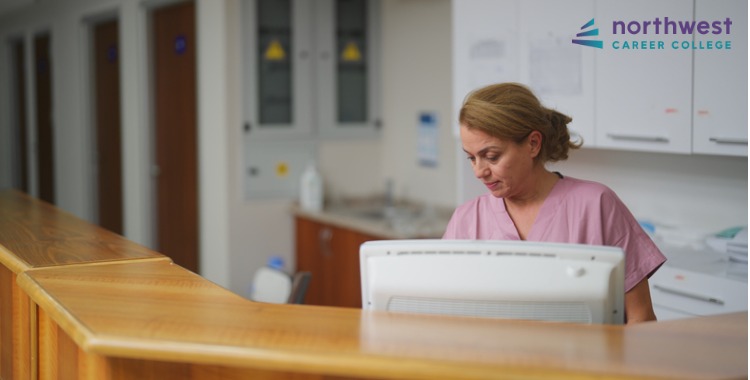 Are you considering a career as a Medical Administrative Assistant? They're precious roles in the medical field, often working behind the scenes to keep things running smoothly. But what's the career outlook for these jobs?
In this blog post, we'll discuss what to expect with job availability and provide insight into the career outlook for Medical Administrative Assistants

Overview of Medical Administrative Assistant Jobs
Medical administrative assistant jobs ensure the smooth running of doctors' offices, hospitals, and other healthcare settings.
Medical administrative assistants perform a wide range of duties, including answering phone calls, scheduling appointments, managing patient records, and providing excellent customer service to patients. These professionals are often the first point of contact for patients seeking medical attention.
A good medical administrative assistant must be organized, detail-oriented, and possess excellent communication and interpersonal skills. With the increasing demand for healthcare services, medical administrative assistant jobs are becoming more critical than ever before.
Education Requirements for Medical Administrative Assistant Jobs
As the healthcare industry continues to grow and expand, the demand for skilled and knowledgeable medical administrative assistants is rising. These professionals are instrumental in organizing and managing the daily operations of medical offices, clinics, and hospitals.
So, what are the education requirements for this exciting career path? While a high school diploma is a minimum requirement, many employers prefer candidates with additional training, such as a certificate, diploma, or associate's degree in medical assisting or a related field.
This education prepares students to effectively navigate the unique challenges of the medical field, including medical terminology, medical office management, as well as communication and interpersonal skills.
Northwest's Medical Administrative Assistant Program offers a comprehensive curriculum in medical terminology, anatomy, pathology, pharmacology, billing practices and coding, patient scheduling, and processing insurance claims. 
Additionally, this program provides students with the opportunity to sharpen their skills in keyboarding, filing systems, medical records management, and front office operations to prepare them for a successful career in the medical field.

Skills Necessary for Medical Administrative Assistant Jobs
Medical administrative assistants play a vital role in the smooth functioning of a healthcare facility. They are responsible for managing patient records, scheduling appointments, and communicating with other departments. However, to excel in this role, there are certain skills that one must possess, including:
An understanding of medical terminology and insurance billing processes
Thorough knowledge of the various medical terms used in a healthcare setting
Strong communication, organization, and problem-solving skills
Ability to effectively manage multiple tasks simultaneously
Proficiency with medical software programs such as Electronic Medical Records (EMR)
Excellent customer service and interpersonal skills when interacting with patients, family members, healthcare providers, and colleagues
A strong work ethic and the ability to take initiative
These skills are necessary to ensure accuracy when recording patient information, processing payments, maintaining medical records, and communicating with healthcare providers.

Industry Trends for Medical Administrative Assistant Jobs
The medical field is constantly evolving, and so are the roles within it. One such role is that of a medical administrative assistant. With advancements in technology and changes in healthcare policies, several industry trends are impacting this job.
For instance, there is a growing demand for assistants who are proficient in electronic health records (EHR) as more healthcare providers are digitizing patient records. Additionally, medical administrative assistants who are well-versed in medical coding and billing are also in high demand.
Finally, with the rise of telemedicine, there is a need for assistants who can coordinate virtual visits with patients. As trends continue to emerge, it's important for those seeking a career in medical administrative assisting to stay up-to-date on the latest skills and knowledge needed to excel in this dynamic field.

Salary and Benefits for Medical Administrative Assistants
Medical administrative assistants are essential members of the healthcare team. They play a critical role in ensuring that the day-to-day operations of a medical practice run smoothly. If you're interested in a career as a medical administrative assistant, then you're in luck!
According to the BLS (Bureau of Labor Statistics), the median salary for medical administrative assistants is $36,580 per year. This is an attractive salary considering the job does not require an advanced degree.
In addition to the salary, medical administrative assistants also enjoy other benefits such as healthcare, retirement plans, and vacation time. As the demand for healthcare continues to rise, so does the demand for medical administrative assistants.
If you're looking for a career that is both fulfilling and financially rewarding, then a career as a medical administrative assistant may be the perfect fit for you.

Job Outlook for Medical Administrative Assistants
The job outlook for medical administrative assistants is looking bright. As healthcare continues to grow and expand, the demand for qualified professionals to manage the administrative side of things is rising.
From scheduling appointments to managing medical records, medical administrative assistants play a crucial role in the smooth operation of medical facilities.
The job offers great potential for growth and advancement, as well as a competitive salary. If you have strong organizational skills and a passion for healthcare, a career as a medical administrative assistant could be the perfect fit for you. With plenty of opportunities for career development and a positive job outlook, now is a great time to consider this in-demand profession.
As the medical industry continues to evolve, so too will the requirements of medical administrative assistants.
 Now is the perfect time to begin your journey as a medical administrative assistant, especially if you take advantage of NCC's Medical Administrative Assisting Program. Our program is designed to get you started on a successful career path in a field with many opportunities for growth and development.



Start your career as a Medical Administrative Assistant with us!
Here at Northwest Career College, our student-centered philosophy means that you come first.
We offer a flexible schedule so you can care for your family and have a balanced life in Las Vegas while advancing toward your new career.
We pride ourselves on being the premier Medical Administrative Assistant school in Las Vegas, and our established, seasoned instructors offer online and on-campus night classes to accommodate your busy work and family schedule. 
Call us at (702) 403-1592 to speak to one of our admissions assistants about your new medical administrative assisting career.