What Does A Pharmacy Technician Do?
May 10, 2018
501 views
3 min read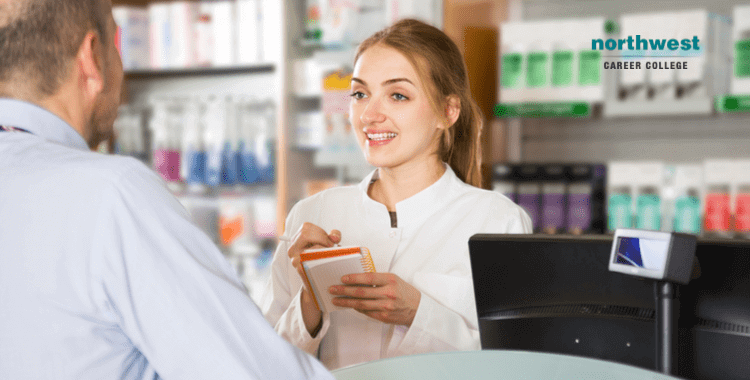 The role of the pharmacy technician is varied and exciting, ranging from a customer facing role, where you provide assistance and reassurance, to the exacting precision of measuring and mixing medication. The varied duties of the pharmacy technician make them an invaluable part of any pharmacy, able to turn their hand to a range of vital tasks, while still placing an emphasis on customer service.
Pharmacy technicians can be found working in a variety of workplaces like clinics, hospitals, urgent care units, outpatient units and other health care facilities. However, the Bureau of Labor Statistics reports 52% of pharmacy technicians work in pharmacies or drug stores, which are often affiliated with or part of retail or grocery stores.
The need for pharmacy technicians in on the rise, with employment prospects for the role expected to increase 9% from 2014-2024, faster than average for all occupations according to the Bureau of Labor Statistics. But what exactly are the responsibilities of a pharmacy technician?
What Does A Pharmacy Technician Do?
Dispensing Medicines
The pharmacy technician falls under the direct supervision of the pharmacist and assists them in dispensing prescription medication to customers or health professionals. Each state has different regulations pertaining to what tasks a pharmacy technician can do, but they may also be called upon to measure the accurate amount of medication and mix or compound some medicines.
Preparing Medicines
Pharmacy technicians may be called upon to contact healthcare providers for authorization to refill a customer's prescription. If they are employed by a hospital, they may also be called upon to prepare other types of prescriptions, such as intravenous medication. How much autonomy they have to prepare medication is determined by the legislation of the state they work in.
Administration
It is often the responsibility of the pharmacy technician to package and label prescriptions, collect patient information, take payments and process insurance claims. They may also keep inventory for the pharmacy, making note of shortages of supplies or medications and making sure they are re-ordered in a timely fashion.
Customer Facing
In addition to their medication and administration responsibilities, the pharmacy technician is also a customer facing role, with techs often called upon to run registers, provide customer service, respond to customers contacting the pharmacy by phone, and locate over-the-counter medication within the store.
A Vital Role
Northwest Career College is one of the premier pharmacy technician schools in Las Vegas, and our course provides our students with the skills and training they need to take advantage of the growing need for pharmacy technicians. Our experienced instructors offer online and on-campus classes to accommodate your Las Vegas work and family schedule. Once you've graduated, we continue to support you and the commitment of our Career Services Team has led to us having a 100% job placement rate for our pharmacy technician graduates. Call us today at (702) 403-1592 to speak to one of our enrollment specialists.