What Does a Medical Administrative Assistant Do?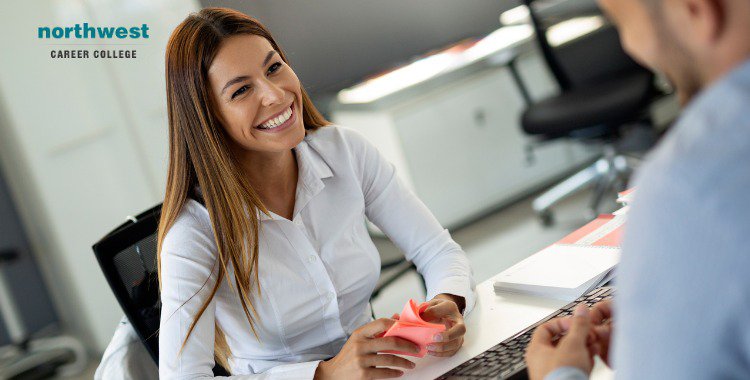 Medical Administrative Assistants are normally the first line when it comes to meeting and greeting patients but their responsibilities, and their importance towards healthcare providers, are far more substantial than just a secretarial role. 
In this article, we'll be looking at the responsibilities of the medical administrative assistant and how you can become one.
What Is a Medical Administrative Assistant?
Unlike a medical assistant, which is a clinical role, a medical administrative assistant does not assist in medical procedures, but rather takes care of the administrative functions of the healthcare providers fo which they work, be that a large hospital or small local clinic.
What Does a Medical Administrative Assistant Do?
Common responsibilities for a medical administrative assistant include:
Meeting and processing patients in at the front desk

Answering the phone

Scheduling appointments

Conducting data gathering interviews and obtaining case histories from patients

Compiling medical records and charts

Assisting in the processing of insurance payments

Sending test results from the lab to the appropriate person

Maintaining vital office supplies
What Skills Do You Need as a Medical Administrative Assistant?
According to the Bureau of Labor Statistics, the most commonly looked for skills by those employing medical administrative assistants are:
Decisionmaking skills. Secretaries and administrative assistants often prioritize tasks and make decisions on their employers' behalf, so good judgment is essential.
Interpersonal skills. Secretaries and administrative assistants interact with clients, customers, or staff. They should communicate effectively and be courteous when interacting with others to create a positive work environment and client experience.
Organizational skills. Secretaries and administrative assistants keep files, folders, and schedules in proper order so an office can run efficiently.
Writing skills. Secretaries and administrative assistants write memos and emails when communicating with managers, employees, and customers. Therefore, they must have good grammar, ensure accuracy, and maintain a professional tone.
How Do I Become a Medical Administrative Assistant?
Most medical administrative positions require an associate's degree in a relevant administrative subject. Here at Northwest, our student-centered schedule allows you to graduate in as little as nine months and we also offer board preparatory classes that prepare our students to take their national exams as they move into their professional discipline.
Northwest offers a blended program including online and on-campus classes with weekly workshops and whiteboard classes on campus to accommodate your work and family schedule and you will work with established, seasoned healthcare administration instructors to learn every aspect of Medical Administrative Assistant.
Start Your Career As A Medical Administrative Assistant With Us
Here at Northwest Career College, our student-centered philosophy means that you come first. We offer a flexible schedule so you can care for your family and have a balanced life in Las Vegas while advancing towards your new career. 
We pride ourselves on being the premier Medical Administrative Assistant Schools in Las Vegas and our established, seasoned instructors offer online and on-campus night classes to accommodate your busy work and family schedule. Call us at (702) 403-1592 to speak to one of our admissions assistants about your new medical administrative assisting career.
Written by:
Jenette Ashcraft, N.C.M.A.
Allied Health Department Director
R.M.A. National Education Center