What Does A Dental Assistant Do?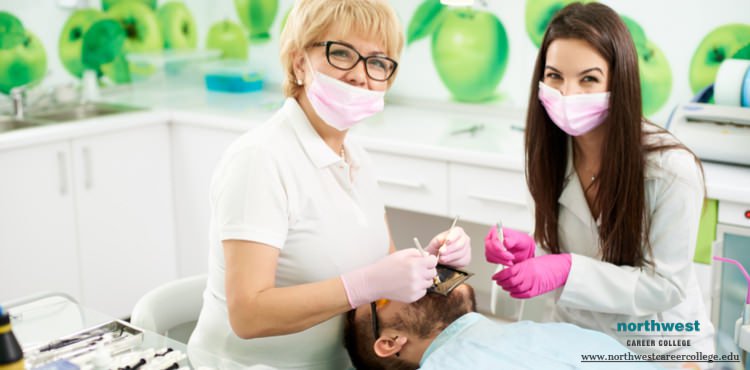 The dental assistant is a vital part of any dental practice, increasing the efficiency of the dentist and allowing them to deliver a higher quality of oral healthcare. Qualifying as a dental assistant opens up a range of potential career paths, including moving into the fields of dental hygiene, office management, dental sales or building on your dental assistant skills to become a fully qualified dentist.
Despite the importance of the role in a dental practice, and its growing popularity as a dependable career choice, one of the most common questions we get asked here at Northwest Career College is "what does a dental assistant do and what procedures will I be expected to perform?"
What Does A Dental Assistant Do?
The dental assistant's role is one of varied challenges, and they improve the dental practice by being able to take on a variety of tasks, it's one of the reasons why dental assistant is a good career choice, you'll never get bored. While the day-to-day duties of a dental assistant will change from practice to practice, below are some of the more common tasks you can expect to perform.
Assists in Dental Procedures – One of the more fundamental duties of the dental assistant is to assist the dentist in all forms of dental procedure, from a simple scale and polish right through to tooth extraction. You'll be on hand to both provide whatever assistance the dentist needs and to reassure the patient, making the process smoother for everyone involved.
Helps the Patient Feel Comfortable During Dental Treatment – Keeping patients comfortable and reassured is one of the most critical parts of the dental assistant's role. Many people are uncomfortable with the idea of visiting the dentist; you'll be there to reassure them and keep them as happy as possible before, during, and after their procedure.
Performs Office Management Tasks – Office management experience is one of the skills you'll advance during your career as a dental assistant and many assistants use those skill to move into full-time office manager roles. You'll be expected to complete administrative tasks to support the practice, including scheduling appointments, answering the telephone, billing, and ordering supplies.
What Procedures Will I Be Expected to Perform?
While specific regulation might vary from state to state, the procedures below are those commonly performed by dental assistants. Many of the procedures performed by a dental assistant are complicated and medical in nature. Learning the ins and outs of these procedures will give you an enhanced skill set and can be a step on the road to a career in dental sales or fully-fledged dentistry.
Taking and Developing Dental Radiographs (x-rays) – Taking a developing a patient's x-ray is a technical procedure with a lot of moving parts. Taking on the responsibility for handling complex radiography and chemical development is an excellent indicator of how vital the role of dental assistant is and the kind of technical skills you will learn as part of our dental assistant classes.
Taking Impressions Of Patients' Teeth – As a dental assistant, you'll be able to mold and reproduce patients teeth for dental or orthodontic procedures. Producing accurate molds is an important step in assessing what treatment a patient needs and, much like the ability to take and develop dental radiographs, indicates the enhanced skill-set you'll gain while studying at Northwest's dental assistant school.
Acting as An Infection Control Officer – The infection control officer is one of the most important roles in any dental practice. You'll be responsible for developing infection control protocols while also preparing and sterilizing all instruments and equipment before and after use. Providing infection control is a critical part of any dental practice and highlights just how valuable a member of the team the dental assistant is.
A Vital Part of The Team
As you can see from the examples above, the answer to the question "what does a dental assistant do?" is "be a vital part of an excellent dental practice!" As a dental assistant, you'll be expected to take on a range of responsibilities, from taking and developing x-rays to just being on hand to comfort and reassure patients.
If you're looking for an exciting and varied career and want to train at one of best dental assistant schools in Nevada, contact us on (702) 403-1592! Here at Northwest Career College, we offer an exceptional level of dental assistant training, with 10 complete operatories and a 91% national exam pass rate. Our established, seasoned instructors will provide all the academic support you'll need to excel on your course and, once you've passed, our Career Services team will work with you to find the perfect dental assistant opportunity. Call today on (702) 403-1592 to start your journey!
Written by:
Cynthia Lofquist, R.D.A.
Dental Assisting Program Chair