What does a career in Criminal Justice actually look like?
June 8, 2022
585 views
6 min read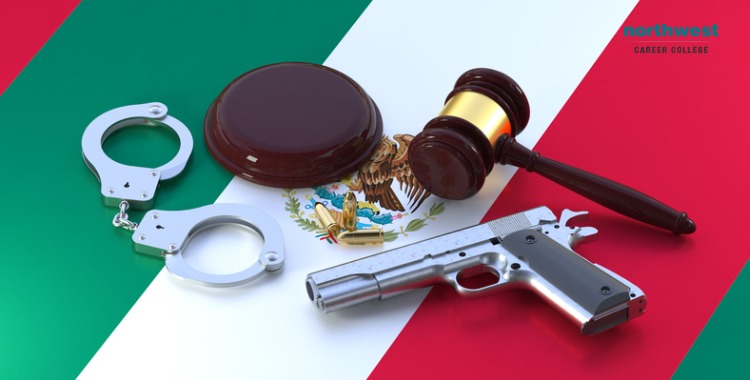 When you think of a career in criminal justice, what comes to mind? Do you envision yourself tracking down criminals and putting them behind bars? Do you see yourself working as a police officer or detective?
While these are all valid career paths in the criminal justice system, there are many other options available as well. In this blog post, we will take a look at some of the different careers that are available in criminal justice, and we will discuss what they entail.
What are the different careers available with a criminal justice qualification?
One popular career option in criminal justice is working as a lawyer. Lawyers play a vital role in the criminal justice system, and they can work in both the public and private sector. If you choose to become a lawyer, you will be responsible for representing clients in court, researching cases, and arguing on behalf of your client.
However, becoming a lawyer is just one option available when entering the legal field. If you don't want to take on the length of education that is required to become a lawyer, you could instead enter the workforce as a paralegal. Paralegals provide support to lawyers and are responsible for tasks such as conducting legal research, drafting documents, and preparing for trial.
For those interested in working in the investigative side of criminal justice, there are many options available. One option is to become a detective or police officer. Detectives and police officers are responsible for investigating crimes, interviewing witnesses, and collecting evidence.
Police officers are responsible for enforcing the law and keeping the peace within their communities. If you become a police officer, you will be tasked with patrolling your beat, responding to 911 calls, and investigating crimes. 
Another career option that is available in criminal justice is working as a probation officer. Probation officers are responsible for supervising offenders who have been released from prison on probation. They work with these offenders to help them reintegrate into society and avoid recidivism.
If you are interested in working with victims of crime, you could consider becoming a victim advocate. Victim advocates work with victims of crime to help them navigate the criminal justice system and obtain the resources they need.
If you're interested in working with technology and computers, you could become a forensic scientist. Forensic scientists use their knowledge of science and technology to help solve crimes. They collect and analyze evidence from crime scenes, and their work often plays a vital role in solving cases.
If you're interested in working with children, you could become a juvenile probation officer. Juvenile probation officers work with young offenders to help them reform their behavior and avoid future involvement in the criminal justice system.
Whatever your interests may be, there is likely a career in criminal justice that is a good fit for you.

How to start a career in criminal justice?
There are many ways to start a career in criminal justice. You can earn a degree in criminal justice, or you can enter the field with a related degree such as sociology or psychology. An associate's degree in criminal justice can qualify you for entry-level positions in law enforcement or corrections and as a paralegal or legal assistant.
You can also start your career in criminal justice by completing a certificate program, which can be completed in as little as one semester. Certificate programs are available in areas such as criminology, forensics, and corrections.
No matter how you start your career in criminal justice, you will need to be dedicated to serving the community and committed to making a difference in the lives of those who are affected by crime. If you have a passion for justice, there is a place for you in the criminal justice system.
Criminal justice careers can be extremely rewarding, but they are also demanding and challenging. If you are considering a career in criminal justice, it is important to research the different types of jobs that are available and to find one that best fits your skills and interests. There is no one-size-fits-all answer when it comes to choosing a career in criminal justice, but with careful planning and consideration, you can find a career that is a good fit for you.
The first step in choosing a career in criminal justice is to decide what area of the field you are interested in. There are many different types of jobs available in the criminal justice system, from police officers and detectives to probation officers and corrections officers. Each type of job has its own set of responsibilities, so it is important to find one that interests you.
Why NCC is the right choice for starting your new career in criminal justice?
NCC offers a variety of criminal justice programs that can help you prepare for a career in the field. Our programs are designed to give you the knowledge and skills you need to succeed in your chosen career.
Our focus is on providing you with a well-rounded education that will prepare you for the challenges of a career in criminal justice. We offer a course that covers topics such as law enforcement, criminology, and corrections. In addition, our programs are taught by experienced professionals who can give you insight into what a career in criminal justice actually looks like.
If you are interested in a career in criminal justice, contact NCC today to learn more about our programs. We can help you find the right program to fit your goals and interests.
Qualifying for your future
Gaining a qualification from our Criminal Justice School puts you in an excellent position to access a variety of employment opportunities as you look for one that suits your skills and interests.
At Northwest Career College, our Criminal Justice instructors include licensed, practicing attorneys and degree instructors able to teach, not only the law but also to guide our students in the many ways a criminal justice graduate integrates into a Las Vegas legal profession.
As part of our Criminal Justice Program, you'll visit courts, jails, meditation centers, and more to experience first-hand the law in action, which will make your criminal justice training applicable to the Las Vegas legal system.
Northwest offers a flexible blended program with all criminal justice classes Las Vegas law classes taught on campus by an attorney and general education courses offered online. Our experienced instructors are on-campus to review and support your learning experience at all times.
Call us at (702) 403-1592 to speak to one of our enrollment team about joining our Criminal Justice Program today!