What Are The Strongest Skills As A Medical Assistant?
Medical Administrative Assistant
February 11, 2023
364 views
5 min read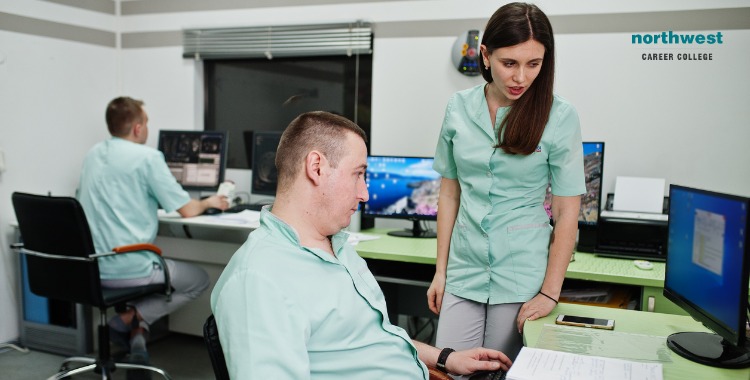 If you're considering a career as a medical assistant, you may be wondering what skills are most important for the job. Though there are many important skills that medical assistants need to possess, some skills are more essential than others. Here are five of the strongest skills that all great medical assistants share.
The ability to multitask is essential for any medical assistant, as they often have to juggle multiple tasks at once
Being a successful medical assistant requires the ability to multitask effectively. Not only must they manage different patient appointments and calls, but also handle paperwork, filing, and office-wide transactions.
In addition to working quickly and efficiently, they need to prioritize tasks while remaining personable and professional at all times. The importance of the role cannot be understated, as medical assistants need to maintain accuracy while keeping track of high volumes of information.
Fortunately, with strong organizational and interpersonal skills, a medical assistant is more than capable of tackling whatever comes their way.
Being able to stay calm under pressure is another important skill, as medical assistants may have to deal with stressful situations on a daily basis
Medical assistants often have to stay cool under pressure, whether that's when dealing with patients, managing paperwork and data entry, or handling difficult conversations.
When faced with a stressful situation on the job, medical assistants must be able to remain calm and focused to serve their patients best. Good communication is key here – medical assistants need to be able to clearly explain their role in any situation and how they can help support their colleagues and patients through it.
Additionally, the ability to prioritize tasks helps medical assistants manage difficult situations while continuing to provide top-notch care. Being able to stay calm under pressure is an essential skill for any medical assistant looking to succeed in this field.
Good communication skills are also vital, as medical assistants need to be able to communicate effectively with patients, doctors, and other members of the healthcare team
Good communication skills are essential for medical assistants, as they face the unique challenge of conveying complex information to a wide variety of audiences.
They need to be able to effectively communicate with patients and their families, while also engaging with other members of the healthcare team. Having solid verbal and written communication skills enables medical assistants to provide accurate and clear instructions on care plans, medications, medical records and procedures.
Being able to manage all these communications in a timely manner helps maintain an efficient workflow and ensures that all parties involved are aware of the patient's treatment plan.
Ultimately, great communication skills are invaluable for medical assists and their importance should never be overlooked.
Medical assistants must also be detail-oriented in order to accurately record patient information and follow instructions from doctors
Medical assistants must demonstrate strong skills in order to succeed in their profession. They need great communication and organizational skills, as they interact with patients, doctors, and other healthcare providers on a daily basis.
Furthermore, they must be detail-oriented when recording patient information in order to ensure accuracy and adhere to the instructions of physicians. A good medical assistant should be adept at multitasking and adapting quickly to changing situations to handle ever-evolving medical needs.
Such versatility is essential for a successful medical assistant, as is being compassionate towards patients, as well as having superior time management capabilities. It's clear that there are many important characteristics required of medical assistants to make sure that healthcare procedures run smoothly.
Finally, organizational skills are important for keeping track of patients' records and appointments
Organization is key when it comes to being a successful medical assistant. Being able to keep accurate and timely records of patient information and appointments is a must, as this ensures that patients are getting the care they need.
Moreover, understanding the importance of protocols and deadlines will provide a safe environment for everyone involved. A medical assistant's organizational skills make a significant difference in providing proper care to all individuals, even if time is limited.
With today's hustle, having this skill is invaluable in making sure the best service is delivered promptly and efficiently in any healthcare setting.
Learn the right skills
Being a medical assistant is a demanding job that requires a variety of different skills. The ability to multitask, stay calm under pressure, communicate effectively, be detail-oriented, and well organized are all essential for success in this field.
If you think you have what it takes to be a medical assistant, Northwest Career College can help you get the training you need to start your new career. Our Medical Administrative Assisting Program will give you the knowledge and experience you need to succeed in the healthcare field.
Contact us today to learn more about our program and how we can help you achieve your goals.

Start your career as a Medical Administrative Assistant with us!
Here at Northwest Career College, our student-centered philosophy means that you come first.
We offer a flexible schedule so you can care for your family and have a balanced life in Las Vegas while advancing toward your new career.
We pride ourselves on being the premier Medical Administrative Assistant Schools in Las Vegas, and our established, seasoned instructors offer online and on-campus night classes to accommodate your busy work and family schedule.
Call us at (702) 403-1592 to speak to one of our admissions assistants about your new medical administrative assisting career.