What are the Main Duties of an Administrative Assistant?
Business Administrative Assistant
February 26, 2023
545 views
5 min read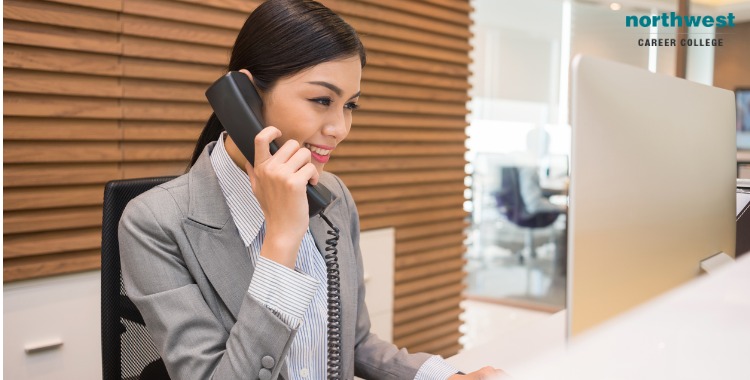 As an administrative assistant, you will be responsible for various tasks that keep an office running smoothly. You might handle everything from scheduling appointments to ordering supplies and answering phone calls.
No matter what responsibilities you have, your goal will be to provide support to the people who work in the office so they can focus on their jobs.
Here are some of the primary duties of an administrative assistant.

An administrative assistant's duties vary depending on the organization they work for
Being an administrative assistant is a critical role in many organizations. Responsibilities range from providing high-level support for executives to ensuring customer inquiries are answered promptly.
Depending on the organization, administrative assistants can be responsible for managing complex projects and handling multiple tasks simultaneously.
On a day-to-day basis, they may provide customer service support, manage front desk operations, create documents and spreadsheets, schedule meetings and appointments, assist with budgeting and financial tasks, process orders and invoices, and much more.
Even if the exact duties vary from one workplace to another, no matter the job or the organization, practical communication skills and attention to detail will help keep an office running smoothly and efficiently.

However, there are some everyday duties that most administrative assistants perform, such as answering phones, scheduling appointments, and managing files
Many recognize administrative assistants as the backbone of an organization. From answering phones and keeping track of appointments to managing essential files, these individuals provide a great deal of support that allows other staff members to maximize their time and productivity.
While there are many duties that these professionals juggle daily, some overarching themes remain constant; typically, administrative assistants can be found fielding phone calls, booking appointments, and organizing data with skill and accuracy.

Administrative assistants may also be responsible for handling customer inquiries, preparing reports, and ordering office supplies
Administrative assistants serve an integral role in any office setting, often taking on many of the everyday tasks that make a business function properly.
Responsible for far more than just answering phones, administrative assistants may also be responsible for handling customer inquiries, preparing reports for management staff, and ordering necessary office supplies.
By managing all these duties efficiently, administrative assistants are crucial in helping to ensure the smooth running of many types of organizations.

Some administrative assistants may also provide support to executives or other staff members by performing tasks such as booking travel arrangements and preparing expense reports
Administrative assistants are a crucial part of any organization, as they are responsible for paperwork, scheduling tasks, answering phones and emails, and providing general office support.
For example, some administrative assistants may also provide additional support to executives or staff members. This could include tasks such as booking travel arrangements, preparing expense reports, and organizing documents. Other duties may include taking care of inventory in the office or setting up meetings with clients.
No matter what the task may be, the work of an administrative assistant is greatly appreciated since they make it possible for their colleagues to attend to more important matters.

With the increasing use of technology in the workplace, many administrative assistants are also responsible for managing email accounts and social media accounts
Nowadays, administrative assistants are expected to utilize technology appropriately and proficiently in the workplace. This includes managing both email accounts and social media accounts.
Administration assistants must be aware of online trends, have strong communication skills, enjoy problem-solving, and act quickly when potential issues arise.
Having technical knowledge, such as knowledge of software programs, is also essential for modern administrative assistants so they can stay up-to-date with the ever-evolving world of technology.
As a result, they must have great organizational skills and display agile decision-making abilities to be effective administrators.

The duties of an administrative assistant can be challenging and rewarding, and it is a career that offers opportunities for growth and advancement
Being an administrative assistant can be a rigorous yet rewarding career, as you handle various duties and responsibilities within the workplace, from coordinating meetings, communicating with clients, and taking care of general office tasks – all necessary for the smooth operation of a business.
It presents opportunities for growth within the organization and shows dedication to employers. With the initiative, organizational skills, and excellent communication abilities, it is possible to make headway in your career, even reaching executive-level positions if you are willing to put forth the effort.
As a profession that redefines itself every year, an administrative assistant is always afforded new practices and procedures that keep the workplace dynamic!
If you are interested in a career as an administrative assistant, contact Northwest Career College about our Administrative Assistant Program and other clerical trade school programs.



Become a vital part of a business today
Northwest's Business Administrative Assistant Program Las Vegas offers on-campus and online Business Administrative Assistant classes to accommodate your work and family schedule.
We value real, hands-on experience, which is why you'll be visiting businesses and organizations of different sizes, industries, and structures and why our instructors are all experienced business professionals with extensive backgrounds working in, starting up, and operating various businesses and organizations.
Featuring a host of business professionals and guest speakers, our classes will give you all the skills you need to play a vital part in any business, and still graduate in as little as 9 months.