Unlock Your Career Potential With Qualification in Medical Assisting at Northwest Career College
July 6, 2023
384 views
7 min read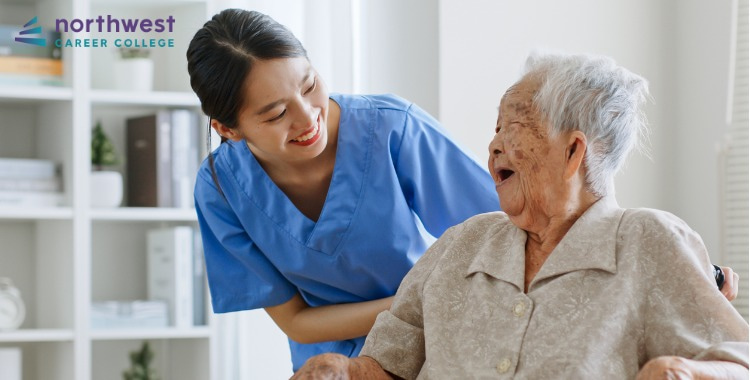 Are you ready to prioritize your career and take the first step into the professional life of medical assisting? Northwest Career College's Qualification in Medical Assisting provides an engaging learning experience that will equip you with the knowledge, skills, and confidence necessary for a successful future within this challenging and rewarding field.
Not only can this course open up numerous job opportunities in both public and private healthcare organizations, but it can also set you on a path toward fulfilling long-term career goals. By signing up today, you could be one step closer to realizing all of your ambitions!
In this post, we'll be exploring what you can gain from the Qualification in Medical Assisting and why Northwest Career College is considered the best place in Las Vegas to receive your education.

An Overview of the Medical Assisting Program at Northwest Career College
Northwest Career College offers an extensive program for aspiring medical assistants, providing students with the knowledge and skills they need to succeed in this rewarding field.
The curriculum covers a range of topics, from anatomy and physiology to medical terminology and pharmacology. Students will also have the opportunity to gain hands-on experience through clinical rotations and externships, allowing them to apply what they have learned in real-world settings.
Upon completion of the program, graduates can pursue a variety of career paths within the healthcare industry, including working in hospitals, medical clinics, and private practices.
As qualified medical assistants, graduates can enjoy helping others while pursuing a fulfilling and rewarding career.

Qualifications and Coursework Required to Become a Medical Assistant
Becoming a medical assistant is a challenging yet rewarding career choice. To embark on this journey, you will need to have a high school diploma or equivalent.
You'll also have to complete a medical assisting program in an accredited institution. The coursework for these programs typically includes classes on anatomy, pharmacology, medical terminology, and clinical procedures.
It would be best if you were comfortable working with medical equipment and proficient in medical documentation. Also, medical assistants must be detail-oriented, organized, and personable, as they interact with patients every day.
By acquiring the proper qualifications and training, you'll be ready to confidently take on the role of a medical assistant, helping healthcare providers deliver essential care to their patients.

Benefits of Pursuing a Medical Assisting Qualification
Pursuing a medical assisting qualification can be life-changing for anyone interested in the medical field. The program equips individuals with the skills and knowledge necessary to become valuable healthcare team members.
From administrative tasks to clinical duties, a medical assistant performs critical functions that are crucial to keeping a medical office running smoothly. With a medical assisting qualification, one can enjoy many benefits, like career advancement opportunities, flexible work schedules, and the chance to make a difference in people's lives.
NCC's Medical Assisting program also provides a solid foundation for those wanting to pursue other careers in healthcare, such as nursing or healthcare administration. If you are passionate about the medical field and enjoy helping people, pursuing a medical assisting qualification could be an excellent choice for you.

Why Choose Northwest Career College for Your Education and Training
If you are looking for an institution that provides high-quality education and training, Northwest Career College is the perfect choice for you.
With a wide range of programs to choose from, you can gain the knowledge and skills you need to succeed in today's competitive job market. NCC's experienced and dedicated instructors are committed to helping you achieve your goals with hands-on training and personalized attention.
NCC's facilities are state-of-the-art and constantly updated to ensure that you have the best learning environment possible. Offering flexible schedules, financial aid assistance, and job placement services, NCC provides a comprehensive education that prepares you for a successful career.
Choose Northwest Career College and start your journey towards a brighter future today.

What You Can Expect From the Program and Professional Outcomes After Graduation
After receiving your Medical Assisting Qualification from NCC, you can expect to be highly knowledgeable in the medical field and prepared for a successful career.
The program provides an opportunity to gain valuable hands-on experience through local externships, allowing you to apply what you have learned in real-world settings. Upon completion of the program, graduates can pursue various job opportunities within the healthcare industry, such as working in hospitals, medical clinics, private practices, and more.
At Northwest Career College, we take pride in the success of our students and make sure they are well-prepared for their futures. We have an excellent track record of placing graduates into promising positions, and our alumni often go on to become successful medical assistants.
 With a Medical Assisting qualification from NCC, you can look forward to a rewarding career with excellent job prospects.



Tips for Succeeding in the Program and Achieving Your Career Goals
Succeeding in any medical education program can be challenging, but with the right mindset and tools, achieving your career goals is definitely within reach.
One important tip is to stay motivated and disciplined throughout your time learning at NCC. This means consistently putting in the effort to complete assignments on time and staying focused on your end goal.
Another tip is to seek out resources such as tutoring or mentoring to help you navigate any challenges along the way. Our experienced instructors are always willing to help answer any of your questions, and our staff can guide various topics related to medical assisting.
Additionally, networking with peers and professionals in your field can open up opportunities and provide valuable insights into the industry. Networking is a vital skill for any medical assistant, and it's important to start building relationships early in your career.

The path to your new career!
Post-secondary training in the medical sector has never been more relevant and important. This is your opportunity to make a real impact on the lives of others while developing valuable skills that will serve you long after graduation.
With a qualification in Medical Assisting from Northwest Career College, you can open the door to an exciting variety of career possibilities – with job stability, increased earning potential, and improved job satisfaction all within reach! Leverage this opportunity to unlock your future career growth today.

Start your new career today
Here at Northwest Career College, we have a student-focused attitude that prioritizes giving our graduates the training and skills they'll need to excel as medical assistants.
Our established and seasoned instructors work with you, teaching you every aspect of Medical Assisting. We help you build your skills, abilities, and confidence, and we are proud of our 88% national exam pass rate.
If you'd like to learn more about what our medical assistant course can offer you, call one of our enrollment specialists at (702) 403-1592 today. We provide flexible learning, with online and on-campus morning, afternoon, and night classes to accommodate your Las Vegas work and family schedule.
Once you've graduated, our dedicated and experienced Career Services team will work with you to help you find the best employment opportunities in Las Vegas. Call us now at (702) 403-1592 to start your journey!