Top 5 Reasons to Become a Medical Administrative Assistant
Medical Administrative Assistant
August 15, 2019
510 views
4 min read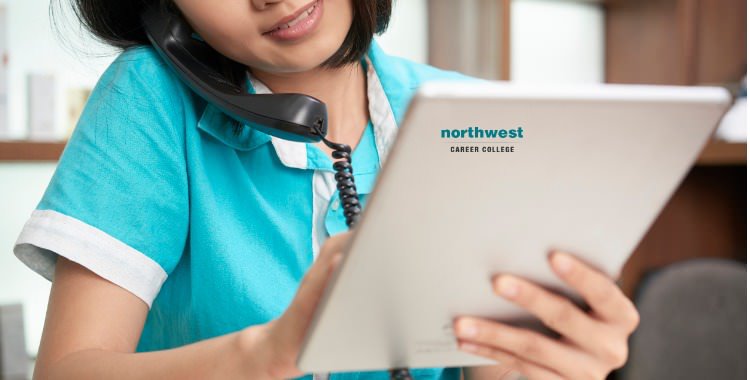 Medical administrative assistants perform administrative tasks and basic medical duties, from bookkeeping to recording patients' vital signs on their electronic healthcare records. Working closely alongside other medical professionals medical administrative assistants work in a wide variety of specialized clinics and offices and are vital to the smooth and continued operation of many healthcare providers. 
So, whether you are planning on joining us here at Northwest's medical administrative assistant school, or you've recently started one of our programs, here are five reasons to consider a career as a medical administrative assistant.
High Demand and Job Security
Medical administrative assistants are always in demand to fulfill vital tasks in a variety of healthcare providers, from offices and clinics to hospitals and outpatient services. The US's aging Baby Boomer population has rapidly raised the national demand for healthcare service professionals. As more and more individuals reach retirement age, medical industry insiders are predicting a rapid increase in the need for geriatric health care and skilled, professional medical administrative assistants are a core part of that.
Employment for medical administrative assistants is expected to increase 23% from 2012-2022, faster than average for all occupations according to the United States Bureau of Labor Statistics. Earnings prospects are also good, with an average medical administrative assistant earning $37,230 a year and more than half of working MAAs earning more than that. 
You Can Graduate Quickly and Join the Workforce
A good medical administrative assistant school can teach you all the skills and techniques needed to thrive in the modern healthcare administration industry and do it in a convenient timeframe that lets you graduate swiftly and join the workforce.
At Northwest's medical administrative assistant school, you can graduate in as little as nine months and Northwest's flexible scheduling allows you to attend medical administrative assisting training, care for your family, and have a balanced life in Las Vegas while advancing towards your new career.
Work Flexible Hours
With medical administrative assistants in high demands, you can pick the worksplace that best suits your needs. If you need predictable hours in order to accommodate a family life then most medical practices keep to standard business hours, including weekends. If shift work suits your lifestyle better than working in the 24/7 environment of a hospital allows you to pick the shift patterns that suit you best.  
Great Career Prospects
Becoming a medical administrative assistant can be the perfect way for those looking for a change in career to begin their journey into the medical field. While being a medical administrative assistant has more than enough potential to become fulfilling in itself,  if your career aspirations span a bit further than that, becoming a medical administrative assistant could be the first stepping stone on the road to your dream position.

A medical administrative assistant position can be a great way to get some practical experience, determine how much you enjoy working with patients and potentially propel you to earn a nursing degree or work toward becoming an office manager in a medical setting. Building your skill set through medical administrative assistant is a great place to start.
Personal Fulfillment
Becoming a medical administrative assistant also means becoming part of a primary healthcare team. Along with the pride and responsibility that comes with this kind of role, you will also find that each day is a new challenge and a new opportunity to make an impact on other people's lives. 
Your responsibilities will include clinical duties, filing records, managing databases, scheduling appointments, recording patient data and many more tasks that are all vital to keeping your healthcare provider running smoothly and getting your patients the best treatment possible.
If you enjoy meeting new people, medical administrative assistant interact with patients from a diverse range of backgrounds and lifestyles. If you choose to become a medical administrative assistant, part of your job will be to build lasting relationships with regular patients, meet new people on a daily basis, and provide compassionate care to various members of your community.
Start Your Career As A Medical Administrative Assistant With Us
Here at Northwest Career College, our student-centered philosophy means that you come first. We offer a flexible schedule so you can care for your family and have a balanced life in Las Vegas while advancing towards your new career. We pride ourselves on being the premier Medical Administrative Assistant Schools in Las Vegas and our established, seasoned instructors offer online and on-campus night classes to accommodate your busy work and family schedule. Call us at (702) 403-1592 to speak to one of our admissions assistants about your new medical administrative assisting career.