The Use Of Kinesiology Tape in a Massage Practice
December 11, 2018
605 views
4 min read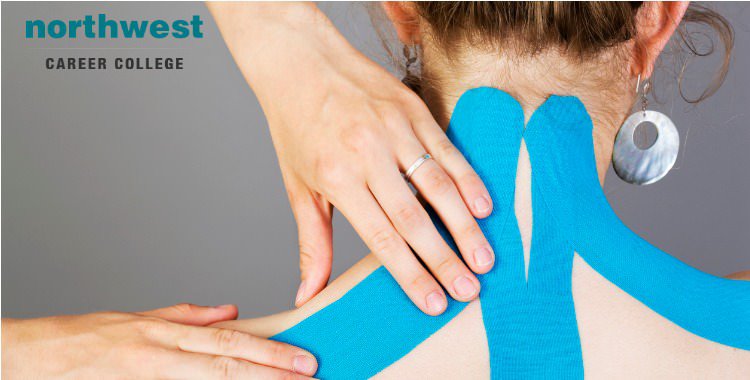 The Use Of Kinesiology Tape has been a common part of sports massage therapy since the 1970s. Athletes make use of kinesiology taping to help them build muscle strength and recover from injuries at a faster pace.
Increasingly, massage therapists are using kinesiology taping methods to bring the same benefits that athletes have enjoyed for years to their patients. Taping can be used to assists the body's natural healing processes and helps to extend the benefits of massage therapy after the session has ended.
What is Kinesiology Taping?
Kinesiology, as a discipline, is the study of how the body moves. Kinesiologists use their understanding of physiology, biomechanics, and psychology to improve the overall strength and muscle condition of athletes and massage therapy patients.
Kinesiology tape is a thin, elastic material, often made from flexible plastics such as polypropylene, that is then bound to the patient's skin using an acrylic adhesive. The adhesive is deliberately soft on the skin, to reduce any chance of irritation, but forms a strong bond and is waterproof.
The tape is designed, through its elasticity and thickness, to mimic human skin, so as to reduce any chance of it pinching or restricting movement.
Once applied, the tape lifts the skin it is adhered to allowing a more consistent flow of interstitial and lymph fluids. These fluids have a range of beneficial properties. Firstly, they help to remove the waste products of an athletes' workout, such as lactic acid and dead cells, while also delivering the necessary nutrients to any damaged cells.
Secondly, the interstitial fluids are an important part of intercellular communication. By facilitating greater levels of intercellular communication in a patient's muscle cells, an enhanced flow of interstitial fluids can improve muscle movement, coordination, and flexibility.
What Are The Benefits Of Kinesiology Taping?
While kinesiology taping has obvious benefits for athletes, it can also be used to help reinforce and prolong the benefits of massage therapy, such as pain relief and increased healing.
Kinesiology Taping can reduce painful inflammations by assisting in the removal of cellular waste, reduce pressure on never endings and pain receptors, relax muscles and aid in the reconstruction of damaged or atrophied muscles.
Assiuotanlly, because of its ability to be flexibly applied to a range of body parts, kinesiology taping can assist with injuries and conditions are traditionally difficult to treat, such as:
Sprained or strained muscles and ligaments
Bruising
Joint realignment and instability
Rounded shoulders or spine
Recently healed fractures
Tendonitis
Arthritis
Fibromyalgia
Using Kinesiology Taping in Massage Therapy
Adding kinesiology taping to the established massage therapy routine of patients with chronic conditions can result in a range of benefits, from the increased removal of lactic acid and the softening of scar tissue and fascial adhesions to the added muscle stability and an extension of the natural pain relief associated with massage therapy.
Kinesiology taping can also be used to complement physical therapy routines. The addition of kinesiology tape can help to keep muscle groups that have been stretched flexible for longer periods of time and assist in warming down where traditional warm-down exercises are not possible.
By adding in kinesiology taping as a complementary technique, alongside other massage therapy methods, a massage therapist can offer their clients increased healing, greater muscle flexibility and a decrease in swelling and persistent pain.
Join One Of The Best Massage Therapy Schools In Las Vegas Today!
At Northwest Career College, we operate one of the best Massage Therapy Schools in Las Vegas and our Massage Therapy Course will teach you the skills you'll need to apply the benefits of sports massage. The benefits of massage therapy are widely recognized with employment for massage therapists expected to increase by 22% between 2014-2024, with an average massage therapist earning $39,360 a year. Additionally, many massage therapists maintain active, private practices, increasing both their flexibility and earnings.
Our massage student clinic is open seven days a week, for both your and your clients' convenience, and we offer day and night classes to accommodate your work and family schedules. Our instructors are experienced professionals who will prepare you to sit for either the NCBTMB (National Certification Board of Therapeutic Massage) or the MBLEX (Federation of State Massage Therapy Boards) exams and we are proud of our 100% board pass rate. Call us at (702) 403-1592 to speak to one of our enrollment specialists today!