The Ultimate Guide to Becoming a Certified Dental Assistant in Nevada
July 10, 2023
408 views
6 min read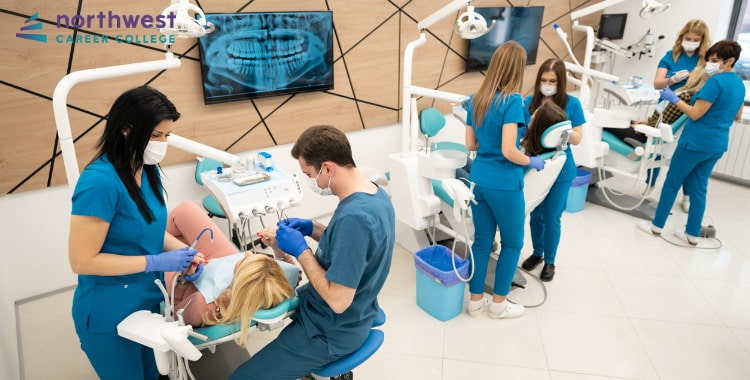 Are you looking to start a rewarding career in the dental profession? Becoming a certified dental assistant in Nevada is an excellent choice for those who want to make a lasting impact, as it offers the opportunity to help patients with their oral health needs.
Whether you're interested in learning more about the job duties and qualifications or have questions about pursuing the credentials necessary for certification, this guide can provide all the help you need.
Here we'll walk through each step, from researching eligibility requirements and finding accredited programs to taking and passing exams for certification. Get started on your path toward becoming a certified dental assistant today!
Read More: How Can I Succeed as a Dental Assistant?
Understand the Qualifications to Become a Dental Assistant in Nevada
To become a dental assistant in Nevada, you'll need to understand the qualifications required. This includes getting a Dental Assistant Certificate from an accredited institution, completing the necessary hours of clinical experience, and passing the Dental Board of Nevada's examination.
You must also be at least 18 years of age, have a high school diploma or a General Educational Development (GED) equivalent, and have no felony convictions.
Once you meet these qualifications, you can start your exciting career as a dental assistant in Nevada.

Research Dental Assistant Training Programs and Educational Requirements
If you're considering a career as a dental assistant, it's essential to research training programs and educational requirements before diving in. Dental assistant programs vary in length and content, so finding one that meets your needs and career goals is crucial.
Some programs can be completed in as little as nine months, while others may take up to two years to finish. Additionally, dental assistant programs may cover various topics, such as radiology, dental materials, and infection control.
Educational requirements for dental assistants vary by state, but most require a high school diploma or equivalent and an accredited dental assistant program completion.
Upon completing a program, you may also need to pass a certification exam to become a certified dental assistant. With the right education and training, you'll be on your way to a rewarding career in dental assisting.

Consider Certification Options for Dental Assistants in Nevada
For many dental assistants in Nevada, getting certified can be a wise career move that comes with numerous benefits. Certification can help you stand out in a competitive job market, increase your potential salary, and provide you with more opportunities to advance your career.
The state of Nevada offers various certification options for dental assistants, including the National Entry Level Dental Assistant (NELDA) and Certified Dental Assistant (CDA) exams. Both of these certifications require candidates to complete specific education and clinical training requirements.

Learn How to Apply for a Job as a Dental Assistant
When applying for a job as a dental assistant, there are a few things you'll want to keep in mind. First, you'll need to have a high school diploma or equivalent and complete a dental assisting program, like the one offered by NCC.
Additionally, becoming certified by passing the Dental Assisting National Board (DANB) exam can further their employment prospects. Once you've completed these steps, creating an excellent resume and cover letter highlighting your relevant experience, skills, and qualifications is important.
Finally, you'll want to have an understanding of the job market and apply for jobs that fit your interests and qualifications. With the right preparation, you can land your dream job as a dental assistant and begin making a difference in patients' lives.

Prepare for the Certified Dental Assistant Exam
If you're preparing for the Certified Dental Assistant (CDA) exam, it's crucial to have a solid study plan in place. The exam covers a wide array of topics, from basic dental procedures to patient communication and safety protocols.
One great way to get started is by reviewing the test blueprint, which breaks down the content and effectiveness of the exam. You might also consider enrolling in an official exam prep course or using study materials recommended by the Dental Assisting National Board (DANB).
With some dedication and focus, you can feel confident going into the CDA exam and kickstart your career in dental assisting.

Review the Benefits of Working as a Certified Dental Assistant in Nevada
If you are looking for a fulfilling career in the healthcare industry, becoming a certified dental assistant in Nevada could be an excellent choice for you. Not only does this job offer competitive pay, but it also provides numerous benefits such as job security and flexibility.
As a dental assistant, you can work closely with dentists and other dental professionals, assisting with procedures and ensuring patients are comfortable throughout their appointments.
Additionally, you'll be able to work in a variety of settings, including private practices, dental clinics, and hospitals. With the demand for dental assistants on the rise, now is the perfect time to start your journey toward becoming a certified dental assistant in Nevada.

Become a Vital Part of The Healthcare Industry Today!
Dental assistants play an integral role in the healthcare industry. With the right qualifications, training, and certification, you can join a dynamic field that offers ample job security and competitive salaries. All it takes is dedication and focus. So why not take the first step toward your dream career today?
Those who desire to become a CDA should contact Northwest Career College about our accredited Dental Assisting Program.
Upon registering, learners can access interactive classroom instruction and externships that offer hands-on experience working in a designated healthcare facility under supervision and guidance from experienced mentors.
Through our program, students can gain more than just theoretical knowledge but develop real-world skills that can be applied in any career setting. Start your journey today!



Join one of the best Dental Assistant training schools in Vegas
Here at Northwest Career College, we firmly believe that learning is a process that continues on the job.
Our Dental Assistant School gives you all the critical skills and experience you'll need to find the best dental assisting employment opportunity in Las Vegas. 
Our Dental Assistant School offers morning, afternoon, and night classes to accommodate your busy work and family schedule.
Our established, seasoned instructors have helped our students achieve a 91% national exam pass rate. Call us at (702) 403-1592 to speak to one of our admissions assistants about your new dental assisting career.