The Huge Need For Pharmacy Technicians On The Eve Of The Vaccination Rush
February 16, 2021
483 views
3 min read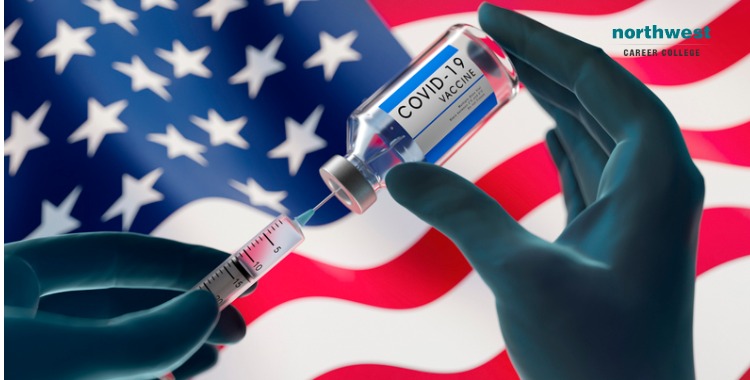 With the new U.S administration agreeing that large retail pharmacy chains such as CVS and Walgreens are to partner with the U.S. Department of Health and Human Services to roll out the new Covid-19 vaccination, a huge wave of new positions has opened up countrywide. 
Pharmacy Technicians On The Eve Of The Vaccination Rush
The Rush to Recruit Pharmacy Technicians
Walgreens, in particular, has been aggressively recruiting pharmacists, pharmacy technicians, and registered nurses on the even of the vaccine rollout. The company is actively recruiting for around 8,000 to 9,000 pharmacy-based positions across the U.S.
Representatives of Walgreens have been making both in-person and virtual pitches to newly qualified and experienced pharmaceutical staff. To sweeten the deal, the company is also offering its employees $500 for referrals and sign-on bonuses ranging from $500 to $30,000 for eligible pharmacists and technicians.
CVS is advertising more than 1,100 pharmacist and technician positions and announced in October 2020 that is planned to hire about 10,000 pharmacy technicians to help administer vaccines.
As with Walgreens, CVS has been actively recruiting, passing out flyers, and leaving business cards in competing pharmacies. In a recent email to customers, the pharmacy giant state that, to help with administering millions of Covid-19 vaccines it would "need thousands of pharmacists, nurses and pharmacy technicians and more from across the United States."
A Great Time to Qualify as a Pharmacy Technician
While independent pharmacies have largely been left out of the federal push for vaccination, and are understandably aggrieved that they are now losing staff to CVS and Walgreens, the fact remains that now is an excellent time to qualify as a pharmacy technician.
As accurately stated in the CVS email, the effective rollout of the government's vaccination initiatives will require huge amounts of qualified staff. It also won't be a quick process.

Thankfully, if you are interested in taking advantage of this huge upswing in pharmacy technician jobs, and want to do your part in helping battle Covid-19, you still can.
Our nationally certified instructors run a full and extensive online training program as part of our Pharmacy Technician School that ends with exceptional ExCPT Certification Preparatory classes.
You can graduate from our Pharmacy Technician Program in as little as nine months and take advantage of our preparatory classes to graduate with a diploma that qualifies you to become a Certified Pharmacy Technician.
Start Your New Career As A Pharmacy Technician Now!
Northwest Career College is one of the premier pharmacy technician schools in Las Vegas. Our course provides our students with the skills and training they need to take advantage of the growing need for pharmacy technicians. 
Our experienced instructors offer online and on-campus classes to accommodate your Las Vegas work and family schedule. Once you've graduated, we continue to support you, and the commitment of our Career Services. Call us today at (702) 403-1592 to speak to one of our enrollment specialists.