Take Your Career to the Next Level with Medical Billing and Coding Studies in Las Vegas
Medical Billing and Coding
July 17, 2023
703 views
7 min read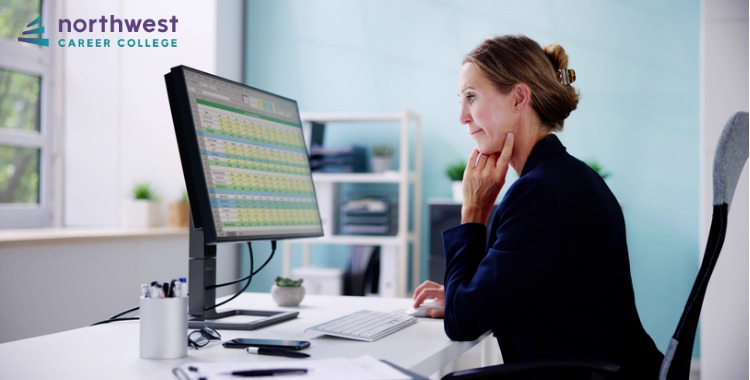 Are you ready to take your career in the medical field to a new level? Medical billing and coding studies at Northwest Career College in Las Vegas offer a great opportunity for growth.
Our comprehensive curriculum will provide students with an understanding of all aspects related to healthcare, including anatomy and physiology, data management systems, medical records procedures, legal requirements, administrative regulations, and more.
With these skills under your belt, you'll be well-equipped to move forward as a professional in this exciting field!

An Overview of What Medical Billing and Coding Entails
Medical billing and coding is an essential part of the healthcare industry. It involves the process of converting medical procedures and diagnoses into universal codes that can be used for insurance and billing purposes. 
The coder must be an expert in medical terminology, anatomy, and coding guidelines, ensuring that every code is correct. Medical billing and coding are crucial for insurance providers, healthcare providers, and patients.
Through the work of skilled medical billers and coders, healthcare providers can be reimbursed for their services, and patients can get the care they need without worrying about the financial burden. Medical billing and coding play an essential behind-the-scenes role in the healthcare industry.

Benefits of Pursuing Medical Billing and Coding Studies in Las Vegas
Medical billing and coding is a crucial aspect of healthcare administration that offers a promising career path for those interested in the field. Las Vegas, in particular, is a great location to pursue studies in this area due to its robust healthcare industry.
There are numerous healthcare facilities in the area, and plenty of educational institutions offer programs specifically tailored to medical billing and coding. This means that students can acquire the knowledge and skills they need to begin a successful career in this field while enjoying the perks of living in one of the most exciting cities in the world.
Pursuing medical billing and coding studies in Las Vegas offers numerous opportunities for personal and professional growth and can be an excellent decision for those looking to start or advance their careers in healthcare.

Find the Right School for Your Needs
Choosing the right school can be overwhelming, especially if you're unsure what you're looking for. The key is to identify your needs and what you hope to gain from your educational experience.
Are you looking for a specific program or a certain location? Do you want a small, intimate setting or a large university with endless opportunities? Determining your priorities will help you narrow down your options and find the perfect fit. It's also important to research each school thoroughly, read reviews, and visit the campus to get a feel for the environment.
Northwest Career College in Las Vegas is a great choice for those considering medical billing and coding studies. We offer an extensive curriculum covering all the field's essential elements, from anatomy and physiology to data management systems.
Our knowledgeable instructors are experienced professionals who will provide you with the guidance and support needed to succeed.
Whether you're just starting your career or looking to take it to the next level, Northwest Career College in Las Vegas is here to help. Contact us for more information or to schedule a consultation today! We look forward to helping you reach your educational and career goals.

Employment Opportunities for Medical Billers and Coders
Medical billing and coding are critical components of the healthcare industry. As hospitals and healthcare facilities transition to electronic health records, the demand for skilled medical billers and coders continues to grow.
With an aging population and an overall increase in healthcare services, it's no surprise that the Bureau of Labor Statistics predicts an 11% growth rate for medical billing and coding jobs from 2018 to 2028. This means that professionals in this field can look forward to a stable and rewarding career path.
Additionally, many medical billing and coding jobs offer flexible work arrangements, allowing individuals to work from home or part-time. If you enjoy working with numbers and have a keen attention to detail, consider a career in medical billing and coding.

Starting the Medical Billing & Coding Journey in Las Vegas – A few things to Consider
Las Vegas is home to a booming healthcare industry, making it an attractive destination for those looking to start their medical billing and coding journey. However, before diving headfirst into the field, there are a few things to consider.
Firstly, choosing an accredited school or program is essential to ensure that you receive the proper training and education. Additionally, gaining hands-on experience through internships or externships can help set you apart from the competition.
It's also crucial to stay current with the latest industry changes as regulations and codes constantly evolve. With dedication, hard work, and the right resources, starting your medical billing and coding journey in Las Vegas can be an exciting and rewarding career path.

Get Ready for Success – Tips on Preparing for a Lucrative Career in Medical Coding & Billing
Achieving a prosperous medical coding and billing career requires diligent preparation and dedication. The good news is that anyone can succeed in this dynamic and in-demand field with the right mindset and guidance.
To start, pursuing specialized education and training in medical coding and billing is essential. This will equip you with the knowledge, skills, and certifications necessary to excel in this field.
Additionally, staying up-to-date with the latest trends, technologies, and regulations is crucial as the industry evolves rapidly. Employers seek professionals who demonstrate exceptional attention to detail, communication, and critical thinking skills.
By developing these traits, honing your expertise, and finding ways to stand out, you can pave your path to a lucrative and fulfilling career in medical coding and billing.

The Start of a Rewarding New Career
Medical billing and coding offer many important services to healthcare practitioners that can benefit communities in Las Vegas and beyond. The healthcare industry is rapidly changing, and it is now more important than ever to become educated in a program like this to keep up with the current trends.
If you are looking for a dynamic career path with solid growth potential, Las Vegas has plenty of options for medical billing and coding studies. There are several schools that offer immersive programs in medical coding and billing to meet your unique needs and interests, so it's essential to research the options and find the right fit for you.
Once you complete the training program, there are plentiful employment opportunities for medical billers and coders alike in Las Vegas. With an extensive knowledge of billing, coding, regulations, and insurance laws, you can prepare yourself for success by reading industry-related topics and news stories about changes in healthcare policies. 
All of these steps will put you on the path toward a lucrative career in medical coding & billing – one that also comes with plenty of job satisfaction.
If taking your career to the next level with a quality education sounds like something that interests you, contact Northwest about our Medical Billing and Coding Program today!



Become a vital part of the healthcare cycle
Taken together, medical coding and billing form a link between patients, healthcare providers, and insurance companies. As a medical biller or coder, you must be accurate, detail-oriented, and well-organized, as you'll be a vital part of any healthcare provider's staff.
As the premier Medical Billing and Coding vocational training institute in Las Vegas, Northwest Career College employs established, seasoned instructors to teach you every aspect of medical billing and coding. 
Our student-focused approach puts you first, and we offer online and on-campus workshops to accommodate your work and family schedule.
We continue to support our students after they graduate as our experienced Career Services team works with you to help you find medical billing and coding jobs in Las Vegas.
Call us today at (702) 403-1592 to learn more about the exciting opportunities that our Medical Billing and Coding School can offer you!