Exploring Your Options for Phlebotomy Studies in Las Vegas – Northwest Career College's Guide
July 18, 2023
660 views
6 min read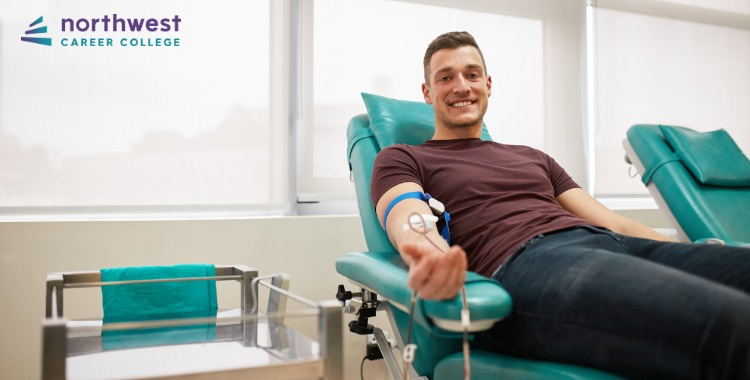 Are you considering pursuing a career in phlebotomy and looking for the best study options available in Las Vegas? Northwest Career College is here to help!
Our phlebotomy program offers an excellent, comprehensive education that combines hands-on experience, academic instruction, and certification preparation, allowing our students to excel in the field upon graduation.
With certified faculty knowledgeable of the newest research, trends, and techniques, we provide our phlebotomy students with all the necessary tools they need to succeed.
In this blog post, we'll explore your schooling options with us at Northwest Career College as well as provide key insights about what it takes to succeed in today's competitive job market.

Overview of Phlebotomy as a Career Choice
For those looking for a career in the medical field, phlebotomy may be an intriguing option. Phlebotomy, the practice of drawing blood for testing and transfusion, plays a crucial role in healthcare.
As a phlebotomist, professionals must have a steady hand and great attention to detail. The field demands precision and accuracy since even the slightest mistake can cause serious harm to the patient.
Beyond technical skills, strong communication and interpersonal abilities are also essential. Phlebotomists typically work in hospitals, clinics, and labs and can earn a competitive salary with potential growth and advancement.
For those passionate about healthcare and who desire a rewarding career that directly impacts the lives of others, phlebotomy may be a great fit.

Benefits of Studying Phlebotomy in Las Vegas
Studying Phlebotomy in Las Vegas can bring a multitude of advantages for those interested in healthcare or medical professions. This field of study not only enables students to master the art of drawing blood but also cultivates a broad set of skills ranging from communication to patient care.
The demand for phlebotomists continues to grow, providing ample job opportunities across Nevada and beyond. Furthermore, Las Vegas is home to some of the most state-of-the-art medical facilities, making it an ideal location for those looking to receive top-notch training and education in this field.
Whether you are starting your career or considering a career change, studying Phlebotomy in Las Vegas could be the perfect opportunity to jump-start your journey toward a fulfilling and rewarding profession.

Program Requirements for Phlebotomy Training in Las Vegas
If you're interested in pursuing a career as a phlebotomist in Las Vegas, knowing the program requirements is important before you start your training. Most programs require a high school diploma or GED and a passing grade on an entrance exam.
In addition, you'll be expected to complete courses in anatomy, medical terminology, and phlebotomy techniques. Hands-on experience is also typically part of the curriculum, so you'll have the opportunity to practice blood draws in a clinical setting.
Keep in mind that these programs are designed to prepare you for the certification exam, so it's important to take your studies seriously and demonstrate a strong commitment to the field.
With dedication and hard work, you could be on your way to a successful career as a phlebotomist in Las Vegas.

The Benefits of Studying Phlebotomy at Northwest Career College
Studying phlebotomy at Northwest Career College can open up many career opportunities for healthcare professionals. The program provides students with hands-on training in venipuncture techniques, blood collection procedures, and laboratory safety protocols.
Additionally, the coursework covers topics such as medical terminology, anatomy, and patient communication skills, which are essential for success in the industry. Graduates of the program are equipped with the knowledge and skills necessary to work as phlebotomists in hospitals, clinics, and other healthcare settings.
Beyond the tangible benefits, studying at Northwest Career College provides a supportive and engaging learning environment conducive to personal and professional growth.

The Benefits of Phlebotomy as a Career
If you're looking for a rewarding and exciting career in healthcare, phlebotomy might be the perfect fit for you. Phlebotomists are responsible for drawing blood from patients and play a critical role in diagnostic testing and treatment.
Not only is phlebotomy a fascinating field that lets you work with cutting-edge medical technology, but it's also a great way to help people in need and make a difference in their lives. Plus, phlebotomy is a career with plenty of opportunities for advancement and growth, so you can rest assured that you'll be able to build a stable and fulfilling career over time.
Whether you're just starting out in healthcare or looking to make a change, phlebotomy might be the perfect fit for you!

Finding Financial Aid and Scholarships to Help Fund Your Studies
Pursuing higher education can be a life-changing experience, but it can also be a significant financial burden. Thankfully, there are ways to alleviate some of that stress. Financial aid and scholarships can provide much-needed funding to help offset the costs of tuition, textbooks, and other expenses.
It's important to do some research to uncover what options are available to you, as they can vary depending on your academic performance, field of study, and other factors. Many schools and organizations offer scholarships, and federal and state grants are available.
Do your due diligence and investigate all your options to ensure you're taking full advantage of the opportunities out there. With some perseverance and a bit of luck, you can find financial aid and scholarships that will enable you to focus on your studies while easing the financial burden.

Getting Your Dream Job
Studying to become a phlebotomist in Las Vegas can be an incredibly rewarding experience. The Northwest Career College offers a variety of quality Phlebotomy programs with a mix of theoretical, practical, and hands-on training.
With access to advanced technology and experienced instructors, Northwest is an elite learning institution that ensures all students receive the best training. Plus, the college helps facilitate financial aid opportunities available for those who qualify so they can pursue their dreams of becoming a certified phlebotomist.
By enrolling in one of Northwest's excellent phlebotomy programs, you will be making an investment in your future success that you won't regret. If you are ready to start your career path and join the exciting field of phlebotomy, contact Northwest Career College about our Phlebotomy Program today!



Start your new career today
At Northwest Career College, we pride ourselves on providing one of the premier Phlebotomy Schools in Las Vegas.
Our established and seasoned instructors will take you through every aspect of Phlebotomy. Northwest also offers day, afternoon, and night classes to accommodate your busy Las Vegas work and family schedule.
Call us today at (702) 403-1592 to speak to one of our admissions specialists about your new Phlebotomy career.