Should I qualify as a Criminal Justice major?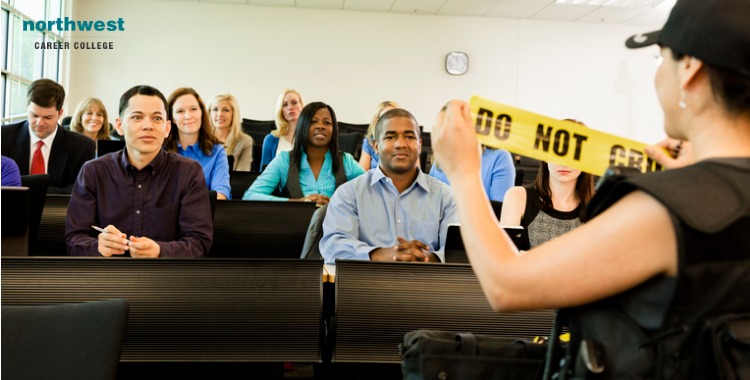 Choosing which area to start your secondary education is an important choice as it irrevocably impacts which careers you're going to be qualified to work in. 
If you're thinking of joining our Criminal Justice School, we want you to be making the best possible decision for you, so here are some factors to consider when making your choice.
What Careers Does a Criminal Justice Qualification Lead To?
Criminal justice is a vocational career, so the first thing you're going to need to think about is what career you're pursuing by getting a criminal justice qualification. 
Some of the most common career paths for graduates in Criminal Justice are:
Security officer
Police officer
Probation officer
Private investigator
Surveillance investigator
Correctional officer
Public safety officer
What Will I Be Learning?
Here at Northwest, our Associates of Applied Science in Criminal Justice is a program of study designed to qualify its graduates to pursue a career in criminal justice including employment at Nevada law firms, police organizations, prison and jails, social work, bailiffs in local, state and federal courts, private detectives, gaming surveillance officers, and gaming investigators to name a few. 
Some of the courses taught as part of our Associates of Applied Science in Criminal Justice include:
Introduction to Criminal Justice
Introduction to the American Legal System
Correctional Systems and Theory
Delinquency Prevention
Criminal Investigation
In addition to the academic and hands-on training, Criminal Justice students travel through the valley for a variety of informative and interactive field trips. 
What Is the Job Outlook for Criminal Justice Graduates?
According to data from the Bureau of Labor Statistics (BLS) a Criminal Justice graduate earns $33,050 their first year.
In addition to a good earning potential, Employment for all areas of criminal justice graduates is expected to grow 4% from 2019 to 2029, giving Criminal Justice graduates excellent job security. 
What Skills Will I Learn and What Skills Will I Need?
Some of the skills you'll learn as part of your training at Northwest include:
Psychology
Public health and safety
Surveillance
Law enforcement
Public administration
Prevention of criminal activity
However, there are also transferable skills that you might already have and that you can bring to your new career. An analysis of 4,022 job postings for Criminal Justice majors shows that employers are looking for candidates with the following transferable skills:
Communication
Writing
Physical abilities
Research
Attention to detail
Computer literacy
Relationship building
With good earning potential and good job security, as well as a wide range of interesting skills to learn and places to work, there has never been a better time to qualify as a Criminal Justice Major!
Qualifying For Your Future
Gaining a qualification from our Criminal Justice School puts you in an excellent position to access a variety of employment opportunities as you look for one that suits your skills and interests. 
At Northwest Career College, our Criminal Justice instructors include licensed, practicing attorneys and degree instructors able to teach, not only the law but also to guide our students in the many ways a criminal justice graduate integrates into a Las Vegas legal profession.
As part of our Criminal Justice Program, you'll visit courts, jails, meditation centers, and more to experience first-hand the law in action, which will make your criminal justice training applicable to the Las Vegas legal system. 
Northwest offers a flexible blended program with all criminal justice classes Las Vegas law classes taught on campus by an attorney and general education courses offered online. Our experienced instructors are on-campus to review and support your learning experience at all times. 
Call us at (702) 403-1592 to speak to one of our enrollment team about joining our Criminal Justice Program today!
Written by:
Lisa Myers, J.D., L.L.M.
Legal Studies Department Director
J.D. L.L.M. Campbell University
B.A. Corllins University