Phlebotomy: The gateway to a career in medicine
April 16, 2022
172 views
3 min read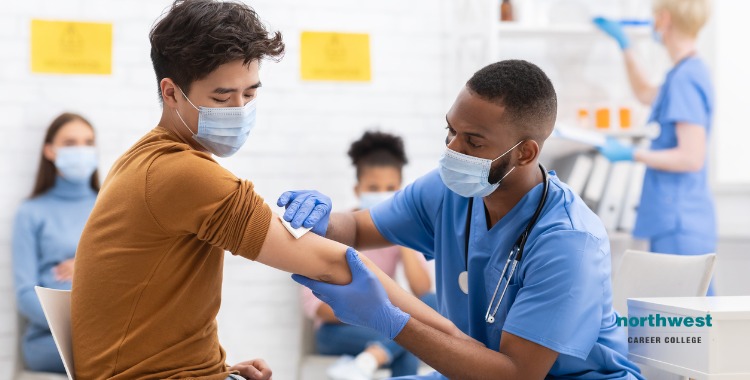 If you're looking for an exciting and challenging career in the medical field, look no further than phlebotomy! Phlebotomy is the process of drawing blood from a patient for diagnostic or therapeutic purposes.
This vital role is responsible for obtaining blood specimens for analysis, transfusions, donations, and more. As the gateway to a career in medicine, phlebotomy offers a unique opportunity to work with patients and help make a difference in their lives.
What is a phlebotomist?
A phlebotomist is a healthcare professional who specializes in the collection of blood specimens. Phlebotomy is an important part of patient care, and phlebotomists are responsible for ensuring the safety and comfort of patients during the process.
The responsibilities of a phlebotomist include:
Obtaining blood specimens from patients for diagnostic or therapeutic purposes.

Verifying patient identity and confirming the accuracy of orders.

Preparing patients for the procedure, including explaining the process and answering any questions.

Collecting blood specimens using appropriate techniques and safety measures.

Labeling and processing specimens according to established procedures.

Maintaining patient confidentiality.
Phlebotomy is an excellent way to gain experience in the medical field and to determine if a career in medicine is right for you. It can also lead to further opportunities in the medical field, such as becoming a registered nurse or doctor. If you are interested in pursuing a career in medicine, phlebotomy is a great place to start.
Phlebotomy Training
If you're interested in becoming a phlebotomist, there are a few things you need to know. First, phlebotomy training is available at many community colleges and vocational schools. The training generally lasts for 12 to 16 weeks and covers topics such as anatomy, physiology, patient care, and collection techniques.
Certification
After completing your training, you will need to become certified. This can be done through a number of organizations, such as the American Society for Clinical Pathology (ASCP) or the National Healthcare Association (NHA). Certification is not required in all states, but it is recommended.
Job Prospects
Phlebotomists are in high demand and can find jobs in a variety of settings, such as hospitals, clinics, and doctor's offices. The median salary for a phlebotomist is $31,000 and the job prospects are excellent.
Phlebotomy is a highly specialized field that requires excellent communication and customer service skills. It's also important to be able to work under pressure and handle difficult situations.

If you have the drive and determination to succeed in phlebotomy, this could be the perfect career for you!
With the right training and experience, you could go on to pursue a career as a medical assistant, nurse, doctor, or other healthcare professional.
So what are you waiting for? Start your journey today by enrolling in a phlebotomy program!
Start your new career today
At Northwest Career College, we pride ourselves on providing one of the premier Phlebotomy Schools in Las Vegas. 
Our established and seasoned instructors will take you through every aspect of Phlebotomy and Northwest offers day, afternoon, and night classes to accommodate your busy Las Vegas work and family schedule. Call us today at (702) 403-1592 to speak to one of our admissions specialists about your new Phlebotomy career.