Parole Officer Vs. Probation Officer: What Are the Differences?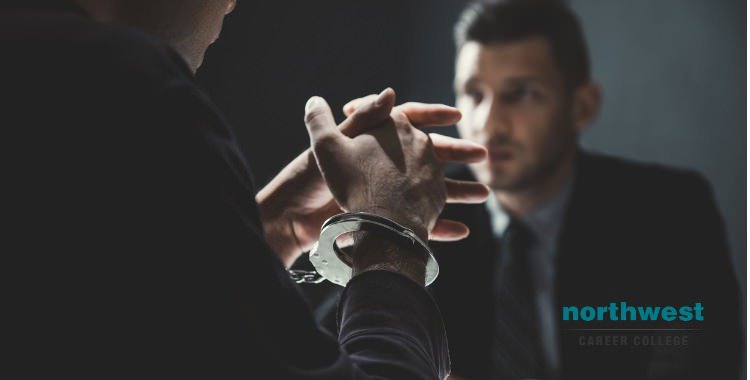 With a combination of similar names and similar duties, it is easy to see why people get confused by the difference between a parole officer and a probation officer.
Both professions play a pivotal role in the US criminal justice system, helping to rehabilitate felons and help local communities, so if you are considering a career in criminal justice and would like to know more about these two similar but entirely separate professions, read on.
Parole Vs. Probation: the Differences
Before we look at the differences between the job roles themselves, it is important to define the difference between parole and probation.
Parole
In the US, parole is defined as " the permanent release of a prisoner who agrees to certain conditions before the completion of the maximum sentence period."
According to the Bureau of Justice Statistics, certain prisoners are released before their sentence is finished by a parole decision board (discretionary release) or according to provisions of a statute (mandatory release).
Those prisoners released on parole are required by law to abide by certain restrictions. Failure to comply with these guidelines can result in the parolee being returned to incarceration.
Probation
Probation, in criminal law, is defined as a period of supervision over an offender, ordered by the court instead of serving time in prison. This makes it different from parole where a prisoner has been released early.
Probation is often used as a punishment for nonviolent offenses or where the offender would miss out on working or going to school because of incarceration. Those individuals given probation are requires to regularly report to their assigned probation officer.
What Does a Parole Officer Do?
The job of the parole officer is twofold.
Firstly, they are there to oversee prisoners who have been released on parole and make sure they are abiding by the guidelines and restrictions of their parole. Secondly, there are there to help individuals make the difficult transition back into the community after incarceration.
Because parole officers work with potentially violent criminals, there is some risk to the job and parole officers are often armed. Parole officers are often tasked with making home inspections and performing other tasks that put them in close proximity with their parolees.
Common Duties
Meet with soon-to-be-released inmates to create individualized parole plans
Help parolee find a place to live, employment and/or treatment for mental health issues
Monitor and evaluate progress
Conduct drug/alcohol tests and home visits to ensure conditions of release are being met
Attend court hearings and communicate with employers/counselors regarding parolees
What Does a Probation Officer Do?
Unlike parole offices, a probation officer works with nonviolent or first-time offenders to try and ensure they do not backslide into further criminal activity.
They ensure that individuals on probation are abiding by the restrictions of their mandated probation and try to help them move away from the activities or behaviors that led to the committing criminial acts in the first place.
Because they generally work with nonviolent offenders, probation officers are rarely armed and face somewhat lower risks on the job, although they are still called upon to conduct home visits.
Common Duties
Interview offenders and make recommendations to judges for conditions of the sentence
Monitor offender to ensure they are abiding by the terms of their probation
Regularly meet with probationers to assess progress, administer drug tests and follow up with treatment plans
Write pre-sentencing reports and document visits with probationers
Salary and Job Outlook
The Bureau of Labor Statistics (BLS) reported the median pay for parole officers, probation officers, and correctional treatment specialists at $53,020 per year in 2018. Local government positions offered a higher average annual salary, at $58,040. The BLS projects moderate employment growth for probation officers and correctional treatment specialists, at 6% through 2026.
There are also opportunities for parole officers to move into management roles; according to O*NET OnLine, first-line supervisors of correctional officers earned an average salary of $63,340 per year as of 2018.
Qualifying For Your Future
Gaining a qualification from our Criminal Justice School puts you in an excellent position to access a variety of employment opportunities as you look for one that suits your skills and interests. At Northwest Career College, our Criminal Justice instructors include licensed, practicing attorneys and degree instructors able to teach, not only the law but also to guide our students in the many ways a criminal justice graduate integrates into a Las Vegas legal profession.
As part of our Criminal Justice Program, you'll visit courts, jails, meditation centers and more to experience first-hand the law in action which will make your criminal justice training applicable to the Las Vegas legal system. Northwest offers a flexible blended program with all criminal justice classes Las Vegas law classes taught on campus by an attorney and general education courses offered online. Our experienced instructors are on-campus to review and support your learning experience at all times.
Call us at (702) 403-1592 to speak to one of our enrollment team about joining our Criminal Justice Program today!
Written by:
Lisa Myers, J.D., L.L.M.
Legal Studies Department Director
J.D. L.L.M. Campbell University
B.A. Corllins University