Paralegal Studies: Your route into the legal sector
July 22, 2022
472 views
5 min read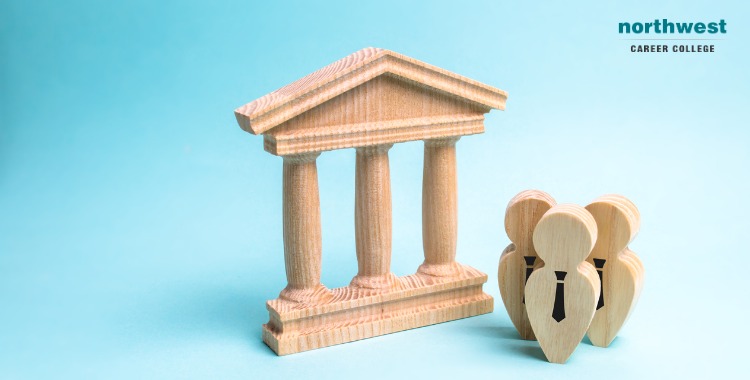 If you are looking for a career in the legal sector, then paralegal studies may be the perfect choice for you. Paralegals play an essential role in the legal system, and their work is vital to the success of any law firm.
In this blog post, we will discuss what paralegal studies involve, and we will explore the many different career opportunities that are available to graduates of these programs. We will also provide advice on how to choose the right program for your needs.
So if you are considering a career in law, read on!
You don't need a law degree to work in a law firm!
One of the most common misconceptions about working in the legal sector is that you need a law degree to get started. This simply isn't true. While a law degree may be beneficial, it is not essential.
Paralegal studies are an excellent way to enter the legal profession without spending years studying for a law degree. These programs will provide you with the skills and knowledge you need to be a successful paralegal.
There are many different types of paralegal programs available, so it is important to choose one that is right for you.
Training as a paralegal
Most paralegal programs will offer courses in legal research and writing, civil procedure, contracts, constitutional law, and torts. These are the basics that you will need to know to be a successful paralegal.
Some programs also offer specialized courses in areas such as family law, criminal law, or estate planning. If you have a particular area of interest, you should look for a program that offers courses in that area.
When choosing a paralegal program, you should also consider the cost and the length of the program. Some programs can be completed in as little as two years, while others may take four years or more.
The cost of the program will also vary depending on the school you choose and whether you attend full-time or part-time.
Once you have completed a paralegal program, you will need to pass the certified legal assistant (CLA) exam to become a certified paralegal.
Most states require paralegals to be certified, although there are a few that do not.
After you have passed the CLA exam, you will be able to find employment with a law firm, a government agency, or a corporation. You can also work as a freelance paralegal if you prefer.
What are the job prospects for paralegals?
The job outlook for paralegals is very good.
The Bureau of Labor Statistics estimates that the demand for paralegals will grow by 15 percent between 2016 and 2026, which is much faster than the average for all occupations.
This growth is being driven by a number of factors, including an increasing need for legal services, the retirement of baby boomers, and the growing complexity of the law.
As more people turn to paralegals to provide affordable legal assistance, the demand for these professionals will continue to grow. Are you interested in becoming a paralegal?
If so, there are a few things you need to do to get started.

Starting your career as a paralegal
First, you need to earn a paralegal certificate or degree from an accredited institution. Most paralegal programs take two years to complete, although some can be finished in as little as one year.
Once you have completed your education, you will need to pass the National Association of Legal Assistants' (NALA) certified legal assistant/paralegal (CLA/CP) exam.
This exam is offered twice a year and tests your knowledge of the legal field.
After passing the exam, you will be able to use the CLA/CP designation after your name. In some states, you may also need to pass a state-specific certification exam.
Once you have earned your certification, you can start looking for a job in the legal field. There are many different types of law firms, so you should take some time to research which one would be the best fit for you. You can also look into working for a corporate legal department, government agency, or non-profit organization.
No matter where you end up working, you will be able to use your paralegal skills to help people and make a difference in the world.
So if you are considering a career in the legal field, be sure to look into paralegal studies as your route in. It is a great way to get started in an exciting and rewarding career!
Beginning your new career with NCC
The NCC Paralegal Studies Program is the perfect way to get started in an exciting and rewarding career in the legal field. In just eight weeks, you will have the skills and knowledge you need to begin your new career as a paralegal.
Our experienced faculty are here to support you every step of the way and answer any questions you may have. So what are you waiting for?
Contact us today to learn more about how paralegal studies can be your route into the legal sector!
Join one of the best paralegal schools in Las Vegas today!
Here at our trade school, we run the top paralegal program in Nevada, offering our students the skills and experience they need to successfully enter the field of paralegal work and position themselves to maximize their earnings. 
Our Paralegal instructors are seasoned attorneys and highly trained professionals who are able not only to teach you the law but also to guide you through the many ways a paralegal integrates into a Las Vegas law practice.
We offer on-campus and online paralegal classes to accommodate your work and family schedule. Our Career Services team will work with you to help you find the best paralegal employment opportunity in Las Vegas.
Call us today at (702) 403-1592 to find out what our paralegal program can offer you.