Is Medical Billing The Same As Coding?
Medical Billing and Coding
January 20, 2023
288 views
6 min read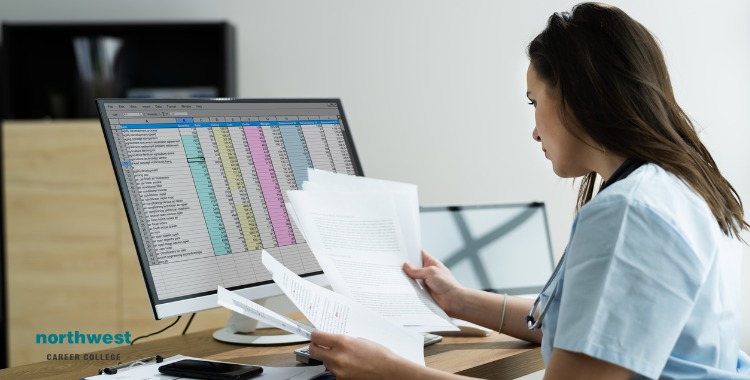 No matter what stage you are in your medical career, it is important to understand the difference between medical billing and coding. Although they are similar, they are two completely different processes.
Medical billing is the process of submitting claims to insurance companies for payment. Coding, on the other hand, is the process of translating diagnoses and procedures into codes that are used for billing purposes. As you can see, both medical billing and coding are important parts of the healthcare revenue cycle.
What is medical billing, and what are its responsibilities
Medical billing can be a complicated and time-consuming administrative process. However, it is an essential task for managing healthcare records and payments. Medical billing professionals are responsible for sorting through all of the paperwork associated with patient medical claims, organizing them into a database to track prognosis and results in treatment, as well as processing claims for payment.
This requires knowledge of current medical codes and guidelines, plus intimate familiarity with insurance policies to ensure the accurate calculation of costs for services rendered.
Medical billing specialists also handle billing-related questions from medical staff, offices, clinics, and patients – all while providing professional customer service. It is a critical skill that makes it possible for healthcare facilities to continue their operations smoothly.
What is medical coding, and what are its responsibilities
Medical coding is a vital part of the healthcare industry. It involves assigning numerical codes to medical diagnoses, treatments, medications, and other information related to patient care. This creates a language unique to healthcare providers that allows more efficient communication among care team members and facilitates accurate reimbursement for services provided.
Medical coders are tasked with staying up-to-date on the current coding requirements and submitting accurate data according to established standards. They often need additional expertise in accounting, claims management, and billing procedures in order to effectively complete their duties.
Ultimately, properly trained medical coders provide the foundation which allows for overall financial stability within the healthcare field.
The similarities between medical billing and coding
Medical billing and coding are two distinct yet closely related components of the healthcare industry. Medical billers provide an essential service by tracking, submitting, and following up on claims for services rendered by healthcare providers.
On the other hand, medical coders use specialized ICD-10 codes to classify a patient's diagnosis and the services provided by a provider for insurance reimbursement. Both roles are crucial in the operation of doctor's offices, clinics, hospitals, and insurance companies; without them, reimbursements could not be collected or accurate records kept of patient health information.
The daily operations of these individuals may be different, but they both play key roles in making sure that healthcare institutions are accurately reimbursed for services rendered while protecting patients' data.
The differences between medical billing and coding
Medical billing and coding are two distinct and equally important functions within the healthcare sector. Medical billing is the process of submitting claims to health insurance companies, government programs such as Medicare or Medicaid, and other payers for reimbursement.
It also involves invoicing patients for copayments and deductibles associated with their treatments. On the other hand, medical coding is the task of transforming descriptions of services rendered into numeric or alphanumeric codes used by practitioners in their paperwork.
These codes are not only used to assign diagnoses and treatments but also enable healthcare organizations to perform accurate audits, analyze data, track trends, and support research required to ensure patient safety and satisfaction.
Which one is right for you – medical billing or coding
When considering a career in medical billing or coding, it is important to consider your own aptitudes and interests. Medical billing involves communication with both the patient and their insurance provider to ensure payments are accurate and collected.
Coders will often convert the doctor's diagnosis into codes which are then used to generate billing information that ties in with medical records. Both medical billing and coding can be performed remotely, offering flexibility for workers who prefer to work from home.
Both require knowledge of coding languages, familiarity with insurance laws, record-keeping and filing ability, strong organizational skills, basic computer literacy, and an eye for detail.
An understanding of both medical coding as well as billing can be beneficial when considering either career path; however, by weighing your own talents against the duties associated with each job, you may find it easier to decide which route is right for you.
Medical billing as a profession
Knowing the responsibilities of medical billing and coding is important when you're trying to decide which one is right for you. They both work with patient information, but coding focuses on diagnostic codes, while billing works with insurance companies.
The main difference is that coders translate diagnoses into numbers while billers work to get patients' reimbursement from their insurance companies. If you're good with people and detail-oriented, billing may be a better fit for you. If you like puzzles and working with numbers, then coding could suit you well.
Both are solid career choices in the medical field with different sets of responsibilities. It all comes down to what sounds more interesting to you and where your skills lie.
After reading this post, do you think medical billing or coding is the better choice for you? Weigh the pros and cons and then contact us at Northwest Career College to talk about our Medical Billing and Coding Program.

Become a vital part of the healthcare cycle
Taken together, medical coding and billing form a link between patients, healthcare providers, and insurance companies. As a medical biller or coder, you'll need to be accurate, detail-oriented, and well organized as you'll be a vital part of any healthcare provider's staff.
As one of the premier Medical Billing and Coding Schools in Las Vegas, Northwest Career College employs established, seasoned instructors to teach you every aspect of medical billing and coding.
Our student-focused approach puts you first, and we offer online and on-campus workshops to accommodate your work and family schedule.
We continue to support our students after they graduate as our experienced Career Services team works with you to help you find medical billing and coding jobs in Las Vegas. Call us today on (702) 403-1592 to learn more about the exciting opportunities that our Medical Billing and Coding School can offer you!