Is a Dental Administrative Assistant Just a Receptionist?
Dental Administrative Assistant
February 24, 2023
138 views
5 min read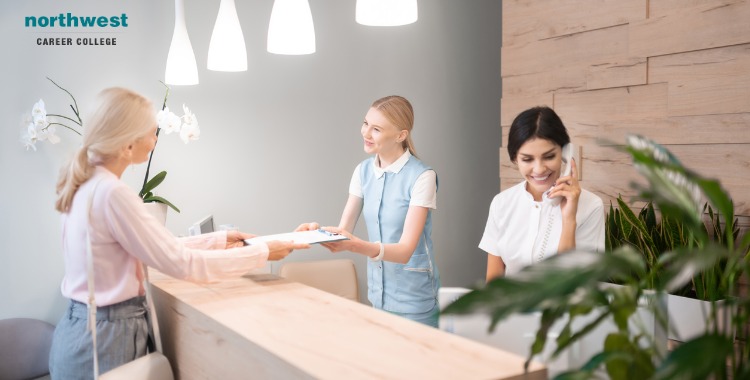 If you're considering a career in dental administration, you may be wondering what the difference is between an administrative assistant and a receptionist.
While both roles are essential to keeping a dental office running smoothly, there are some key differences that you should be aware of before making your decision. Keep reading to learn more about the two positions and which one might be right for you.

Dental administrative assistants are responsible for more than just answering phones and scheduling appointments
Dental administrative assistants are responsible for a wide variety of tasks that are essential to the success of any dental care provider.
Not only do they answer phones and schedule appointments, but they also enter patient records into software systems, verify patients' insurance information, create invoices and statements, and check them for accuracy. They may collect co-pays or even process payments from patients.
Dental administrative assistants should be highly organized and adept at communicating with people in a professional manner. It is a difficult but fulfilling job that requires strong time management skills and attention to detail, as well as a friendly demeanor to put visitors at ease.
Those who work in this field can have rewarding careers that make a real difference in the lives of their patients.
These responsibilities are similar to that of a receptionist, but, as you'll see, dental administrative assistants may be required to perform more specialized tasks.

They also handle billing, insurance claims, and patient records
Dental administrative assistants must possess excellent computer skills, as most tasks are now done using computers and dental software. This means they must be able to quickly learn new software programs, as well as troubleshoot any technical issues that may arise.
Additionally, they must have a good understanding of medical terminology associated with dentistry so that they can correctly enter patient information and understand insurance claims.

They may also be responsible for ordering supplies and maintaining the office schedule
In addition to their clerical tasks, Dental administrative assistants are important for the smooth running of any business. They are responsible for overseeing administrative duties and organizing the office workflow, as well as managing employees.
On top of this, they may be required to order office supplies and assets when necessary and maintain the office schedule, ensuring that events run on time and deadlines are met with utmost efficiency.

Dental administrative assistants need to have strong people skills and be able to multi-task
Dental administrative assistants are assigned a wide range of tasks and responsibilities to ensure that dental clinics can operate efficiently.
The ability to multitask is essential for any dental administrative assistant so they can juggle office duties such as answering the phone, scheduling appointments, and filing medical records while still projecting a professional attitude.
People skills are also crucial for this role, as this personnel often serves as the primary point of contact for patients who might be feeling anxious or overwhelmed before a visit. A friendly demeanor and an amiable presence can go a long way in alleviating stress and creating a positive atmosphere within the dental office.
To excel in their position, dental administrative assistants need both practical multitasking abilities and strong interpersonal skills.

If you're thinking of becoming a dental administrative assistant, make sure you have the necessary skill set before applying for a job
If a career as a dental administrative assistant appeals to you, you must ensure that you have the right skill set before applying.
This job requires strong proficiency in computers and solid customer service abilities since you'll be responsible for scheduling patient appointments and relaying information to both doctors and patients.
In addition, Dental Administrative Assistants must also be detail-oriented so that records and other important documents are kept organized. It's also essential to have good communication skills with the ability to multitask in a fast-paced environment.



Start your dental administrative assisting career with us!
Employment for entry-level employment in the dental field is expected to increase by 23% over the next 10 years, faster than average for all occupations, according to the Bureau of Labor Statistics.
With this growing demand for DAAs, it is essential that graduates cultivate the skills and traits that will help them stand out in the employment market.
Here at Northwest Career College, our Dental Administrative Assisting Program prepares students to work in any dental office. Our expansive, nine-operatory lab provides students with real-life dental office experience.
You will be trained to handle clerical duties such as scheduling appointments, handling insurance claims, and monitoring inventory. You will work with documents, forms, and computer systems. No other Dental Administrative Assistant Program in Las Vegas offers this type of advanced training.
Our vocational training-focused approach will help you cultivate the skills you will need to stand out. Our experienced Career Services team will work with you to help you find the best dental administrative assistant employment opportunities in Las Vegas. Call one of our enrollment specialists at (702) 403-1592 to find out more.