How to Start Your New Career in Phlebotomy?
May 19, 2023
709 views
5 min read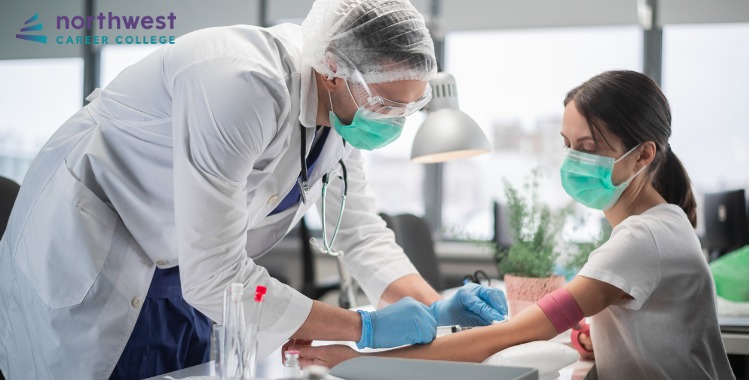 Beginning a new career in phlebotomy is an exciting prospect, and it can be the start of a long-term and rewarding journey. This field offers good pay and job security while allowing you to work closely with patients and positively impact their lives.
If you're considering entering the world of phlebotomy, there are some essential things you need to know before taking your career further. We've compiled advice on how to get started that should help ensure your success right off the bat!
Read on for our top tips on how to begin your new career in phlebotomy.
How to Start Your New Career in Phlebotomy?
Understand the job responsibilities and qualifications of a phlebotomist
A phlebotomist may not be as widely known as other healthcare professionals, but their job responsibilities are just as vital.
As the medical field advances, the demand for phlebotomists has increased. These skilled technicians are responsible for drawing blood samples from patients and ensuring the process is conducted safely and accurately.
While not all states require formal education, most employers prefer a certification from an accredited phlebotomy program or equivalent experience.
Phlebotomists must also possess strong communication skills and the ability to put patients at ease during a potentially uncomfortable experience.
A career as a phlebotomist offers meaningful work in a crucial part of the healthcare industry.

Research educational requirements to become certified as a phlebotomist
If you're intrigued by the medical field but don't necessarily want to spend years in school, becoming a phlebotomist might be the perfect path.
Typically, you'll need to complete an accredited phlebotomy training program or have equivalent work experience. Additionally, most states require phlebotomists to be licensed or certified.
The best way to start your phlebotomy journey is to research the requirements in your state and find a reputable training program. NCC's Phlebotomy Program is a comprehensive program designed to provide you with the necessary skills for a successful healthcare career.
The course includes classroom instruction and hands-on experience in collecting and processing specimens.
Upon completion, you can be confident that you have acquired the necessary knowledge, practical skill sets, and clinical competencies to become certified and begin your career as a phlebotomist.

Reach out to local hospitals and labs to see if they're hiring
Are you a certified phlebotomist looking for job opportunities in your local area? It's time to contact hospitals and labs to see if they are hiring.
Phlebotomy is an essential medical function, and health facilities always need skilled phlebotomists to draw blood safely and efficiently.
By contacting your local hospitals and labs, you can find job opportunities and gain insight into the current job market and make valuable connections within the healthcare industry.
Don't wait any longer. Start reaching out today and take the first step toward your new career as a phlebotomist.

Take a certification course in phlebotomy
Are you looking for an exciting career in healthcare? Consider taking a certification course in phlebotomy!
As a phlebotomist, you will specialize in drawing blood from patients for various medical tests and procedures. This crucial role requires attention to detail, strong communication skills, and the ability to make patients feel at ease during the blood draw process.
With a certification in phlebotomy, you can open doors to various healthcare settings, including hospitals, clinics, and laboratories. This is an excellent opportunity to make a difference in patients' lives while pursuing a fulfilling and rewarding career.
Sign up for the NCC Phlebotomy Course today and take the first step toward your dream job!

Develop professional skills such as customer service, communication, and organizational skills
In today's competitive job market, it's essential to develop a range of professional skills to help you stand out from the crowd.
Customer service, communication, and organizational skills are in high demand and can make a huge difference in achieving career success. Being able to communicate effectively with customers and colleagues, organize your workload efficiently, and provide exceptional service can have a positive impact on your career trajectory.
Becoming a certified phlebotomist takes work and dedication, but the end result is rewarding. With the right knowledge and qualifications, you can become an esteemed professional in the medical field and make a difference in people's lives.
When you feel ready to transition into a new phlebotomist career, contact Northwest Career College about our Phlebotomy Program. We offer comprehensive training, hands-on experience, and a supportive environment so you can make the most of your new career.



Start your new career today
At Northwest Career College, we pride ourselves on providing one of the premier Phlebotomy Schools in Las Vegas.
Our established and seasoned instructors will take you through every aspect of Phlebotomy, and Northwest offers day, afternoon, and night classes to accommodate your busy Las Vegas work and family schedule.
Call us today at (702) 403-1592 to speak to one of our admissions specialists about your new Phlebotomy career.