How to Remain Productive When Working from Home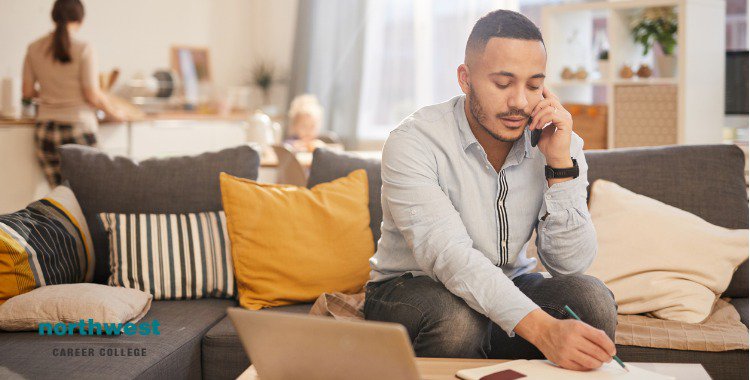 Working from home, particularly if you aren't used to it, can seem like the ideal situation. No commute, no meetings to attend, and no reason to take off your pajamas.
However, if you've recently switched to working from home, and particularly if you don't have a dedicated office, you might find your productivity slips. After all, we fill our houses with the things we want to do when we aren't working.
To help keep you productive, we've put together some easy to use tips you can apply to working or studying from home.
Block Out the Noise
Since you're home, it can be tempting to put on the music that you're not allowed to listen to at work. However, studies have shown that music with lyrics in it forces your brain to concentrate on it, even if you want to be focussed on something else.
White noise, or one of the other colored noise variants, is a far better choice as it has the same calming effect that music has, but without the lyrical content to distract you.
Don't Start the Day With Coffee
Most of us start the day with a cuppa joe, but having your coffee too early can actually make you feel more tired. 
As soon as you get up, your body starts producing cortisol, the hormone that wakes you up. Caffeine interferes with cortisol production and means it takes longer for you to feel properly awake.
Instead, start the day with a glass of water to rehydrate and save the coffee for that lunchtime dip.
Put on Some Pants
Spending the day in your PJs sounds great, but it does trick your subconscious into thinking that you're on a day off, resulting in a dip in your productivity. 
That's fine if your workload for the day is light, but if you really need to get stuff done, get fully showered and dressed. It'll make you work harder and you can always put your PJs on later.
Stay Social
If you're both working and playing at home, it can be easy to find yourself stuck in the house, so make the extra effort to socialize, even if it is just a quick video call to check in with your friends. Even 30 minutes of socializing can help lift your mood and make you more productive.
Take Notes
Even if you do have the ability to watch your lecturers over and over again through an online portal, don't skip on taking notes. Writing stuff down helps you commit facts to memory and makes it easier for you to recall them later.
Student Finance Is Available and Easy to Apply for  
Title IV funding provides financial assistance towards the costs of education for more than 13 million students across the US every year. The U.S. Department of Education awards more than $120 billion a year in grants, work-study funds and loans to cover expenses such as tuition and fees, room and board, books, supplies, and transportation. Applying for grants and loans is simple when you call one of our experienced Financial Aid Officers at (702) 403-1592 today to discuss your options.
How Do I Apply For Student Aid?
First, just complete the Free Application for Federal Student Aid (FAFSA). You can find a copy of FAFSA form, and a guide to completing it, on the Federal Student Aid website. www.FAFSA.ed.gov.  You can also fill the FAFSA out online here.  Please make sure you enter our school code: 038385. This allows your records to be sent directly to our Financial Aid office so that when you visit the campus, our FA officers can discuss your financial aid package with you in person.
Financial Aid At Northwest Career College
Here at Northwest Career College, we have Financial Aid Officers on staff that can help determine the best financing option for you. To best support our students we offer a range of financial aid including the Pell Grant, Subsidized Loans, Unsubsidized Loans, and Parent Plus Loans. Call us today at (702) 403-1592 to speak with one of our experienced Financial Aid Officers who will help find the best financial support options for you.
Written by: 
Dr. Stephanie Kenny,
Chief Financial Officer