How To Improve As A Dental Administrative Assistant?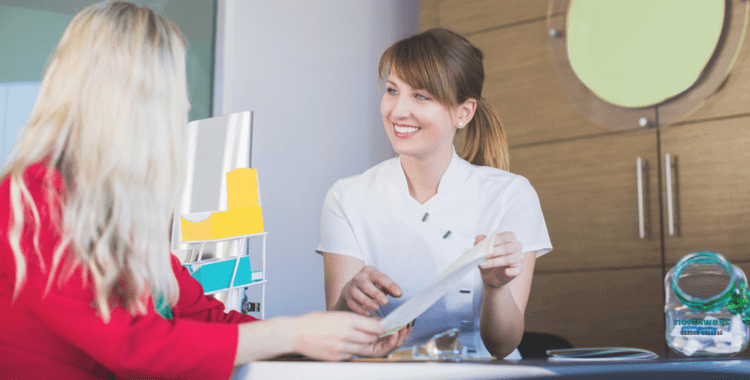 Dental administrative assistants are often the unseen motors of the dental practice, keeping the machinery of the workplace running smoothly. Actively switching between back office and front desk, they address a wide variety of tasks and often have an extremely fast-paced work day. With so many responsibilities to shoulder, the dental administrative assistant should always be looking for ways to excel, so we've collected together some top tips on how you can become more efficient and effective.
Top Tips
1. Get to know your dentist:
As an administrative assistant, is is important that you cultivate a good working relationship with the practice's dentists. By working out their personality traits, work habits and delegation methods you can more efficiently anticipate their needs, cutting down on miscommunication and increasing efficiency.
2. Be Proactive:
Every workplace has periods of downtime, use that downtime to prepare for tasks in advance. Dental administrative assistants are expected to keep several steps ahead of their administrative duties, while also responding to everything that comes up on an hourly basis. By being proactive and using your time wisely, when the workload slackens off, you can prevent yourself from becoming overloaded if there is a sudden spike of busyness later in the day.
3. Cultivate Excellent Communication Skills:
The ability to communicate clearly with other staff members and patients is a critical skill that all dental administrative assistants need to develop. Your ability to communicate extends past the verbal; make sure any paperwork or notes are filed out legibly, even if they are for your eyes only. You never know when someone else might need that information and having to write it out again so it's legible, is a waste of time.
4. Maintain a professional approach:
Dental practices can be a small, close knit workplace where it is easy to form close bonds with your co-workers. Regardless of this, it is important that you maintain a professional approach in all aspects of your administrative work. A supportive and friendly atmosphere at work is indicative of an effective team, but don't let personal relationships impede your ability to discharge your responsibilities
5. Remember you are the face of the practice:
When dealing with patients, remember than you are a representative of the practice. Treat visitors and callers with respect and hospitality. Speak clearly and take the time to make sure that patients have a good understanding of why it is necessary for them to undertake the tasks you are asking them to complete.
Strive To Improve
Employment for entry-level jobs in the dental field is expected to increase 23% over the next 10 years, faster than average for all occupations, according to the Bureau of Labor Statistics. With this growing demand for DAA's, it is essential that graduates cultivate the skills and traits that will help them stand out in the employment market.
Here at Northwest Career College, our Dental Administrative Assisting Program prepares students to work in any dental office. Our expansive, nine operatory lab provides students with a real-life dental office experience. You will be trained to handle clerical duties such as scheduling appointments, handling insurance claims, and monitoring inventory. You will work with documents, forms, and computer systems. No other Dental Administrative Assistant Program in Las Vegas offers this type of advanced training.
Our student-focussed approach will help you cultivate the skills you will need to stand out. Our experienced Career Services team will work with you to help you find the best dental administrative assistant employment opportunities in Las Vegas. Call one of our enrollment specialists at (702) 403-1592 to find out more.
Written by:
Cynthia Lofquist, R.D.A.
Dental Assisting Program Chair
Concorde Career Institute