How does the CARES act impact student finance?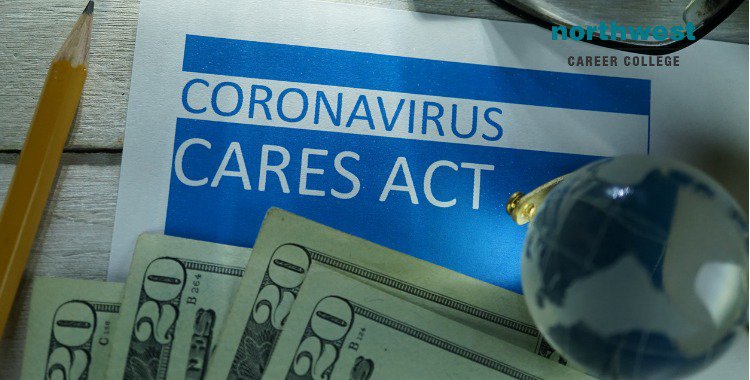 IN reaction to the recent coronavirus outbreak and the impact that is has had on the economy, the U.S. Congress passed The Coronavirus Aid, Relief, and Economic Security (CARES) Act. 
The CARES Act gave over $2 trillion to aid United States citizens who were affected by the COVID-19 outbreak and the lengthy stay-at-home orders. So how does it affect students and their federal loads?
Delayed Repayments
As part of the CARES act, those students with federally-held student loans have been offered relief from the repayment of those loans. The initial bill suspended federally-held student loan payments until September 30th, although this provision has now been extended until the end of the year.
Additionally, interest on those federally-held student loans will be stopped until the end of the year, so the amount of student debt owed to the federal government won't go up due to the suspension of payments.
The choice to suspend payments on federally-held student loans was put in place for two reasons. 
Firstly to assist students who are struggling financially during the COVID-19 outbreak while not being able to attend educational facilities because of the lockdown. 
Secondly, to free up money that would usually be spent on repayments to flow back into the U.S economy, which has suffered a historic decline due to the effects of the coronavirus and the lockdown measures put in place to combat it.
Student Finance Is Available and Easy to Apply for  
Title IV funding provides financial assistance towards the costs of education for more than 13 million students across the US every year. The U.S. Department of Education awards more than $120 billion a year in grants, work-study funds, and loans to cover expenses such as tuition and fees, room and board, books, supplies, and transportation. Applying for grants and loans is simple when you call one of our experienced Financial Aid Officers at (702) 403-1592 today to discuss your options.
How Do I Apply For Student Aid?
First, just complete the Free Application for Federal Student Aid (FAFSA). You can find a copy of FAFSA form, and a guide to completing it, on the Federal Student Aid website. www.FAFSA.ed.gov.  You can also fill the FAFSA out online here.  Please make sure you enter our school code: 038385. This allows your records to be sent directly to our Financial Aid office so that when you visit the campus, our FA officers can discuss your financial aid package with you in person.
Financial Aid At Northwest Career College
Here at Northwest Career College, we have Financial Aid Officers on staff that can help determine the best financing option for you. To best support our students we offer a range of financial aid including the Pell Grant, Subsidized Loans, Unsubsidized Loans, and Parent Plus Loans. Call us today at (702) 403-1592 to speak with one of our experienced Financial Aid Officers who will help find the best financial support options for you.
Written by: 
Dr. Stephanie Kenny,
Chief Financial Officer