How a Vocational Qualification Can Improve Your Career
June 28, 2023
308 views
5 min read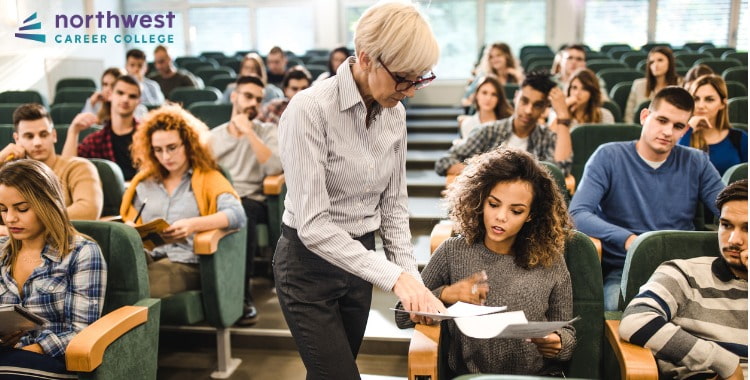 When it comes to advancing your career, having a recognized qualification can make all the difference. Investing in yourself and gaining an industry-specific vocational qualification may be the key to succeeding in your chosen profession and achieving success.
In this blog post, we'll discuss why gaining a relevant vocational qualification can give you an edge in getting ahead in your field, whether hospitality or health care and how it will improve your career prospects in the long run.
We also touch on how studying for and obtaining a vocational qualification could open up new opportunities for you. Read on to learn more about what investing in yourself could mean for your professional journey!

Understand the benefits of a vocational qualification
Trade school programs are becoming increasingly popular in today's job market. They offer a practical approach to education, equipping individuals with the skills and knowledge needed to succeed in a particular job field.
These qualifications allow students to gain experience in their chosen field before entering the workforce, providing a competitive edge when it comes to applying for jobs.
Additionally, employers highly value vocational education as it demonstrates a commitment to learning and a desire to excel in a specific area, which can lead to career advancement opportunities and higher salaries.
Investing in a vocational qualification is an excellent way to boost your career prospects and set yourself apart from other job candidates.

Identify the right qualification for your needs
Choosing a suitable vocational qualification can be a daunting task. Assessing your needs and considering your career goals before deciding is essential.
An individual looking to start a career in a specific field may find that a certificate program is the right fit, while someone seeking advanced knowledge may opt for a master's degree.
Researching the curriculum and the program's reputation before committing is crucial. Ultimately, selecting the right qualification can help pave the way for your desired career path and bring personal fulfillment. Take your time and choose wisely.

Research and compare options for courses and institutions
When it comes to pursuing a vocational qualification, it's essential to research and compare all of your options for courses and institutions. Perhaps you have a specific career path in mind or want to broaden your skillset to make yourself more marketable.
Whatever your reasoning may be, exploring different programs and schools can pay off in the long run. You'll want to consider factors such as cost, location, program length, and what type of certification you'll receive upon completion.
Don't be afraid to ask questions and gather information from multiple sources to help you make the best decision for your future.

Know how to apply and get accepted for the course
A vocational qualification can be a great option if you're looking to gain skills in a specific industry. However, knowing how to apply and get accepted for the course can seem daunting. Fear not, as there are several steps you can take to increase your chances of success.
Start by researching the course and its requirements, ensuring you meet all of the necessary criteria. If possible, attend an open day or speak to current students to better understand what to expect. Be thorough in your application, highlighting your relevant experience and skills.
Finally, don't hesitate to ask for advice or guidance from the course provider or a career advisor. With some preparation and determination, you'll be well on your way to achieving your vocational goals.

Be aware of any financial assistance that may be available
When seeking a vocational qualification, it's important to be aware of any financial assistance that may be available. Pursuing education can be expensive, but resources are available to help offset the costs.
Scholarships, grants, and loans are just a few potential options to explore. It can be daunting to navigate the various avenues of financial assistance, but doing so can make all the difference in achieving your career goals.
Keep an open mind when researching and reach out to institutions or organizations that may offer support. With a bit of effort, you can find the resources you need to succeed.

Prepare yourself to excel once you begin your studies
Starting your course at a vocational training institute can be an exciting and overwhelming experience. However, the key to success is preparation. Before you dive into your studies, it's essential to understand the skills and knowledge you'll need to excel in your field of interest.
Start by researching the coursework and topics you'll cover throughout your program. Next, develop a study schedule that works for you and allows enough time for both learning and relaxation.
Finally, consider seeking out additional resources such as textbooks, online tutorials, and study groups to supplement your education. With the proper groundwork and dedication, you'll be well on your way to achieving your vocational goals.
When choosing a vocational program, there are so many factors to consider that the task can seem overwhelming. That's why it's helpful to have an experienced institution like Northwest Career College guide you through every step of the process.
From providing information on curriculum options to job requirements and more, Northwest Career College can provide all the advice and resources necessary so you can make a fully informed decision. Contacts us now for more information about our vocational programs today!



Start Your New Career Today!
At Northwest Career College, our vocational programs will provide you with essential skill sets so that you have the confidence and capabilities to impact lives while attaining your goals.
Our knowledgeable and certified staff will guide you throughout your journey, as making a career change can be scary and daunting.
With many support avenues built into our culture at Northwest Career College, we will ensure you have a positive experience in launching your new career.
Don't wait any longer. Contact us today about our vocational programs to begin your path to success!