Why Is There A Growing Demand for Medical Assistants?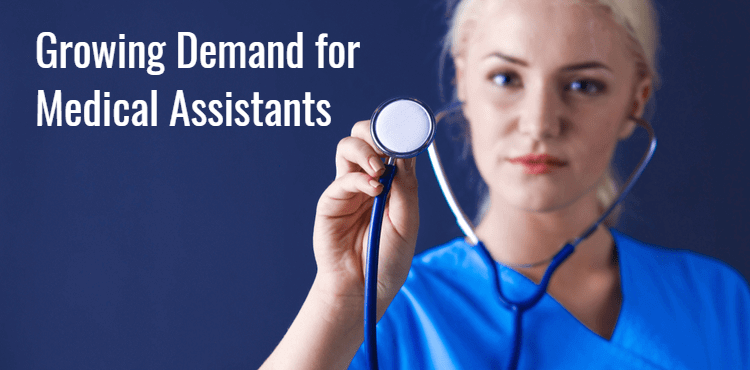 According to the Bureau of Labor Statistics, the employment of medical assistants is expected to grow 29% from 2012 to 2022. Outpatient centers alone are projected to require a 57% increase the number of medical assistants hired in the next ten years. With this unprecedented surge in available positions, the question remains – why is there such a demand for medical assistants and is now the best time to consider training as one?
Why Is Demand Growing?
Healthcare is a complicated issue, and there are a number of reasons why there has been a sudden upsurge in demand for medical assistants. Below are some of the more common factors that are driving the need for more certified medical assistants and creating excellent career opportunities for our graduates.
Aging Population – One of the key reason for the rising demand for medical assistants is the large number of aging Baby-Boomers in the US. Constituting the most significant age demographic in the country, the Baby-Boomer generation represents a considerable number of people who are living longer and staying more active, thereby putting more pressure on the healthcare system. Since many of the tasks associated with care for the elderly can be performed by a medical assistant, such as giving injections, measuring a patient's vital signs, and preparing blood and other specimens for testing, the increasing number of elderly patients has led to an increased need for new medical assistants to help treat them.
The Obesity Crisis – The US has the highest obesity rates in the developed world. Two out of every three men in the US are considered overweight or obese, and the rate is even higher for women. Approximately $147 billion is spent on medical expenses per year to combat obesity, and this number is suspected to increase roughly $1.24 billion per year until the year 2030. As with elderly patients, many of the procedures used in treating obese patients can be performed by a medical assistant, giving those who qualify as one a leading role to play in combating the country's fastest-growing healthcare epidemic.
The Affordable Care Act – Introduced in 2010 and often referred to as "Obamacare" the Affordable Care Act reduced the number of uninsured adults in the US by an estimated 20 million people. This influx of new patients is one of the reasons that US healthcare is forecast to grow to a $5 trillion sector of the economy by 2022 and to grow faster than any other industry. Part of this growth is the need for increased labor, with medical assistants comprising a significant proportion of this, due to the flexibility of the role.
Why Is Now the Best Time to Qualify as A Medical Assistant?
Job Security – According to the US Bureau of Labour Statistics, an additional 183,900 medical assistant roles will be created over the next ten years, providing excellent employment prospects and job security for qualified medical assistants. In addition to excellent job security, the average medical assistant earns around $31,540 a year, with more than half of working medical assistants making significantly more than that. Here at Northwest, we have dedicated careers team who will work with you to find the perfect employment opportunity once you've finished your course.
Flexible Schedule – As the need for round the clock healthcare continues to grow, hospital, outpatient clinic, and doctor's practices are increasingly operating on a 24-hour opening schedule, seven days a week. This allows medical assistants the freedom, whether working full time or part time, to plan their work commitments to match their personal life. This ability to keep a productive work/life balance is just as important during your studies, which is why our medical assistant school offers day and night classes to accommodate your work and family schedule.
Excellent Career Advancement Opportunities – Qualifying as a medical assistant opens a vast range of potential career advancement opportunities, depending on which areas of the role you find yourself drawn too. Those with an interest in healthcare can continue their education to progress into nursing. If the administrative side of the medical assistant role appeals to you, the skills gained while training in our medical assistant program can be combined with on-the-job experience to make you an excellent candidate for the position of office or practice manager. Both nursing and administrative management roles offer greater responsibilities and higher compensation.
Seizing the Opportunity
With job opportunities expected to increase by 29% over the next decade, there has never been a better time to qualify as a medical assistant. Enrolling in our medical assistant school, by calling one of our enrollment specialists on (702) 403-1592, will give you the training and skills to take advantage of one of the fastest growing employment sectors in the US.
Medical assistants are a vital part of hospitals, outpatient centers, and doctor's practices, and the importance of their role is reflected in their excellent benefits, wages, and career advancement opportunities. So if you're interested in a job role that's varied, exciting, and gives you the chance to make a real difference in people's lives the call us today on (702) 403-1592 to start your journey!