Four Myths About Returning To School As An Adult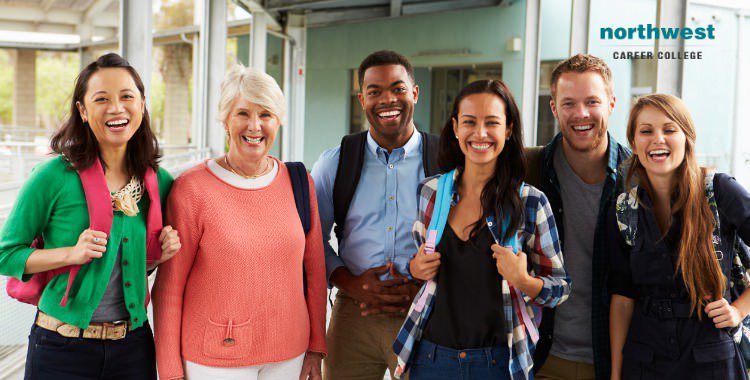 Returning to education as an adult learner has many advantages. Compared to those fresh out of high school you have better defined career goals combined with more life skills and greater real-world experience. Despite this, some adult learners are put off returning to education because of certain pervasive myths. In this article we will be exploring those myths and comparing them to the reality of returning to school.
Myth #1 – You Don't Have The Time
Balancing your personal and professional life with the demands of education can be difficult, but it is not impossible. At Northwest we offer flexible courses to suit your busy Las Vegas timetables. Our courses are available both full and part-time with the option for both online and on-campus learning. If you are considering returning to education then call us at (702) 403-1592 to speak with one of our enrollment advisors about the timetable options available to you.
Myth #2 – You Don't Have The Right Computer Skills
Most schools offer orientation classes designed to bring you up to speed on the equipment and software you will need to use on your course. Even those classes taught online make use of user friendly interfaces designed to be approachable for those without significant computer skills. That being said, computer skills are a ubiquitous part of many modern careers, so while it might be stressful in the short term, using your return to education as a chance to improve your computer skills will benefit you in the long run.
Myth #3 – You Won't Fit In
In 2017, around 22% of people enrolled on full-time educational courses in the U.S. were over 30 years old. There is a large population of adult learners available for you to interact with and many schools have matures student clubs and organisations that you can join. Communicating with other adult learners is an excellent way to get tips on how to manage your student work and personal life and mature student organisations are an fantastic form of support for adult learners.
Myth #4 – You Can't Afford It
The funding options available for returning to education have never been better, with financial support for adult learners available from federal financial aid, employer tuition assistance, military benefits, and potential scholarships from both public and private organizations. If you are concerned about course costs and potential funding sources, call us today at (702) 403-1592 to speak with one of our experienced Financial Aid Officers, who will be able to provide you with a clear understanding of the funding options available to you.
Applying for Student Funding?
First, just complete the Free Application for Federal Student Aid (FAFSA). You can find a copy of FAFSA form, and a guide to completing it, on the Federal Student Aid website . www.FAFSA.ed.gov. You can also fill the FAFSA out online here. Please make sure you enter our school code: 038385. This allows your records to be sent directly to our Financial Aid office so that when you visit the campus, our FA officers can discuss your financial aid package with you in person.
Financial Aid At Northwest Career College
Here at Northwest Career College we have Financial Aid Officers on staff that can help determine the best financing option for you. To best support our students we offer a range of financial aid including the Pell Grant, Subsidized Loans, Unsubsidized Loans, and Parent Plus Loans. Call us today at (702) 403-1592 to speak with one of our experienced Financial Aid Officers who will help find the best financial support options for you.
Written by:
Dr. Stephanie Kenny,
Chief Financial Officer