Exploring Paralegal Studies in Nevada – Your Guide to a Rewarding Career
July 15, 2023
339 views
6 min read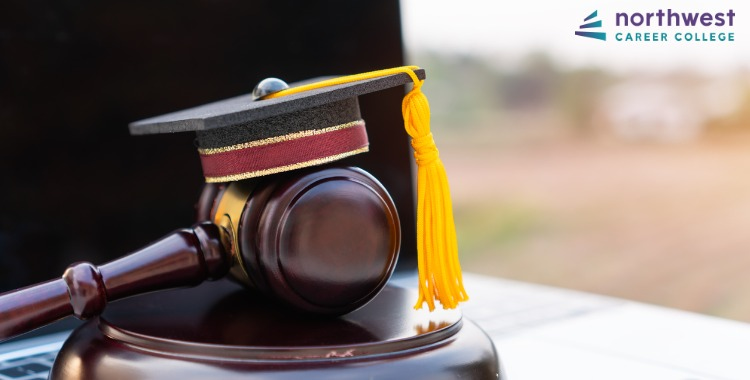 If you want the opportunity to combine your analysis and research skills with your passion for the law, then pursuing Paralegal Studies might be an ideal career path for you.
At Northwest Career College, we offer a broad range of paralegal studies programs designed to teach our students all facets of becoming successful paralegal professionals in Nevada, from studying contract law and analyzing legal documents to providing legal assistance within public agencies or private firms, becoming a certified paralegal can open new doors in the courtroom as well as professional success.
In this blog post, we'll explore what it takes to become a competitive candidate who is prepared to tackle complex challenges any future employer may have.

Overview of Paralegal Studies in Nevada and Job Opportunities
Paralegal studies could be the perfect option for you if you're interested in working in the legal field but don't want to spend years in law school and pass the bar.
If you're located in Nevada, you're in luck – there are plenty of job opportunities for paralegals in the state. Paralegals are an essential part of every legal team, assisting lawyers in a variety of tasks, including drafting legal documents, conducting research, and organizing case files.
In Nevada, paralegals can work in a wide range of industries, from law firms to corporations and government agencies. With the right education and training, you could soon become an integral part of the legal profession in Nevada.

Core Qualifications Needed to Become a Paralegal in Nevada
Becoming a paralegal in Nevada requires a specific set of core qualifications. These qualifications include having a high school diploma or equivalent, completing a paralegal program, and possessing strong communication and analytical skills. 
Additionally, paralegals in Nevada must be familiar with the state's legal system and have a solid understanding of legal procedures and terminology. To become a successful paralegal in Nevada, one must also be detail-oriented, organized, and able to work independently and as part of a team.
Obtaining these core qualifications can lead to a rewarding career in the legal field as a paralegal in Nevada.

Tips for Selecting a Paralegal Program in Nevada
Choosing a paralegal program is a significant decision as this will shape your future career. When selecting a paralegal program in Nevada, first consider your career goals, budget, and schedule. Research each program and evaluate its curriculum, faculty qualifications, accreditation, and reputation.
Consider programs that offer internships, job placement services, or partnerships with employers. Moreover, select a program that provides hands-on training and opportunities to specialize in an area of law. Don't hesitate to ask for guidance from industry professionals or the program staff.
Ensure that the program aligns with your specific needs and goals for a successful career as a paralegal in Nevada.
Northwest Career College offers an accredited paralegal program that provides our students with the skills and knowledge they need to become successful paralegals in Nevada. Our comprehensive curriculum covers topics such as litigation, civil procedure, family law, real estate law, and more.
We also provide hands-on training for our students through an externship or internship in a law office or other legal setting. Our experienced faculty are dedicated to helping each student succeed in their paralegal studies and become an outstanding professional in the field of law.
We also provide career services for our graduates, including resume writing assistance, job search guidance, and access to employers who are looking to hire qualified paralegals. With the help of our Career Services specialists, you'll have the resources and support you need to find the right job for your future career.

Benefits of a Paralegal Education in Nevada
A paralegal education in Nevada can offer many benefits to those seeking to pursue a career in law.
It provides a comprehensive understanding of legal principles and practices and equips students with essential skills such as research, writing, and critical thinking.
With the growing demand for legal services, obtaining a paralegal education can open up a wide range of career opportunities. Furthermore, it can also lead to higher earning potential and job security. As a paralegal, you will be an integral part of the legal team, helping attorneys prepare for trials, draft legal documents, and provide support to clients.
 Whether you are just starting your career or looking to switch to a more rewarding profession, a paralegal education in Nevada could be the key to unlocking a bright future in the legal industry.

State Licensure Requirements for Paralegals in Nevada
Aspiring paralegals in Nevada must be well-informed about the state's licensure requirements. While obtaining a college degree in paralegal studies is not mandatory, it can certainly give candidates an edge in the competitive job market.
Alongside this, candidates must pass a certification exam that any nationally recognized organizations offer. The Nevada State Bar Association also offers voluntary certification exams and continued education opportunities for individuals wanting to maintain their licensure.
With a comprehensive overview of the state's licensure requirements, paralegals are better equipped to pave a successful path in their career progression.



Your Road to a Dream New Career
Pursuing a paralegal degree is an excellent way to contribute to the legal profession. With Nevada's strong job market, now may be the right time for you to join and become part of a rewarding career.
After researching the core qualifications needed, tips for selecting a program, and both traditional and online options, you should have all the information you need to make an informed decision. By building critical skills such as independent case research, case management, and legal writing, your degree will surely open doors towards successful employment and career advancement opportunities in Nevada as a paralegal.
Completing a respected academic program is sure to benefit your prospects for employment and provide you with in-depth knowledge of Nevada laws. Remember that even if you decide not to pursue state licensure post-graduation, it can always remain an option later on down the road.
So don't wait; take advantage of today's many great opportunities by obtaining your paralegal certificate or degree. If you're ready for further exploration into our Paralegal Program at Northwest, we encourage you to contact us at your earliest convenience!

Join one of the best paralegal schools in Las Vegas today!
Here at Northwest Career College, we run the top paralegal program in Nevada, offering our students the vocational education, skills, and experience they need to successfully enter the field of paralegal work and position themselves to maximize their earnings.
Our Paralegal instructors are seasoned attorneys and highly trained professionals who can teach you the law and guide you through the many ways a paralegal integrates into a Las Vegas law practice.
We offer on-campus and online paralegal classes to accommodate your work and family schedule. Our Career Services team will work with you to help you find the best paralegal employment opportunity in Las Vegas.
Call us today at (702) 403-1592 to find out what our paralegal program can offer you.