Do You Need A License To Practice Phlebotomy In Nevada?
February 20, 2022
873 views
4 min read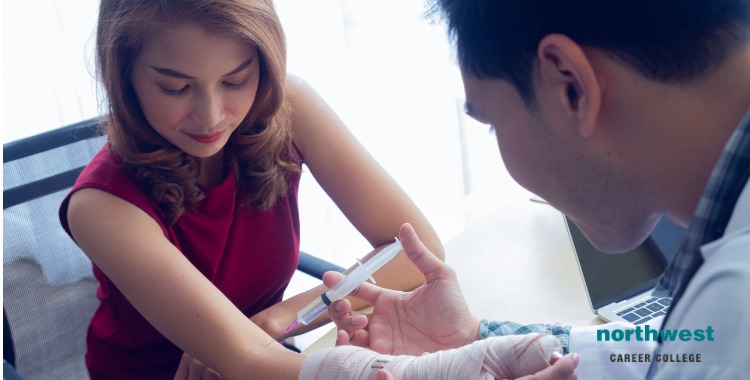 If you're looking for a phlebotomy career, you might be wondering if you need a license to practice in Nevada. The good news is that phlebotomy is an unregulated profession in Nevada. This means that there is no state licensing requirement.
However, many employers do prefer or require their phlebotomists to be licensed. So how can you become licensed? In this blog post, we'll discuss the process of becoming a phlebotomist in Nevada and the different types of licenses available.
Know More: What is Phlebotomy and why it's necessary
What does a phlebotomist do?
Phlebotomists are medical professionals who are responsible for drawing blood from patients. They play an important role in the diagnosis and treatment of patients. Phlebotomy is a critical part of many medical procedures, including:
Blood transfusions

Diagnostic tests

Drug testing

Cancer treatments
Phlebotomists also work with patients who need dialysis or other forms of treatment that require regular blood draws.
How to become a phlebotomist in Nevada
There is no one specific route to becoming a phlebotomist in Nevada. However, most phlebotomists have either an associate's degree or a certification from an accredited program. There are several schools in Nevada that offer phlebotomy programs, but NCC offers one of the best phlebotomy training programs in Nevada.
What you need to know about phlebotomy certification
Most phlebotomists are certified, which means they have completed a phlebotomy program and passed an exam. Certification is more than just a piece of paper; it's proof that you're qualified to work as a phlebotomist.
It also shows employers that you have the skills needed to do your job well. If you're interested in getting phlebotomy certification in Nevada, we can help!
How long does phlebotomy training take?
Phlebotomy training typically takes between four months and six months to complete, depending on how often you go to class and if the classes are in-person or online.
What are the requirements for phlebotomy certification?
The requirements for phlebotomy certification vary depending on the certifying organization. However, most organizations require you to be at least 18 years old, have a high school diploma or equivalent, and pass a criminal background check.
Are there any phlebotomy jobs in Nevada?
Yes! There are many phlebotomy jobs available in Nevada. In fact, according to Indeed.com, phlebotomy is the sixth most in-demand job in the state.

How much does phlebotomy pay?
The average phlebotomist salary is $31,610 per year. However, this can vary depending on your experience, education level, and location.
What are the benefits of becoming a phlebotomist?
There are many benefits to becoming a phlebotomist. Some of the most common benefits include:
Paid vacation days

401k plan

Medical, dental, and vision insurance
Are there any requirements for practicing phlebotomy in Nevada?
The requirements to practice phlebotomy in Nevada vary depending on where you work.
If you're working in a hospital, doctor's office, or other medical facility, your employer most likely has the phlebotomy training program that is right for them.
However, if you are working at an independent lab or blood collection center, they may not have phlebotomy training programs.
Do I need phlebotomist certification to practice phlebotomy in Nevada?
Not necessarily. But if you want to work at a hospital or doctor's office, it is highly recommended that you get certified as a phlebotomist before applying for a job.
Start your new career Today
At Northwest Career College, we pride ourselves on providing one of the premier Phlebotomy Schools in Las Vegas. Our established and seasoned instructors will take you through every aspect of Phlebotomy and Northwest offers day, afternoon, and night classes to accommodate your busy Las Vegas work and family schedule. Call us today at (702) 403-1592 to speak to one of our admissions specialists about your new Phlebotomy career.