Dental Assisting: The Career For You
July 16, 2022
558 views
4 min read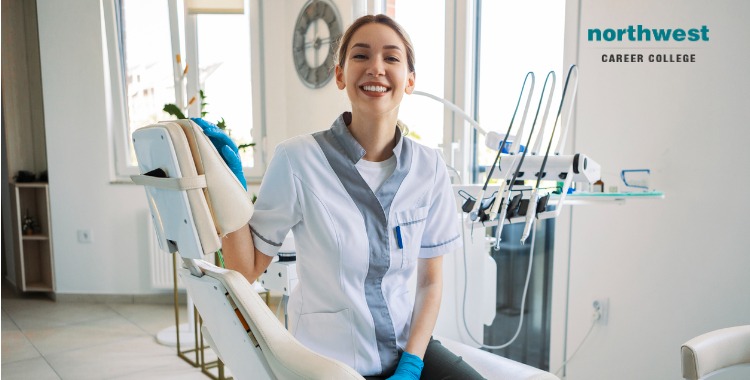 If you're looking for a career in the medical field, dental assisting might be the perfect choice for you. This exciting and growing profession offers many opportunities for personal and professional growth.
In this blog post, we will discuss some of the key reasons why dental assisting is a great career choice. We'll also explore what to expect from the job market in this field, and provide some tips on how to get started in your new career!
What are the responsibilities of a dental assistant?
Dental assistants are responsible for a variety of tasks, including:
Assisting the dentist with procedures – This can involve anything from sterilizing instruments to taking x-rays.

Maintaining the dental office – This includes tasks such as stocking supplies and cleaning equipment.

Educating patients on oral hygiene – Dental assistants often give patients instructions on things like flossing and brushing properly. What are the educational requirements for dental assistants?

Taking and developing X-rays – This is an important task, as X-rays are used to diagnose dental problems.

Sterilizing instruments – This is important in preventing the spread of infection

Preparing treatment rooms – This involves setting up the necessary equipment for procedures.

Updating patient records – Dental assistants often update patients' charting and keep track of their medical history.

What are the educational requirements for dental assisting?
Most dental assistant programs will require a high school diploma or equivalent, although some may require postsecondary education, such as completion of a dental assisting program.
Dental assistants must also pass a state-level examination in order to be licensed to practice.
What are the job prospects for dental assistants?
The job outlook for dental assistants is very positive – the Bureau of Labor Statistics projects that employment in this field will grow by 19% from 2019 to 2029.
This growth is much faster than the average for all occupations, so now is a great time to enter this field!
What are some of the skills that dental assistants need?
Some of the skills that dental assistants need include good communication and interpersonal skills, manual dexterity, and the ability to work well under pressure.
Some other key skills include:
The ability to follow instructions accurately

Good organizational skills

The ability to work well as part of a team
If you have these skills and are interested in working in the dental field, then a career as a dental assistant might be right for you!
Why choose to be a dental assistant?
So, why choose dental assisting as a career? For one, it is a relatively short educational program. Most programs can be completed in under two years, and some are even offered online.
Secondly, dental assisting is a stable career with good job prospects. The demand for dental assistants is projected to grow by 19% from 2018-2028, much faster than the average for all occupations. This growth is due in part to an aging population and an increased focus on preventive dental care.
Starting your new career with NCC
If you are interested in working in the dental field the NCC Dental Assisting program is a great place to start. We offer an accredited Dental Assisting diploma program that can be completed in as little as 11 months.
The curriculum covers both the theoretical and practical aspects of dental assisting, and you will have the opportunity to gain hands-on experience in our on-site dental clinic.
For more information on our Dental Assisting program, please visit our website or contact us at (702) 403-1592.

Join one of the best Dental Assistant training schools in Vegas
Here at Northwest Career College, we firmly believe that learning is a process that continues on the job. Our Dental Assistant Training Course gives you all the critical skills and experience you'll need to find the best dental assisting employment opportunity in Las Vegas.
Our Dental Assistant School offers morning, afternoon, and night classes to accommodate your busy work and family schedule.
Our established seasoned instructors have helped our students achieve a 91% national exam pass rate. Call us at (702) 403-1592 to speak to one of our admissions assistants about your new dental assisting career.