What Are the Benefits of Becoming a Dental Assistant?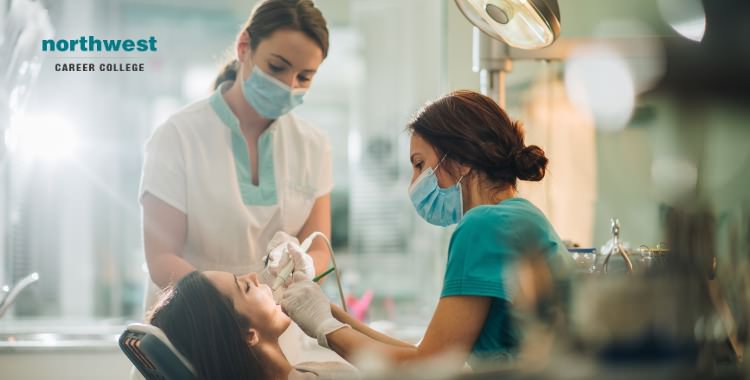 Being a dental assistant is not only about helping others while receiving an excellent salary. In Nevada, the average salary for dental assistants is over $19 per hour or $39,000 per year. Even higher as you become more experienced and vital to the dental office. But there are many other advantages and reasons for becoming one. If you're in search of a job where you can intertwine with the lives of others in a positive way, you should highly consider starting the journey towards becoming a dental assistant!
Here are just a few reasons to consider taking that first step:
A Serene Work Environment
A dentist facility must do its best to keep the environment as calm as possible since there are many patients who are anxious or scared at the mere thought of getting an oral procedure done. Even though these procedures may only be a cleaning, dental work is still a real fear for many; especially young patients. If you enjoy a pleasant and calming work environment with a duty of easing patients' fears, a dental assistant job may be perfect for you!
Great Income Potential
A dental assistant career offers so many opportunities to advance and allows assistants to have a great potential for a higher income. As a dental assistant, you can move up in the ranks with additional education and become expanded functions dental assistant, dental office manager, or can even be as a stepping stone to become a dental hygienist.
These advanced positions offer a much higher income, especially if you perform your job well. A few years doing the job of a dental assistant in comparison with a few years of retail or food service is a world of difference!
Career Advancement
Working at a job that you put your heart and soul into is disheartening when there is no room for career advancement. However, a dental assistant career leaves you more than enough space to grow into a higher position. Knowing your future is bright and not a dead-end is motivation enough to go to your dental practice every morning and work your hardest.
Accessible Training
Dentists, orthodontists, and other dental professionals spend a total of 8 years in college; 4 years undergraduate, and another 4 years in a professional dental college. Here at Northwest,  your training can take as little as 9 months.
The Dental Assistant Las Vegas Program at Northwest Career College prepares students to work in any type of dental office. Our expansive, 8 operatories lab provide students with training in traditional film x-ray, contemporary digital x-ray and cutting edge mobile x-ray. No other Dental Assistant program offers this type of advanced training. In addition to the academic and hands-on training, Dental Assistant students travel through the valley for a variety of informative and interactive field trips. There's never a dull moment in the Dental Assistant Program.
Join One Of The Best Dental Assistant Training Schools In Las Vegas
Here at Northwest Career College we firmly believe that learning is a process that continues on the job. Our Dental Assistant Training Course gives you all the key skills and experience you'll need to find the best dental assisting employment opportunity in Las Vegas. Our Dental Assistant School offers morning, afternoon and night classes to accommodate your busy work and family schedule and our established, seasoned instructors have helped our students achieve a 91% national exam pass rate. Call us at (702) 403-1592 to speak to one of our admissions assistants about your new dental assistant career.
Written by:
Cynthia Lofquist, R.D.A.
Dental Assistant Program Chair
Concorde Career Institute