5 Things You Need To Know Before Working In a Pharmacy
December 22, 2022
673 views
6 min read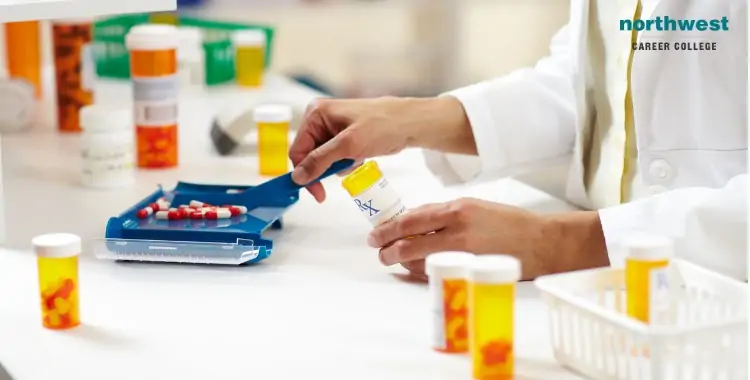 Before you start working in a pharmacy, there are a few things you need to know. In this blog post, we'll cover five essential pieces of information to help you hit the ground running in your new role.
From understanding the different types of drugs to knowing how to handle customer inquiries, this post will give you the basics you need to succeed as a pharmacy technician. Let's get started!
The importance of customer service in a Pharmacy
Customer service is one of the most important aspects of pharmacy operations. In order to provide customers with the best experience possible, a pharmacy must adhere to established standards of customer care.
This includes providing accurate and timely information about products and services, helping customers make decisions based on their individual needs, ensuring a safe and secure transaction environment, responding empathically and promptly to customer inquiries and complaints, dealing with prescription fulfillment in a timely manner, and recognizing existing customer loyalty.
Doing so creates an atmosphere of trust between pharmacy staff and customers that helps foster repeat business. Pharmacists also play an important role in maintaining customer loyalty by ensuring they receive high-quality medications in a timely fashion.
By consistently adhering to ethical standards of professional conduct and setting high expectations for pharmacy staff members with regard to customer service, pharmacists can ensure their pharmacy provides its patrons with unparalleled levels of care.
How to handle difficult customers
Dealing with difficult customers can be one of the most challenging parts of working in a pharmacy. Whether it's an angry customer complaining about long queues, or a frustrated patient struggling to understand their medication, pharmacy staff must be prepared to face any kind of situation.
The best approach is to remain calm and professional at all times. Try not to take things personally and focus on providing excellent customer service. If the situation becomes heated, politely explain that you need time to process their complaint and will be happy to address it when the time is right.
By keeping a clear head and responding in a friendly yet authoritative manner, pharmacy staff will be well-equipped to handle any kind of difficult customer. With the right attitude and skills, pharmacy staff can maintain a positive relationship between customers and the pharmacy for mutual satisfaction.
The importance of being organized
The importance of staying organized for any individual should not be underestimated. It is essential for achieving efficiency and productivity in life, work, or other endeavors.
Being organized provides clarity and structure that can reduce stress levels and help focus on the task at hand. It also helps to create achievable goals as tasks appear less daunting when broken down into concrete steps with timetables attached to each step.
Knowing where items are located also eliminates wasting time looking for something when vital information is needed quickly. It applies to both physical storage of items and computer filing systems, but is especially crucial in pharmacy settings since accuracy in dosage administration is essentially a matter of life or death.
To maximize pharmacy safety and effectiveness, all necessary lists should be stored in efficient filing cabinets, while safety protocols must be followed frequently to ensure proper medication distribution.
In short, being organized is a fundamental part of our daily lives as it enables us to prioritize tasks efficiently while contributing substantially to our well-being. For this reason, individuals should strive to make organization a priority in their lives!
How to stay calm under pressure
Being a pharmacy professional can be incredibly stressful at times, from dealing with customer inquiries to managing the pharmacy's complex inventory. In addition, pharmacy professionals face long working hours and tight deadlines, making it difficult to stay focused and stay calm under pressure.
To keep a cool head during stressful situations, pharmacy professionals should use breathing techniques like focusing on natural breaths in and out rather than emphasizing deep breaths. Doing this for just a minute or two every few hours can help pharmacy professionals keep their composure when they are under pressure.
Additionally, crisis management planning can help reduce anxiety in times of need. For example, making clear checklists of what action needs to be taken in an emergency may be beneficial. Practicing yoga and meditation is also another great way to remain consistent during chaotic times.
Ultimately, the best strategy for staying calm under pressure is to take preventive measures before feeling anxious so that pharmacy professionals will have the chance to react better when needed.
These strategies can aid pharmacy workers throughout their workday and help them stay composed under duress while still providing excellent service to customers.
The importance of being detail-oriented
Being detail-oriented is an incredibly important skill within virtually any profession. In pharmacy, for example, attention to detail is a matter of life and death since pharmacists are responsible for doling out prescriptions and ensuring accuracy in measurements and doses.
Having the wrong amount of medication can lead to serious health complications for patients, so pharmacy technicians must make sure to catch any mistakes or discrepancies. Even fields that don't involve such critical safety issues benefit from having detail-oriented employees.
Strategic planning within business relies upon attention to the minutiae of projects and tasks, as do marketing decisions and product improvements.
As with pharmacy, it's essential to double-check everything – from what makes a product stand out in terms of design or cost-effectiveness, to setting up conferences and making travel arrangements.
If all the details aren't accounted for in these efforts, then potential customers may be lost, or errors could occur down the line due to miscommunication. Ultimately, it's clear that building careful attention to any process is key amongst professionals who strive to achieve success.
Being detail-oriented ensures accuracy while flagging potential problems before they arise, allowing everyone involved to get the best possible results without unwanted surprises.
Work in a faced-paced and enjoyable environment
Excellent customer service is the key to success in any industry. As a pharmacy technician, you will be responsible for handling customer inquiries, managing medications, and keeping track of inventory. This can be a lot of pressure, but with the proper training and organization, it can be an incredibly rewarding career.
If you're detail-oriented, thrive under pressure, and have excellent people skills, contact Northwest Career College to talk about our Pharmacy Technician Program. We would love to help you start your new career!



Start your new career as a Pharmacy Technician now!
Northwest Career College is one of the premier pharmacy technician schools in Las Vegas. Our course provides our students with the skills and training they need to take advantage of the growing need for pharmacy technicians.
Our experienced instructors offer online and on-campus classes to accommodate your Las Vegas work and family schedule.
Once you've graduated, we will continue to support you, and the commitment of our Career Services Team has led to us having a 100% job placement rate for our pharmacy technician graduates. Call us today at (702) 403-1592 to speak to one of our enrollment specialists.