Top 5 Steps To Advancing Your Career As A Medical Administrative Assistant
Medical Administrative Assistant
August 10, 2022
477 views
5 min read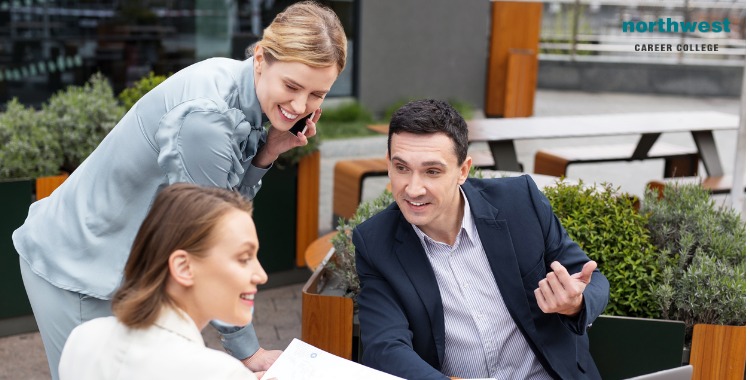 It's no secret that the medical administrative assistant field is growing rapidly. With the aging population in America, the demand for skilled and qualified medical administrative assistants is only going to continue to increase.
If you're looking to take your career to the next level, it's important to start planning now. In this blog post, we will outline 5 steps that you can take to advance your career as a medical administrative assistant. Let's get started!
Know More: Difference Between A Medical Administrative Assistant And A Medical Assistant
Steps To Advancing Your Career As A Medical Administrative Assistant
What is a medical administrative assistant?
Before we dive into the steps to advancing your career, let's first answer the question: what is a medical administrative assistant?
A medical administrative assistant is a professional who provides support to doctors and other healthcare professionals in a clinical setting. They are responsible for tasks such as scheduling appointments, maintaining medical records, billing and coding insurance forms, and answering patient questions.
The job of a medical administrative assistant is both challenging and rewarding. If you're looking to make a difference in the lives of others while also furthering your own career, this may be the perfect role for you!
How do you become a medical administrative assistant?
The first step is to complete a medical administrative assistant program at a community college or vocational school. Many programs can be completed in as little as one year, and some schools offer evening and weekend classes to accommodate working students.
Once you've completed your education, the next step is to obtain certification from a professional organization such as the American Association of Medical Assistants (AAMA). Certification is not required for all medical administrative assistant positions, but it will give you an edge over other candidates when applying for jobs.
Here at NCC, our medical administrative assistant program can be completed in just 11 months. And because we offer evening and weekend classes, it's easy to fit into your busy schedule. Give us a call today to learn more!
After obtaining certification, you'll be ready to start your career as a medical administrative assistant! The best way to find open positions is to search online job boards or contact healthcare facilities directly. Once you've found a few openings that interest you, be sure to tailor your resume and cover letter to each position.
With a little hard work and dedication, you can advance your career as a medical administrative assistant! These ten steps will help you get started on the right foot.
One of the best things you can do to advance your career is to stay up-to-date on industry trends. Keep reading professional journals and attend conferences whenever possible. This will not only make you more knowledgeable about your field, but it will also show potential employers that you're serious about your career.

Another great way to advance your career is to get involved in professional organizations. These organizations offer networking opportunities, as well as continuing education courses and conferences that can help you learn more about your field. Getting involved with a professional organization shows employers that you're committed to your career and want to stay abreast of industry trends.

Another way to advance your career is to pursue additional education. While many medical administrative assistant positions only require a high school diploma or equivalent, some employers prefer candidates with an associate's or bachelor's degree. If you're interested in pursuing higher education, consider enrolling in an accredited online program.

In addition to staying current on industry trends and pursuing additional education, another way to advance your career is to get certified. Certification shows employers that you have the skills and knowledge necessary to perform your job well. The American Association of Medical Assistants offers a Certified Medical Administrative Assistant (CMAA) credential, which requires passing an exam. There are also a number of professional development courses available to medical administrative assistants. These courses can help you learn new skills and improve your knowledge of the field. Many employers offer tuition reimbursement, so be sure to ask about this benefit before enrolling in a course.

Finally, don't forget the power of networking. Get to know as many people as possible in your field, and attend industry events whenever you can. The more people you know, the more likely it is that you'll hear about job openings or advancement opportunities. Networking can also help you learn more about your field and make valuable connections that can help you throughout your career.
If you're looking for ways to advance your career as a medical administrative assistant, start by following these ten steps. With hard work and dedication, you can reach your professional goals!



Start your career as a Medical Administrative Assistant with us!
Here at Northwest Career College, our student-centered philosophy means that you come first.
We offer a flexible schedule so you can care for your family and have a balanced life in Las Vegas while advancing towards your new career.
We pride ourselves on being the premier Medical Administrative Assistant school in Las Vegas and our established, seasoned instructors offer online and on-campus night classes to accommodate your busy work and family schedule. Call us at (702) 403-1592 to speak to one of our admissions assistants about your new medical administrative assisting career.