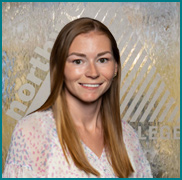 Phoebe London
Administrative Liaison I
Phoebe is originally from Wisconsin but grew up in Ohio. She moved to Las Vegas with her family in 2011. Having attended Findlay High School in Ohio, she attended UNLV after she moved here, and then completed both her Master's degrees with GCU.
As a former teacher, Phoebe's passion is helping others in an educational capacity. She enjoys seeing people work hard and reach their goals.
For Phoebe, the best thing about working at Northwest Career College is how friendly and welcoming everybody is!
In her spare time, Phoebe enjoys training for different road race distances. She has run too many 5K's, 10K's to count, and 10 half marathons. She is currently training for the next marathon.
When she is not running, Phoebe enjoys spending time with her two dogs, family, and friends spending as much time outdoors as possible.